ACUTE AND SUBACUTE TOXICITY PROFILE OF (3-(2,5-DIMETHOXYPHENYL)-1-(5-METHYLFURAN-2-YL) PROP-2-EN-1-ONE, CHALCONE DERIVATIVE IN EXPERIMENTAL ANIMAL MODEL
Keywords:
(3-(2,5-dimethoxyphenyl)-1-(5-methylfuran-2-yl) prop-2-en-1-one, acute toxicity, chalcone, DMPF-1, subacute toxicity, toxicity study
Abstract
Evaluation of toxicity induced in laboratory animals is paramount to the screening step in the assessment of the safety profile of all compounds. 3-(2,5-dimethoxyphenyl)-1-(5-methyl furan-2-yl) prop-2-en-1-one (DMPF-1); synthetic chalcone derivative has been investigated due to its pharmacological properties, including its antinociceptive and anti-inflammatory. However, the safety profile of this compound is yet to be determined. The present study seeks to highlight the toxicity effect of this compound using acute and subacute toxicity studies in the mice model. A single highest dose (1000 mg/kg) and repeated dose (0.1, 0.5, 1, 5 and 10 mg/kg) of DMPF-1 supplementation were executed. All toxicity study performed was supported by behavioural and body weight changes, haematological, serum biochemical analysis, macroscopic and microscopic analysis of the vital organs. The present result simplifies that DMPF-1 compound supplementation for four weeks is non-toxic as it caused no significant alteration in mice body weight and behaviour. Besides, no significant changes in haematological and biochemical parameters were observed. Further evaluation of its safety profile was confirmed by the normal architecture of the tissues organs obtained. Collectively, this report showed that DMPF-1 was safe to be consumed.
Downloads
Download data is not yet available.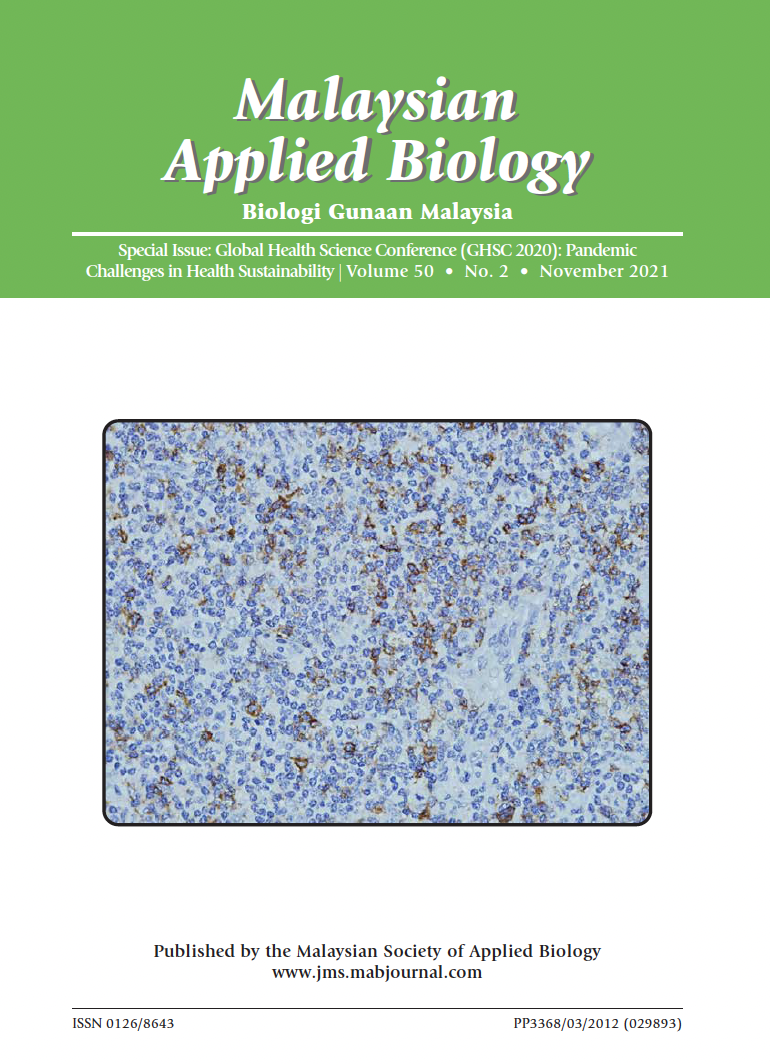 How to Cite
ABU BAKAR, N. A., SULIMAN, N. A., SULAIMAN, M. R., & AKHTAR, N. (2021). ACUTE AND SUBACUTE TOXICITY PROFILE OF (3-(2,5-DIMETHOXYPHENYL)-1-(5-METHYLFURAN-2-YL) PROP-2-EN-1-ONE, CHALCONE DERIVATIVE IN EXPERIMENTAL ANIMAL MODEL. Malaysian Applied Biology, 50(2), 9–18. https://doi.org/10.55230/mabjournal.v50i2.1979
Section
Research Articles
Copyright & Licensing
Any reproduction of figures, tables and illustrations must obtain written permission from the Chief Editor (wicki@ukm.edu.my). No part of the journal may be reproduced without the editor's permission