EFFICACY OF LIVE ATTENUATED FOWL ADENOVIRUS SEROTYPE 8B ISOLATE OF MALAYSIA IN SPECIFIC PATHOGEN-FREE CHICKENS
Keywords:
fowl adenovirus (FAdV), inclusion body hepatitis (IBH), serotype 8b, attenuated, vaccine
Abstract
Fowl adenovirus (FAdV) is the primary agent of inclusion body hepatitis (IBH) in poultry and caused serious economic impact due to high mortality and poor productivity. To date, clinical cases of IBH in chickens increases over the years in Malaysia, thus, an effective local vaccine to control the disease outbreak is in dire need. The objective of the study was to determine the efficacy of live attenuated FAdV serotype 8b isolate, UPM1137CEL35, in specific-pathogen-free chickens. Attenuated isolate UPM1137CEL35 conferred full protection against the virulent FAdV isolate, UPM11134 in the vaccinated chickens. Neither clinical signs nor mortality were recorded in all vaccinated groups. However, in the challenged unvaccinated group, chickens showed clinical signs of weakness, reduced feed consumption, and lateral recumbency at day 4 to 7 postchallenge. Additionally, the body weight was low significantly (p<0.05) compared to the challenged vaccinated groups. Upon necropsy, the liver from the challenged unvaccinated group was pale at peripheral bilateral lobes with the presence of focal lymphoid aggregation microscopically, while, challenged vaccinated groups were normal without significant changes. All vaccinated chickens were protected from disease manifestations with antibody response compared to the challenged unvaccinated group. It was concluded that the attenuated FAdV isolate, UPM1137CEL35, has a high potential to be used as a vaccine against the FAdV serotype 8b of Malaysian isolates.
Downloads
Download data is not yet available.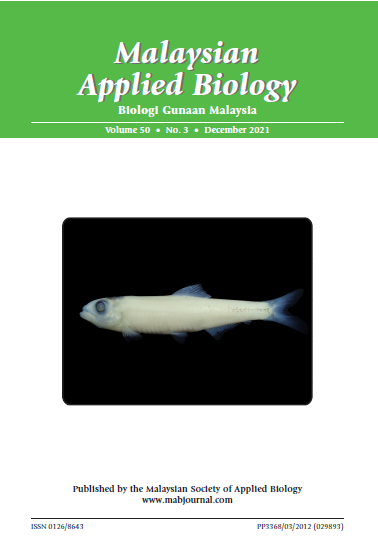 How to Cite
MOHAMED SOHAIMI, N. ., & BEJO, M. H. . (2021). EFFICACY OF LIVE ATTENUATED FOWL ADENOVIRUS SEROTYPE 8B ISOLATE OF MALAYSIA IN SPECIFIC PATHOGEN-FREE CHICKENS. Malaysian Applied Biology, 50(3), 135–143. https://doi.org/10.55230/mabjournal.v50i3.1998
Section
Research Articles
Copyright & Licensing
Any reproduction of figures, tables and illustrations must obtain written permission from the Chief Editor (wicki@ukm.edu.my). No part of the journal may be reproduced without the editor's permission