GERMINATION AND INITIAL GROWTH OF TRUE SHALLOT (Allium cepa L. var. aggregatum) SEEDS ENCAPSULATED WITH ORGANIC AND INORGANIC MATERIALS
Keywords:
coating, direct sowing, pelleting, True Shallot Seed (TSS)
Abstract
Shallot (Allium cepa L. var. aggregatum) cultivation is performed using True Shallot Seed (TSS) to obtain seedlings. However, it is difficult to handle when sowing directly, due to the seed's small and irregular shape. Therefore, encapsulation technology is needed to make TSS seeds have a larger size and regular shape. Shallots seeds enable to be more significant, roundshaped through encapsulation. This research was conducted to make a combination treatment between fillers and adhesives that can form strong, round, and smooth capsules. The fillers studied included gypsum, dolomite, lime, vermicompost, compost, and sawdust. While the adhesive material is Arabic gum and polyvinyl alcohol. The parameters observed include viability, germination, vigor index, and maximum growth potential of encapsulated seed were on par with non-encapsulated in germination and seedling vigor. The results showed that the germination, index vigor, and maximum growth potency of non-encapsulated TSS were better than the encapsulated ones. Likewise for the percentage of seed alive and up-normal seed. Furthermore, the organic type of capsule filling material showed better results compared to the inorganic
Downloads
Download data is not yet available.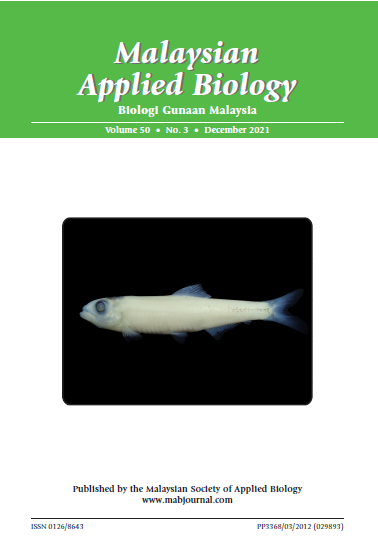 How to Cite
NUGRAHANI, P. ., MOELJANI, I. R., & MAKHZIAH. (2021). GERMINATION AND INITIAL GROWTH OF TRUE SHALLOT (Allium cepa L. var. aggregatum) SEEDS ENCAPSULATED WITH ORGANIC AND INORGANIC MATERIALS. Malaysian Applied Biology, 50(3), 117–122. https://doi.org/10.55230/mabjournal.v50i3.2014
Section
Research Articles
Copyright & Licensing
Any reproduction of figures, tables and illustrations must obtain written permission from the Chief Editor (wicki@ukm.edu.my). No part of the journal may be reproduced without the editor's permission