CONSUMPTION OF Hibiscus sabdariffa DRIED CALYX ETHANOL EXTRACT IMPROVED REDOX IMBALANCE AND GLUCOSE PLASMA IN VITAMIN B12 RESTRICTION DIET IN RATS
Keywords:
Fasting glucose, MDA, rosella, SOD, vitamin B12
Abstract
This study aimed to evaluate the effect of Hibiscus sabdariffa L. dried calyx ethanolic (HSE) extract on the redox imbalance and glucose plasma of vitamin B12 restriction Sprague-Dawley rats. The rat was fed a Vitamin B12 Restriction Diet for 16 weeks and treated with HSE as the treatment group. One group was fed a restriction diet not treated with HSE as a positive control group, and another was fed a control chow diet not treated with HSE as a negative control group. Vitamin B12, MDA, SOD activity enzyme, and glucose levels were evaluated in this study. The extract had a significant antioxidant capacity in terms of reducing the production of free radical scavenging activity. The HSE can repair the skewed redox imbalance and oxidative damage generated by a vitamin B12-deficient diet in the rat liver. The result of fasting glucose plasma levels, in 16 weeks showed both significantly different in all groups. In Sprague-Dawley rats with vitamin B12 restriction treated with HSE, a decrease in the glucose plasma in week sixteen was observed, together with a reduction of hepatic redox imbalance. Treatment with HSE protected hepatocytes from oxidative damage caused by vitamin B12 deficiency.
Downloads
Download data is not yet available.
References
Ahn, J., Lee, H., Kim, S., Park, J. & Ha, T. 2008. Biochemical and Biophysical research communications The anti-obesity effect of quercetin is mediated by the AMPK and MAPK signaling pathways. Biochemical and Biophysical Research Communications, 373(4), 545–549. DOI: https://doi.org/10.1016/j.bbrc.2008.06.077
Al-Alawi, K.S.S., Waly, M.I., Sadiq, M.A., Al Balushi, R.M. & Ali, A. 2021. Biochemical assessment of hyperhomocysteinemia-mediated oxidative stress in coronary artery disease patients: A hospitalbased cross-sectional study. International Journal of Nutrition, Pharmacology, Neurological Diseases, 11(1): 88. DOI: https://doi.org/10.4103/ijnpnd.ijnpnd_71_20
Andraini, T. & Yolanda, S. 2015. Prevention of insulin resistance with Hibiscus sabdariffa Linn. extract in high-fructose fed rat. Medical Journal of Indonesia, 23(4): 192. DOI: https://doi.org/10.13181/mji.v23i4.848
Awoke, J.N., Orji, O.U., Aja, P.M., Ezeani, N.N., Aloke, C. & Obasi, O.D. 2020. Ethanol leaf extract of Ruspolia hypocrateriformis abrogated
hepatic redox imbalance and oxidative damage induced by heavy metal toxicity in rats. Arabian Journal of Chemistry, 13(11): 8133–8145. DOI: https://doi.org/10.1016/j.arabjc.2020.09.045
Chang, H.C., Peng, C.H., Yeh, D.M., Kao, E.S. & Wang, C.J. 2014. Hibiscus sabdariffa extract inhibits obesity and fat accumulation, and improves liver steatosis in humans. Food & Function, 5(4): 734. DOI: https://doi.org/10.1039/c3fo60495k
Cho, A., Jeon, S., Kim, M., Yeo, J., Seo, K., Choi, M. & Lee, M. 2010. Chlorogenic acid exhibits antiobesity property and improves lipid metabolism in high-fat diet-induced-obese mice. Food and Chemical Toxicology, 48(3): 937–943. DOI: https://doi.org/10.1016/j.fct.2010.01.003
Delli Bovi, A.P., Marciano, F., Mandato, C., Siano, M.A., Savoia, M. & Vajro, P. 2021. Oxidative stress in non-alcoholic fatty liver disease. An updated mini review. Frontiers in Medicine, 8: 1–14. DOI: https://doi.org/10.3389/fmed.2021.595371
Gao, H., Xu, H., Zhang, J., Premaratne, S., Su, X., Zhang, W., Wang, S., Sun, L., Yao, J., Hao, B. & Yang, T. 2021. Association of high serum homocysteine levels and severe chronic venous disease. Annals of Vascular Surgery, 74: 315-320. DOI: https://doi.org/10.1016/j.avsg.2020.12.036
Goto, T., Teraminami, A., Lee, J., Ohyama, K., Funakoshi, K., Kim, Y., Hirai, S., Uemura, T., Yu, R., Takahashi, N. & Kawada, T. 2012. Tiliroside, a glycosidic flavonoid, ameliorates obesityinduced metabolic disorders via activation of adiponectin signaling followed by enhancement of fatty acid oxidation in liver and skeletal muscle in obese – diabetic mice. The Journal of Nutritional Biochemistry, 23(7): 768–776. DOI: https://doi.org/10.1016/j.jnutbio.2011.04.001
Ighodaro, O.M. & Akinloye, O.A. 2018. First line defence antioxidants-superoxide dismutase (SOD), catalase (CAT) and glutathione peroxidase (GPX): Their fundamental role in the entire antioxidant defence grid. Alexandria Journal of Medicine, 54(4): 287–293. DOI: https://doi.org/10.1016/j.ajme.2017.09.001
Kayhan, S., Kirnap, N. G. & Tastemur, M. 2020. Increased monocyte to HDL cholesterol ratio in vitamin B12 deficiency: Is it related to cardiometabolic risk? International Journal for Vitamin and Nutrition Research, 91. DOI: https://doi.org/10.1024/0300-9831/a000668
Kim, D.J., Venkataraman, A., Jain, P.C., Wiesler, E.P., DeBlasio, M., Klein, J., Tu, S. S., Lee, S., Medzhitov, R. & Iwasaki, A. 2020. Vitamin B12
and folic acid alleviate symptoms of nutritional deficiency by antagonizing aryl hydrocarbon receptor. Proceedings of the National Academy of Sciences of the United States of America, 117(27): 15837–15845. DOI: https://doi.org/10.1073/pnas.2006949117
Li, Y., Spence, J.D., Wang, X., Huo, Y., Xu, X. & Qin, X. 2020. Effect of Vitamin B12 Levels on the Association Between Folic Acid Treatment and CKD Progression: A Post Hoc Analysis of a Folic Acid Interventional Trial. American Journal of Kidney Diseases, 75(3): 325–332. DOI: https://doi.org/10.1053/j.ajkd.2019.07.020
Mahalle, N., Kulkarni, M.V, Garg, M.K. & Naik, S.S.2013. Vitamin B12 deficiency and hyperhomocysteinemia as correlates of cardiovascular risk factors in Indian subjects with coronary artery disease. Journal of Cardiology, 61(4): 289–294. DOI: https://doi.org/10.1016/j.jjcc.2012.11.009
Mathukumalli, N.L., Kandadai, M.R., Shaik, J.A., Kanikannan, M.A. & Borgohain, R. 2020. Serum B12, homocysteine levels, and their effect on peripheral neuropathy in Parkinson's disease: Indian cohort. Annals of Indian Academy of Neurology, 23(1): 48–53.
Mohamed, J., Nor, N.A.M. & Budin, S.B. 2012. Effect of aqueous extract of roselle calyx (Hibiscus sabdariffa Linn) on hidrogen peroxide induced oxidative stress of rat red blood cell membranes. International Journal of Collaborative Research on Internal Medicine & Public Health, 4(12): 2111.
Mojica, L., Rui, L. & Gonzalez De Mejia, E. 2012. Hibiscus sabdariffa L.: Phytochemical composition and nutraceutical properties. ACS Symposium Series, 1109: 289–305. DOI: https://doi.org/10.1021/bk-2012-1109.ch017
Ojulari, O.V., Lee, S.G. & Nam, J. 2019. Beneficial effects of natural bioactive compounds from Hibiscus sabdariffa L. on obesity. DOI: https://doi.org/10.20944/preprints201811.0631.v1
Molecules, 24(1): 210.
Paramita, N., Fatayati, I., Dewi, S., Santoso, D. I.S., Andraini, T., Kartinah, N.T., Ilyas, E.I.I., Qibtiyah, M. & Yunita, S. 2020. Effect of
Hibiscus sabdariffa Linn. on oxidative stress in cardiac tissue of overtrained rat: Study on malonildialdehid (MDA), superoxide dismutase (SOD), glutathione (GSH), and NADPH oxidase (NoX2). AIP Conference Proceedings, 2230.
Pusparini, Alvina, Merijanti, L.T. & Meiyanti. 2020. Cobalamin and methylmalonic acid as biomarkers of vitamin B12 deficiency in elderly. International Journal of Pharmaceutical Research, 12(4): 2724–2730. DOI: https://doi.org/10.31838/ijpr/2020.12.04.376
Sianipar, I.R., Ujianti, I., Yolanda, S., Murthi, A.K., Amani, P., Irawati, D. & Santoso, S. 2019. Developing vitamin B12 deficient rat model based on duration of restriction diet : Assessment of plasma vitamin B12 , homocysteine (Hcy), and blood glucose levels.AIP Conference Proceedings,020004. DOI: https://doi.org/10.1063/1.5096672
Ulfah, M. & Wahyuningrum, A.P. 2010. Pengaruh pemberian ekstrak etanolik kelopak bunga rosella (Hibiscus sabdariffa Linn.) terhadap kadar high density lipoprotein (HDL) pada tikus putih jantan galur wistar hiperlipidemia. Jurnal Ilmu Farmasi Dan Farmasi Klinik, 7(2): 1–40.
Van Berkel, B., Vandevenne, J., Vangheluwe, R. & Van Cauter, S. 2021. Subacute combined degeneration of the cervical and dorsal spinal cord in a 40-yearold male patient: A case report. Radiology CaseReports, 16(1): 13–17. DOI: https://doi.org/10.1016/j.radcr.2020.10.033
Wang, J.X., You, D.Y., Wang, H.P., Zou, C.G., Yang, Y.H., Zhang, D., Li, M.K., Li, C.M., Lv, J.Y., Luo, S.F., Yu, X., Liao, R. & Ma, L.Q. 2021. Association between homocysteine and type 2 diabetes mellitus: A systematic review and metaanalysis. International Journal of Diabetes in Developing Countries. DOI: https://doi.org/10.1007/s13410-021-00933-9
Wolffenbuttel, B.H.R., Heiner-Fokkema, M.R., Green, R. & Gans, R.O.B.2020. Relationship between serum B12 concentrations and mortality: Experience in NHANES. BMC Medicine, 18(1). DOI: https://doi.org/10.1186/s12916-020-01771-y
Zhang, C., Wang, N., Xu, Y., Tan, H. Y., Li, S. & Feng, Y. 2018. Molecular mechanisms involved in oxidative stress-associated liver injury induced by chinese herbal medicine: An experimental evidence-based literature review and network pharmacology study. International Journal of Molecular Sciences, 19(9). DOI: https://doi.org/10.3390/ijms19092745
Zuniga-Munoz, A.M., Guarner, V., Díaz-Cruz, A., Diaz-Diaz, E., Nava-Cuellar, C., BeltránRodríguez, U. & Pérez-Torres, I. 2013. Modulation of oxidative stress in fatty liver of rat with metabolic syndrome by Hibiscus sabdariffa. Immunology' Endocrine & Metabolic Agents in
Medicinal Chemistry, 13(3): 196–205.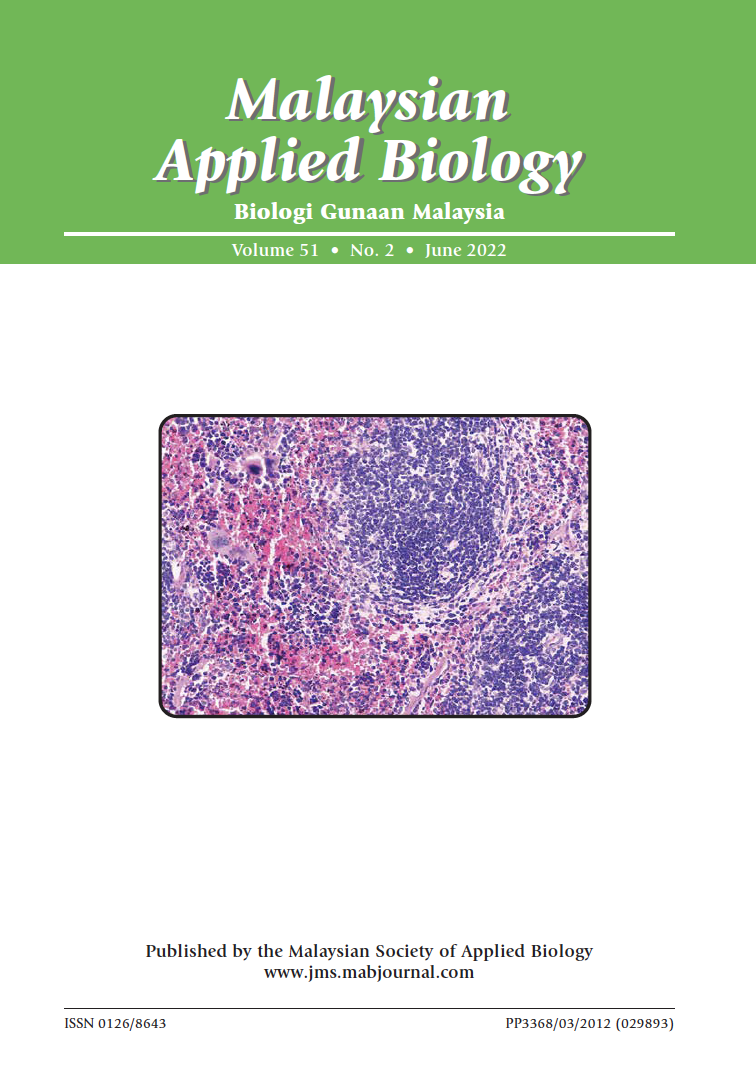 How to Cite
UJIANTI, I., SIANIPAR, I. R. ., PRIJANTI, A. R. ., & SANTOSO, D. I. S. . (2022). CONSUMPTION OF Hibiscus sabdariffa DRIED CALYX ETHANOL EXTRACT IMPROVED REDOX IMBALANCE AND GLUCOSE PLASMA IN VITAMIN B12 RESTRICTION DIET IN RATS. Malaysian Applied Biology, 51(2), 33–40. https://doi.org/10.55230/mabjournal.v51i2.2164
Section
Research Articles