FISH-DIVERSITY IN THE KURA RIVER OF BANGLADESH: PATTERNS AND THREATS
Keywords:
catch volume, fish diversity, fishing gears, habitat degradation, threats
Abstract
The study was aimed to investigate the current status and threats of fisheries resources in the Kura River, Bangladesh. Monthly fish catch surveys were carried out from December 2015 to November 2016 in four catchment areas at Hasinarghat, Kandir-dor, Pulertol, and Barartok. In addition, questionnaire interviews and focus group discussions (FGD) were done to clarify perceptions about the Kura River fishery status. A total of 59 fish species from 22 families were documented and of which 27% were threatened. The values of diversity (H), richness (D), and evenness (J') were calculated at 3.599, 4.345, and 0.921 respectively. The highest catch volume was recorded 19800±7722.71 kg in November 2016 at the Kandirdor and the lowest 225±110.65 kg in March 2016 at the Barartok (p<0.05). The upstream blockage (man-made dam) in the Kura River was identified as the main cause of fish habitat change, decrease fish biodiversity, and production of this River. Therefore, the findings of this study exposed that the conservation of fish has become urgent. In this regard, the baseline scenario of the Kura River biodiversity and threats will help to make awareness to take necessary conservation strategy as well as the need for further in-depth study.
Downloads
Download data is not yet available.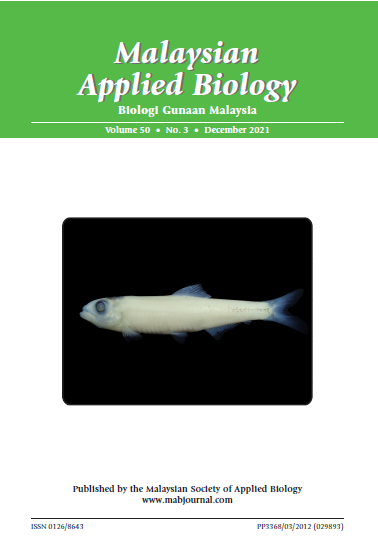 How to Cite
BARMAN, S. K., KUNDA, M., MAZUMDER, S. K., NAHIDUZZAMAN, M., BARMAN, P. P., & DAS, S. K. (2021). FISH-DIVERSITY IN THE KURA RIVER OF BANGLADESH: PATTERNS AND THREATS. Malaysian Applied Biology, 50(3), 1–14. https://doi.org/10.55230/mabjournal.v50i3.2208
Section
Research Articles
Copyright & Licensing
Any reproduction of figures, tables and illustrations must obtain written permission from the Chief Editor (wicki@ukm.edu.my). No part of the journal may be reproduced without the editor's permission