TUALANG HONEY MODULATED NOCICEPTIVE RESPONSES IN THE THALAMUS OF REM SLEEP DEPRIVATION RAT MODEL
Keywords:
NMDA receptor, pain, REM sleep deprivation, thalamus, Tualang honey
Abstract
Sleep deprivation has been shown to alter pain responses in humans and animals. The present study investigated whether the administration of Tualang honey in the rapid eye movement (REM) sleep deprivation rat model would modulate nociceptive responses with associated changes in the thalamus. Forty-eight Sprague Dawley male rats were randomised into four groups (n=12 for each group): control group (FMC), REM sleep deprivation (REMsd), REM sleep deprivation pretreated with Tualang Honey for 1 month (REMsdH) and tank control (TC). Following sleep deprivation for 72 hours, a formalin test was conducted and pain behaviour was recorded and analysed. The rats were sacrificed, and the brains were removed for histological examination and assessment of N-methyl-D-aspartate receptor (NMDA R2) level in the thalamus. REMsdH group showed a significantly lower level of pain behaviour score and NMDA R2 compared to the REMsd group (p<0.05). In addition, REMsdH also demonstrated a significantly higher number of Nissl stained neurons in comparison with the REMsd group (p<0.05). Furthermore, dark neurons, suggestive of neuronal damage, were observed in the REMsd group. In conclusion, administration of Tualang honey before REM sleep deprivation modulated nociceptive responses and prevent changes in thalamic neurons and NMDA R2 level.
Downloads
Download data is not yet available.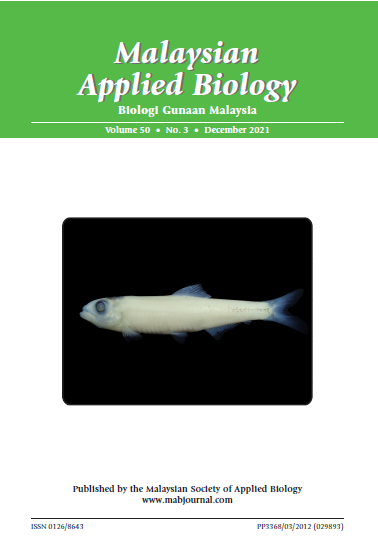 How to Cite
SHAFIE, A. S. M. ., ABD AZIZ, C. B., NOORDIN, L., LONG, I., MAT ZAIN, A. A., & SIRAN, R. (2021). TUALANG HONEY MODULATED NOCICEPTIVE RESPONSES IN THE THALAMUS OF REM SLEEP DEPRIVATION RAT MODEL. Malaysian Applied Biology, 50(3), 39–47. https://doi.org/10.55230/mabjournal.v50i3.2216
Section
Research Articles
Copyright & Licensing
Any reproduction of figures, tables and illustrations must obtain written permission from the Chief Editor (wicki@ukm.edu.my). No part of the journal may be reproduced without the editor's permission