ANTICOAGULANT ACTIVITY OF COUMARIN DERIVATIVES
Downloads
Download data is not yet available.
References
Beillerot, A., Dominguez, J., Kirsch, G. & Bagrel, D. 2008. Synthesis and protective effects of coumarin derivatives against oxidative stress induced by doxorubicin. Bioorganic & Medicinal Chemistry Letters, 18: 1102-1105. DOI: https://doi.org/10.1016/j.bmcl.2007.12.004
Fernanda, G.M., Joaquın, G.M., Mariana, M.A., Magdalena, C.G., Ivan, C.G., Ariana, G.G. & Soraya, O.R. 2015. Coumarin heterocyclic derivatives: chemical synthesis and biological activity. Natural Product Reports, 1-35.
Kontogiorgis, C. & Hadjipavlou-Litina, D. 2005. Synthesis and antiinflammatory activity of coumarin derivatives. Journal of Medicinal Chemistry, 48(20): 6400-6408. DOI: https://doi.org/10.1021/jm0580149
Kostova, I. 2005. Synthetic and natural coumarins as cytotoxic agents. Current Medicinal Chemistry - AntiCancer Agents, 5(1): 29-46. DOI: https://doi.org/10.2174/1568011053352550
Murray, R.D.H., Mendez, J. & Brown, S.A. 1982. The Natural Coumarins: Occurrence, Chemistry and Biochemistry. Chichester, New York, John Whiley. 702pp.
Melita, L., Dajana, G.S., Stela, J. & Maja, M. 2020. Recent advances in the synthesis of coumarin derivatives from different starting materials. Biomolecules, 10: 151. DOI: https://doi.org/10.3390/biom10010151
Ozkan, D., Basak, Y., Cihan, G., Ayse, O., Goksel, S., Mustafa, B. & Aysen, Y. 2010. Synthesis of 3-amino-4-hydroxy coumarin and dihydroxy-phenyl coumarins as novel anticoagulants. Arzneimittelforschung, 60(10): 617-620. DOI: https://doi.org/10.1055/s-0031-1296335
Yuce, B., Danis, O., Ogan, A., Sener, G., Bulut, M. & Yarat, A. 2009. Antioxidative and lipid lowering effects of 7,8-dihydroxy-3-(4- methylphenyl) coumarin in hyperlipidemic rats. Arzneimittelforschung, 59(3): 129-134. DOI: https://doi.org/10.1055/s-0031-1296375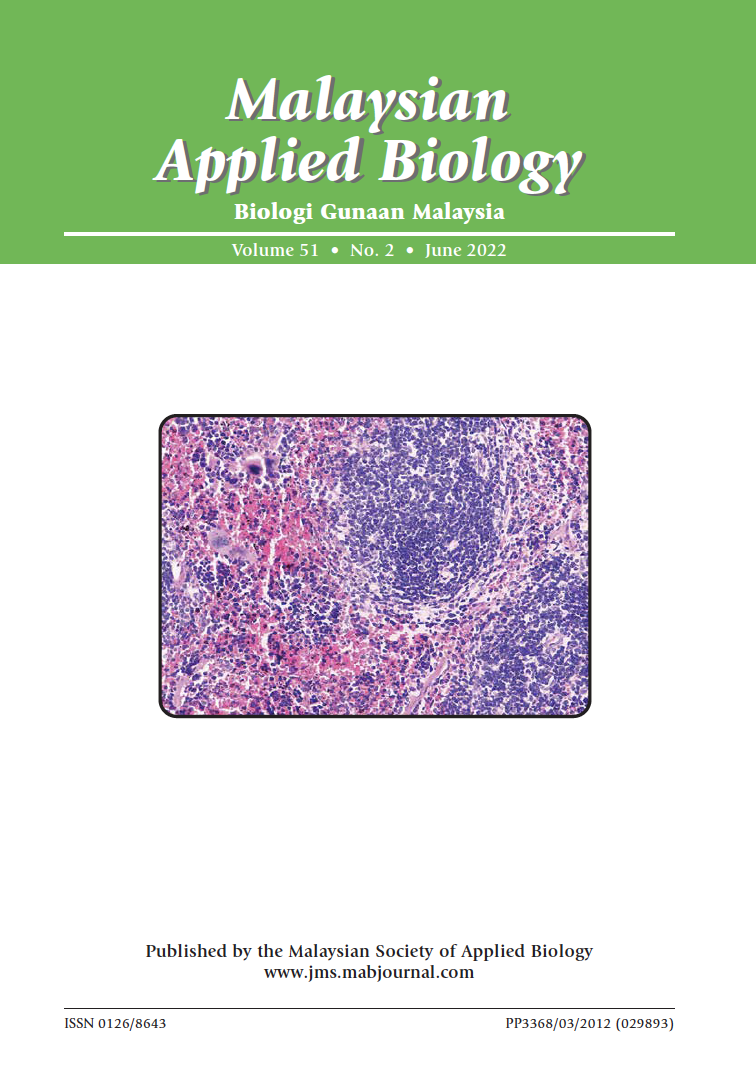 How to Cite
HAZIRI, A. ., MAZREKU, I., & RUDHANI, I. (2022). ANTICOAGULANT ACTIVITY OF COUMARIN DERIVATIVES. Malaysian Applied Biology, 51(2), 107–109. https://doi.org/10.55230/mabjournal.v51i2.2246
Section
Research Notes (Short Communication)
Copyright & Licensing
Any reproduction of figures, tables and illustrations must obtain written permission from the Chief Editor (wicki@ukm.edu.my). No part of the journal may be reproduced without the editor's permission