EFFECT OF DUAL-SACCHARIDES ON MICROBIAL CELLULOSE (MC) PRODUCTION BY Pseudomonas aeruginosa
Keywords:
Microbial cellulose, fermentation, Pseudomonas aeruginosa, dual-saccharide
Abstract
Microbial cellulose (MC) is an alternative source of cellulose that can be produced by different types of microorganisms such as Pseudomonas, Komagataeibacter, Sarcina and Azotobacter and they are commonly used in biomedical applications. However, the main issue in MC production is low yield. To enhance MC production, different combinations of the dual- saccharides, such as 25 g/L glucose + 25 g/L galactose, 25 g/L glucose + 25 g/L fructose, 25 g/L glucose + 25 g/L maltose and 25 g/L glucose + 25 g/L lactose were added into culture medium. The fermentation was carried out at 30oC for 5 days in incubator shaker. The combination of glucose and galactose (1:1) gave a higher concentration of MC with 1.23 g/L ± 0.15. However, it was lower than glucose (control) (1.8 g/L ± 0.63). The glucose + galactose concentrations varied between 10 g/ L, 30 g/L, 50 g/L and 70 g/L for the MC production. Therefore, the concentration of 50 g/L is the best for the MC production. Increasing the concentration of glucose + galactose beyond 50 g/L decreased MC production.
Downloads
Download data is not yet available.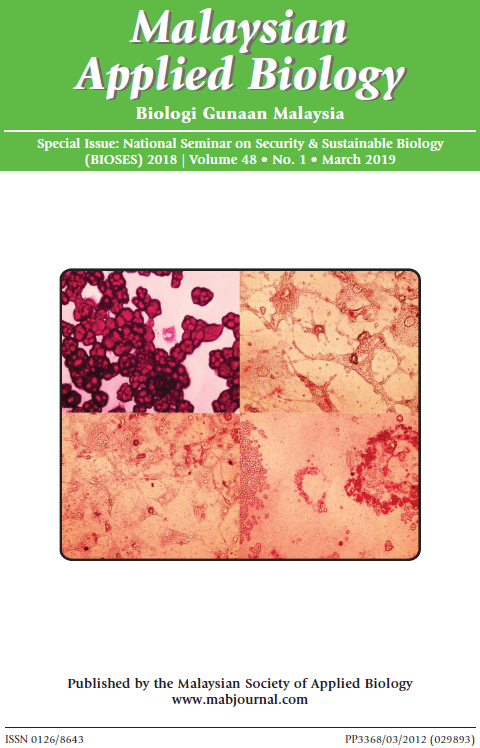 How to Cite
NI, K. W., & ADNAN, A. . (2019). EFFECT OF DUAL-SACCHARIDES ON MICROBIAL CELLULOSE (MC) PRODUCTION BY Pseudomonas aeruginosa. Malaysian Applied Biology, 48(1), 7–14. Retrieved from https://jms.mabjournal.com/index.php/mab/article/view/2266
Section
Research Articles
Copyright & Licensing
Any reproduction of figures, tables and illustrations must obtain written permission from the Chief Editor (wicki@ukm.edu.my). No part of the journal may be reproduced without the editor's permission