STUDY ON GENETIC VARIABILITY OF MUD CRAB, Scylla olivacea AT EAST COAST OF PENINSULAR MALAYSIA USING RANDOM AMPLIFIED POLYMORPHIC DNA (RAPD): A PRELIMINARY ASSESSMENT
Keywords:
Genetic variability, Mud crab, RAPD, Scylla olivacea, Setiu Wetlands
Abstract
Scylla olivacea is one of the mud crabs species and become source of economic income especially for local fishermen in Setiu Wetlands. Nevertheless, the genetic variability of this species are still poorly studied and need to be further clarified. Thus, the Random Amplified Polymorphic DNA-Polymerase Chain Reaction (RAPD-PCR) technique was used to examine the genetic variability among individuals of S. olivacea from Setiu Wetlands, Terengganu. The genomic DNA was extracted from ten samples of mud crab by using DNeasy kit. Twenty reproducible RAPD fragments generated by OPA 08 and OPA 10 with 17 fragments were polymorphic. The percentage of polymorphic bands was 85% indicates that the population of S. olivacea has high level of polymorphism due to low inbreeding factor within a population. High polymorphism of S. olivacea revealed that this species are genetically variable. Further study should be done for a better understanding about variation and also for conservation and management of this species.
Downloads
Download data is not yet available.
References
D'amato, M.E. & Corach, D. 1997. Population genetic structure in the fresh water anomuran Aegla jujuyana by RAPD analysis, Journal of Crustacean Biology, 17: 269-274.
Fuseya, R. & Watanabe, S. 1996. Genetic variability in the mud crab genus Scylla (Brachyura: Portunidae). Fish Science, 62(5): 705-709.
Hadrys, H., Balick, M. & Shierwater, B. 1992. Application of Random Amplified Polymorphic DNA (RAPD) in Molecular Ecology. Molecular ecology, 1: 55-63.
Hurul Adila-Aida, M.R., Siti Azizah, M.N., Khairun, Y. & Darlina, M.N. 2013. Mitochondrial DNA diversity of mud crab Scylla olivacea (Portunidae) in Peninsular Malaysia: a preliminary assessment. Molecular Biology Report, 40: 6407-6418.
Ikhwanuddin, M., Bachok, Z., Hilmi, M.G. & Azmie, G. 2010a. Species diversity, carapace widthbody weight relationship, size distribution and sex ratio of mud crab, genus Scylla from Setiu Wetlands of Terengganu coastal waters, Malaysia. Journal of Sustainability Science and Management, 5: 97-109.
Ikhwanuddin, M., Bachok, Z., Faizal, M. & Azmie, G. 2010b. Size of maturity of mud crab Scylla olivacea (Herbst, 1796) from mangrove areas of Terengganu coastal waters. Journal of Sustainability Science and Management, 5: 134-147.
Ikhwanuddin, M., Munafi, A. & Ambak, M.A. 2014a. Mud Crabs of Setiu Wetlands. Kuala Terengganu. 146pp.
Ikhwanuddin, M., Baiduri, S.N., Norfaizza, W.W. & Abol-Munafi, A.B. 2014b. Effect of water salinity on mating success of orange mud crab, Scylla olivacea (Herbst, 1796) in captivity. Journal of Fisheries and Aquatic Science, 9: 134.
Jirapunpipat, K., Yokota, M. & Watanabe, S. 2009. The benefit of species-based management of sympatric mud crabs migrating to a common fishing ground. ICES Journal of Marine Science, 66: 470-477.
Jorde, L.B. 1995. Populations specific genetic markers and diseases. In Biology and Biotechnology: A comprehensive desk reference, ed. R.A. Meyers, 724-728. New York: VCH Publisber, Inc.
Klinbunga, S., Boonyapakdee, A. & Pratoomchat, B. 2000. Genetic Diversity and Species Diagnostic Markers of Mud Crabs (Genus Scylla) in Eastern Thailand Determined by RAPD Analysis. Marine Biotechnology, 2(2): 180-187.
Kosuge, T. 2001. Brief assessment of stock of mud crab Scylla spp. and proposal for resources management. Seikai National Research Institute, 35(2): 145-148.
Le Vay, L. 2001. Ecology and management of mud crabs Scylla spp. Asian Fisheries Science, 14: 101-11.
Mishra, P.S., Chaudari, A., Krishna, G., Kumar, D. & Lakra, W.S. 2009. Genetic diversity in Metapenaeus dobsoni. Biochemical Genetics, 47: 421-426
Nei, M. & Li, W.H. 1979. Mathematical model for studying genetic variation in terms of restriction endonuclease. Proceeding of National Academy of Sciences USA, 7: 5269-5273.
Parenrengi, A. 2001. Study on genetic variability of Groupers (Epinephelis spp.) from Malaysia and Indonesia waters using PCR-RAPD Analysis. Faculty of Science and Technology, Universiti Malaysia Putra.
Ramalingam, K., Bharathi, R.U.D. & Sri, K.N. 2015. Sample Population Genomic Study of RAPDPCR DNA Analysis in Scylla serrata and Scylla tranquebarica Collected from Two Niches of Chennai Coast. International Journal of Recent Scientific Research, 6(5): 183-190.
Rohlf, F.J. 1994. NTSYSpc Numerical Taxonomy and Multivariate Analysis System Version 2.1. Department of Ecology and Evolution. Exeter Software, New York. 11733- 2870 pp.
Tassanakajon, A., Pongsomboon, S., Rimphanitchayakit, V., Jarayabhand, P. & Boonsaeng, V. 1998. Genetic structure in wild populations of black tiger shrimp (Penaeus monodon) using randomly amplified polymorphic DNA analysis. Journal of Marine Biotechnology, 6: 249-254.
Spalding, M., Blasco, F. & Field, C. 1997. World Mangrove Atlas. The International Society Mangrove Ecosystems. Okinawa. 198 pp.
Wan Bayani, W.O. 2003. Study on genetic variability of oyster (Crassostrea iredalei, Faustino) in Peninsular Malaysia using RAPDPCR technique, Faculty of Agrotechnology and Food Science. Universiti Malaysia Terengganu.
William, J.G.K., Kubelik, A.R., Livak, K.J., Rafalski, J.A. & Tingey, S.V. 1990. DNA polymorphism amplified by arbitrary primers are useful as genetic markers. Nuclei Acid Research, 18: 6531-6535.
Zhang, Z., Shi, T., Kong, J., Liu, P., Liu, Z., Meng, X. & Deng, J. 2001. Genetic diversity in Penaeus chinensis shrimp as revealed by RAPD technique. Progress in Natural Science, 11(6): 332-338.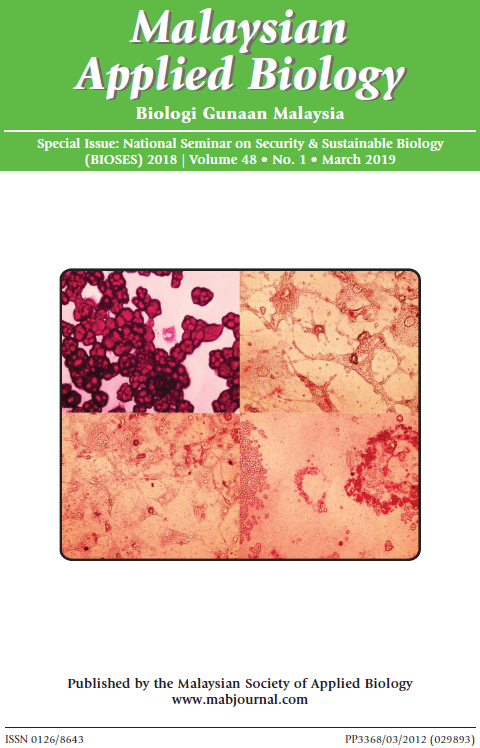 How to Cite
WAN OMAR, W. B. ., MOHAMAD, F. ., ABDULLAH, I. ., & ZAINAL ABIDIN, M. F. (2019). STUDY ON GENETIC VARIABILITY OF MUD CRAB, Scylla olivacea AT EAST COAST OF PENINSULAR MALAYSIA USING RANDOM AMPLIFIED POLYMORPHIC DNA (RAPD): A PRELIMINARY ASSESSMENT. Malaysian Applied Biology, 48(1), 15–19. Retrieved from https://jms.mabjournal.com/index.php/mab/article/view/2267
Section
Research Articles
Copyright & Licensing
Any reproduction of figures, tables and illustrations must obtain written permission from the Chief Editor (wicki@ukm.edu.my). No part of the journal may be reproduced without the editor's permission