BACTERIA ISOLATION FROM SKIN, GILLS AND WATER OF Oreochromis sp. (RED TILAPIA) WHEN TREATED WITH Eisenia foetida (OLIGOCHAETE), Pleurotus sajor-caju (OYSTER MUSHROOM), AND Nepenthes gracilis (PITCHER PLANT)
Keywords:
Bacteria identification, Eisenia foetida, feed utilization, Nepenthes gracilis, Pleurotus sajor-caju, protein content
Abstract
Aquaculture farmers are focused on large intensive farming to fulfill the demand of protein source, thus increasing the probability of bacteria-related disease outbreak. Therefore, an alternative fish diet has to be introduced to reduce bacteria related infection while increasing the production. The aim of this study was to determine the microbial community on Oreochromis sp. when treated with modified diets; commercial pellet added with oligochaete (Eisenia foetida), oyster mushroom (Peratus sajor-caju), pitcher plant (Nepenthes gracilis) and combination of all ingredients with proportion of (90:10) and (70:10:10:10). One hundred ninety bacterial colonies from 11 species were identified using biochemical tests: Gram stain, Oxidase test, Catalase test, KOH String test, Carbohydrate (Glucose, Lactose and Sucrose) test, Indole test, Methyl Red Test and Voges-Proskauer Test (MRVP test), Citrate test and bacteria growth tested on Mannitol salt agar. Oreochromis sp. also secretes mucus that consists of protein to protect fish from pathogens with various environment conditions. Therefore, this study can be used to increase a better understanding of modified organic diet with higher protein content of microbial community in lower vertebrates.
Downloads
Download data is not yet available.
References
Balcazar, J., Blas, I., Ruizzarzuela, I., Cunningham, D., Vendrell, D. & Muzquiz, J. 2006. The role of probiotics in aquaculture. Veterinary Microbiology, 114(3-4): 173-186.
Cipriano, R. 2011. Far from superficial: microbial diversity associated with the dermal mucus of fish. In: Cipriano, R, Schelkunov, I (eds.) Health and Diseases of Aquatic Organisms: Bilateral Perspectives. MSU Press, East Lansing, MI, pp.156-16.
Di Maiuta, N., Schwarzentruber, P., Schenker, M. & Schoelkopf, J. 2013. Microbial population dynamics in the faeces of wood-eating loricariid catfishes. Letters in Applied Microbiology, 56: 401-407.
Diana, J. 2009. Aquaculture production and biodiversity conservation. BioScience, 59(1): 27-38.
Guardiola, F.A., Cuesta, M. & Esteban, Á. 2016. Using skin mucus to evaluate stress in Gilthead Seabream (Sparus aurata L.). Fish & Shellfish Immunology, 59: 323-330.
Hassanshahian, M., Emtiazi, G., Caruso, G. & Cappello, S. 2014. Bioremediation (bioaugmentation/biostimulation) trials of oil polluted seawater: A mesocosm simulation study. Marine Environmental Research, 95: 28-38.
Ibrahem, M.D., Fathi, M., Mesalhy, S. & Abd El-Aty, A.M. 2010. Effect of dietary supplementation of inulin and vitamin C on the growth, hematology, innate immunity, and resistance of Nile Tilapia (Oreochromis niloticus). Fish & Shellfish Immunology, 29(2): 241-6.
Jackson, J.B., Kirby, M.X., Berger, W.H., Bjorndal, K.A., Botsford, L.W., Bourque, B.J. & Warner, R.R. 2001. Historical overfishing and the recent collapse of coastal ecosystems. Science (New York, N.Y.), 293(5530): 629-37.
Larsen, A.M. 2014. Studies on the microbiota of fishes and the factors influencing their composition. Aquaculture.
Landeira-Dabarca, A., Sieiro, C. & Alvarez, M. 2013. Change in food digestion induces rapid shifhts in the diversity of microbiota associate with cutaneous mucus of Atlantic Salmon Salmo salar. Journal Fish Biology, 82: 893-906.
Landolt, M.L. 1989. The relationship between diet and the immune response. Aquaculture, 79(1-4): 193-206.
Pakingking, Jr. R., Palma, P. & Usero, R. 2015. Quantitaive and qualitative analyses of the bacterial microbiota of Tilapia (Oreochromis niloticus) cultured in earthen ponds in Philippines. World Journal of Microbes Biology, 31(2): 265-275.
Schachte, J.H. 2002. Furunculosis. New York Department of Environmental Conservatiori Rome. Chapter 25: 211-216.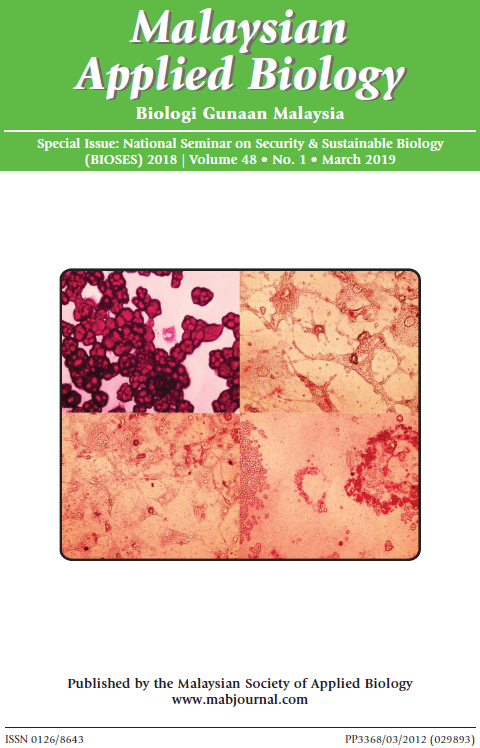 How to Cite
ROSLI, N. S. ., JOHN BAPTIST, E. ., & HARUN, N. O. . (2019). BACTERIA ISOLATION FROM SKIN, GILLS AND WATER OF Oreochromis sp. (RED TILAPIA) WHEN TREATED WITH Eisenia foetida (OLIGOCHAETE), Pleurotus sajor-caju (OYSTER MUSHROOM), AND Nepenthes gracilis (PITCHER PLANT). Malaysian Applied Biology, 48(1), 67–72. Retrieved from https://jms.mabjournal.com/index.php/mab/article/view/2292
Section
Research Articles
Copyright & Licensing
Any reproduction of figures, tables and illustrations must obtain written permission from the Chief Editor (wicki@ukm.edu.my). No part of the journal may be reproduced without the editor's permission