Colpoda steinii ASSOCIATED WITH HYBRID GROUPER FROM KG. GONG BATU SETIU, TERENGGANU
Keywords:
Colpoda stenii, hybrid grouper, ciliate, cyst, gill
Abstract
This research was carried out to examine the presence of protozoa that inhabit on the gills of hybrid grouper. This phylum can act as ecto and endoparasites in fish and in turn are responsible for many diseases. Observation on cultured samples by using swabbing techniques on the gill surface indicated the presence of ciliated protozoan. The morphological features of the vegetative stage ciliates were kidney shaped and highly motile with 49.12 µm in length, whereas the resting stage of the ciliates was round shape with 38.42 µm in length as shown by light microscopy. Observation on the cell surface by scanning electron microscopy indicated unfamiliar silverline system for ciliates and the resting cyst surface structure was mildly wrinkled. Further specific species identification was verified by conducting Polymerase Chain Reaction (PCR). The ciliate gene in the 18S SSU ribosomal RNA isolated was very similar (99% sequence identity) to Colpoda steinii DNA sequence at GenBank under accession number of KJ607912.1 with 100% query cover. Although there were no reports on hybrid grouper mortality in Setiu, due to gills infection by ciliate C. stenii, it was important to obtain information on microorganism inhabitants in hybrid grouper fish gills. It is hoped that this data collected might be an indicator for fish health state for our fish farmers and as a precaution for conserving healthy environment in Setiu for better aquaculture-related production.
Downloads
Download data is not yet available.
References
Bastos Gomes, G., Jerry, D.R., Miller, T.L. & Hutson, K.S. 2017. Current status of parasitic ciliates Chilodonella spp. (Phyllopharyngea: Chilodonellidae) in freshwater fish aquaculture. Journal of Fish Diseases, 40(5): 703-715.
Costache, C., Bursasiu, S., Filipas, C. & Colisi, I. 2011. A case of Ciliate Protozoa Colpoda Spp. (Ciliata: Colpodidae) detected in human urine. Iranian Journal Parasitol, 6(4): 99-104.
Debastiani, C., Meira, B.R., Lansac-Tôha, F.M., Velho, L.F.M. & Lansac-Tôha, F.A. 2016. Protozoa ciliates community structure in urban streams and their environmental use as indicators. Brazilian Journal of Biology, 76(4):1043-1053.
FAO, 2014. The State of World Fisheries and Aquaculture 2014. Rome. 223 pp.
Fatimah, H. & Nakisah, M.A. 2013. Visualization on the effect of chlorexidine gluconate, a biocide on Acanthamoeba sp. by electron microscopy. Malaysian Journal of Microscopy, 9: 154-159.
Foissner, W. 1997. Protozoa as bioindicators in agroecosystems, with emphasis on farming practices, biocides, and biodiversity. Agriculture, Ecosystems and Environment, 63(2-3): 93-103
Guerrero, R.D. 2014. Impacts of introduced freshwater fishes in the Philippines (1905-2013): a review and recommendations. Philippine Journal of Science, 143(1): 49-59.
Gomes, G.B., Hutson, K.S., Domingos, J.A., Chung, C., Hayward, S., Miller, T.L. & Jerry, D. R. 2017. Use of environmental DNA (eDNA) and water quality data to predict protozoan parasites outbreaks in fish farms. Aquaculture, 479: 467-473.
Lynn, D.H., Gransden, S.G. & Wright, A.G., Josephson. 2000. Characterization of a new species of the ciliate Tetrahymena (Ciliophora: Oligohymenophorea) isolated from the urine of a dog: first report of Tetrahymena from a mammal. Acta Protozoology, 39: 289-294.
Mallat, J. 1985. Fish gill structural changes induced by toxicants and other irritants: a statistical review. Canandiam Journal Fish of Aquatic Science, 42: 630-648.
Nigrelli, R.F., Pokorny, K.S. & Ruggieri, G.D. 1976. Notes on Incthyophthirius Multifiliis, a ciliate parasitic on fresh water fishes, with some remarks on possible physiological races and species. Transactions of the American Microscopical Society, 95(4): 607-613.
Sayuthi, S. 1993. Fish diseases in Malaysia: status and problems. In C.T. Villegas, M.T. Castaños, R.B. Lacierda (Eds.) Proceedings of the Aquaculture Workshop for SEAFDEC/AQD
Training Alumni, 8-11 September 1992, Iloilo, Philippines (pp. 57-61). Tigbauan, Iloilo, Philippines: Southeast Asian Fisheries Development Center, Aquaculture Department.
Shen, Y. 1999. Protozoology (in Chinese), 1st ed. Science Press, Beijing.
Smit, N.J., Van, J.G. & Davies, A.J. 2004. Fish trypanosomes from Okavango Delta, Botswana. Folia parasitologica (Praha), 51(4): 299-303
Tuanyuan, S., Xinlu, S., Fuzhuang, L., Fuxian, Y., Yuan, F. & Xiaozhong, H. 2014. A Colpoda aspera isolate from animal faeces: In vitro cultivation and identification. European Journal of Protistology, 50: 33-39.
Verni, F. & Rosati, G. 2011. Resting cysts: a survival strategy in Protozoa Ciliophora. Italian Journal of Zoology, 78(2): 134-145.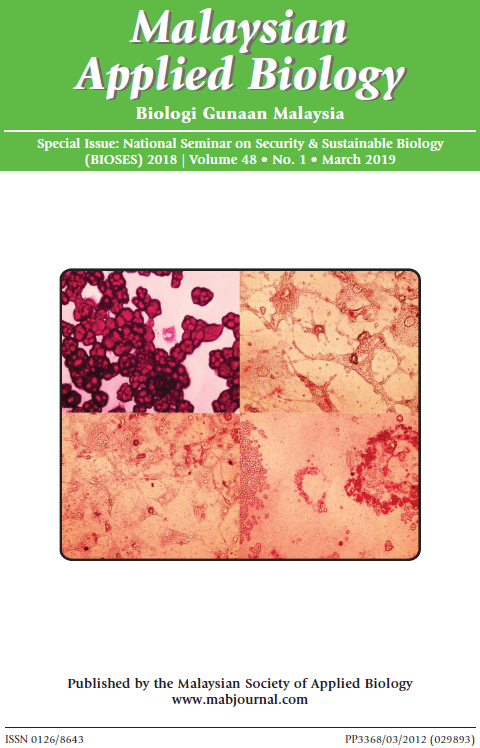 How to Cite
HASHIM, F. ., JUSOH, M. ., NIK ROHIN, N. N. I. ., & HASSAN, . N. A. S. . (2019). Colpoda steinii ASSOCIATED WITH HYBRID GROUPER FROM KG. GONG BATU SETIU, TERENGGANU. Malaysian Applied Biology, 48(1), 163–168. Retrieved from https://jms.mabjournal.com/index.php/mab/article/view/2309
Section
Research Articles
Copyright & Licensing
Any reproduction of figures, tables and illustrations must obtain written permission from the Chief Editor (wicki@ukm.edu.my). No part of the journal may be reproduced without the editor's permission