EFFECTS OF ORGANIC FERTILIZERS ON GROWTH AND YIELD OF ROSELLE (Hibiscus sabdariffa L.) ON BRIS SOIL
Keywords:
Hibiscus sabdariffa, organic fertilizer, BRIS soil, roselle quality, antioxidants
Abstract
The application of organic fertilizers on roselle has generated much interest among the researchers and farmers for the past two decades. However, little attention is given on the plantation quality in Beach Ridges Interspersed with Swales (BRIS) soil. Roselle is generally preferred because it is rich in ascorbic acid and anthocyanin that are very beneficial for health. This study determined the growth, yields and antioxidants of roselle on BRIS soils after application with different rate of organic fertilizers. Roselle was treated with five different rates of goat manure i.e. T1 (control), T2 (40 mt/ha), T3 (80 mt/ha), T4 (120 mt/ha) and T5 (160 mt/ha). Plant growth, yields and antioxidants of roselle calyxes were determined at three weeks interval for 21 weeks. Generally, organic fertilizer treated roselle showed significant increased (p<0.05) plant growth and plant yield. Higher rate of organic fertilizer, particularly T5 (160 mt/ha) increased the stem diameter and stem height, leaves number and leaves area as well as the biomass and number of calyx. Organic fertilizer treatments had no significant effect on ascorbic acid, carotenoids and anthocyanin production except for T3 treated plants whereas, chlorophyll content was significantly induced (p<0.05) in response to organic fertilizer treatments. In conclusion, application of organic fertilizers at higher rate showed positive effects on the growth, yield and antioxidant content of roselle. Therefore, organic fertilizer should be frequently applied in the farms to get the best growth and yields of the plant
Downloads
Download data is not yet available.
References
Aliyu, I. & Tanmu, H. 1996. Respone of Roselle to Pruning and Time of Sowing. Report Horticulture Crop Research Zaria pp. 20.
Ashraf, M. & Harris, P.J.C. 2005. Abiotic stresses: plant resistance through breeding and molecular approaches. New York: Haworth Press Incorporation.
Clifford, M.N. 2000. Anthocyanins-nature, occurrence and dietary burden. Journal Science Food Agriculture, 80: 1063-1072.
Dahmardeh, M. 2012. Effect of mineral and organic fertilizers on the growth and calyx yield of roselle (Hibiscus sabdariffa L.). African Journal of Biotechnology, 11(48): 10899-10902.
Dhar, P., Kar, C.S., Ojha, D., Pandey, S.K. & Mitra, J. 2015. Chemistry, phytotechnology, pharmacology and nutraceutical functions of kenaf (Hibiscus cannabinus L.) and roselle (Hibiscus sabdariffa L.) seed oil: An overview. Indian Crops Production, 77: 323-332.
Egharevba, R.K.A. & Ogbomo, L.K.E. 2007. Comparative effects of two nitrogen sources on the growth and yield of roselle (Hibicus sabdariffa) in the rainforest region: a case study of Benin-city, Edo State, Nigeria. Journal of Agronomy, 6(1): 142-146.
El-Sherif, M.H. & Sarwat, M.I. 2007. Physiological and chemical variations in producing roselle plant (Hibicus sabdariffa L.) by using some organic farmyard manure. World Journal of Agricultural Sciences, 3(5): 609-616.
FAMA, 2007. Sri Panduan Kualiti Roselle. Cawangan Pembangunan Kualiti & Pembembagnagan, Lembaga Pemasaran Pertanian Persekutuan (FAMA), Kementerian Pertanian dan Industri Asas Tani Malaysia.
Gendy, A.S.H., Said-Al Ahl, H.A.H. & Mahmoud, A.A. 2012. Growth, productivity and chemical constituents of Roselle (Hibiscus sabdariffa L.) plants as influenced by cattle manure and biofertilizers treatments. Australian Journal of Basic and Applied Sciences, 6(5): 1-12.
Hazandy, A.H., Mohd-Hazimy, Y., Nor-Aini, A.S, Baharom, Z. & Mohamed-Hanafi, M. 2009. Effects of different fertilizer application level on growth and physiology of Hibiscus cannabinus L. (Kenaf) Planted on BRIS Soil. Journal of Agricultural Science, 1: 1.
Harbone, J.B. 1984. Phytochemical methods 2nd Edition. New York: Chapman and Hall pp. 69-76.
Jagota, S.K. & Dani, H.M. 1982. A new colorimetric technique for the estimation of vitamin C using folin phenol reagent. Analytical Biochemistry, 127: 178-182.
Karanatsidis, G. & Berova, M. 2009. Effect of organic-N fertilizer on growth and some physiological parameters in pepper plants (Capsicum annum L.) Anniversary Scientific Conference pp: 254-257.
Khalid, H.W.E., Abdalla, H., Abdelgadir, T., Opatzand & Efferth, T. 2012. Gems from traditional North-African medicine: medicinal and aromatic plants from Sudan. Natural Products and Bioprospecting, 2(3): 92-103.
Leopold, A.C., Poovaiah, B.W., Dela Fuente, R.K. & Williams, R.J. 1974. Regulation of growth with inorganic solutes. In: Plant Growth Substances, Tokyo: Hirokawa Publishing Coperation pp. 780-788.
Lichtenthaler, H.K. 1987. Chlorophylls and carotenoids: pigments of photosynthetic biomembranes. In. Packer, I. & Douce, R. Methods in Enzymology. New York: Academic Press 148: 350-382.
Masarirambi, M.T., Hlawe, M.M., Oseni, O.T. & Sibiya, T.E. 2010. Effects of organic fertilizers on growth, yield, quality and sensory evaluation of red lettuce (Lactuca sativa L.) Veneza Roxa. Agriculture and Biology Journal of North America, 1(6): 1319-1324.
Naimah, R., Nur Amirah, Y., Adzemi, M.A. & Wan Zaliha, W.S. 2014. Quality and growth development of roselle grown on bris soil in relation to regulated deficit irrigation. Journal of Tropical Plant Physiology, 6: 23-34.
Osman, M., Faruq, G., Shabnam, S., Nazia, A.M., Noor Hasima, N. & Mohamed, Z. 2011. Morphoagronomic analysis of three roselle (Hibiscus sabdariffa L.) mutants in tropical Malaysia. Australian Journal of Crop Science, 5(10): 1150-115.
Reddy, T.Y., Reddy, V.R. & Anbumozhi, V. 2003. Physiological response of groundnut (Arachis hypogaea L.) to drought stress and its amelioration: a critical review. Plant Growth Regulation, 41: 75-78.
Rozan, M., Darwish, A.Z. & Bayomy, H. 2017. Effect of roselle extract (Hibiscus sabdariffa) on stability of carotenoids, bioactive compounds and antioxidant activity of yoghurt fortified with carrot juice (Daucus carota L.). World Journal of Dairy & Food Sciences, 12(2): 94-101.
Senjobil, B.A., Peluola, C.O., Senjobi, C.T., Lawal, I.O., Ande, O.T. & Salami, B.T. 2010. Performance of Cochorus olitorius as influenced by soil type and organic manure amendments in Yewa North Local Government Area, Ogun State. African Journal of Biotechnology, 9(33): 5309-5312.
Sharma, A., Sharma, R.P., Soiod, S. & Sharma, J.J. 2003. Influence of integrated use of nitrogen, phosphorus, potassium and farmyard manure on yield-attributing traits and marketable yield of carrot (Daucus carota) under high hills dry temperate conditions of north western Himalayas. Indian Journal of Agricultural Science, 73(9): 500-502.
Tsai, P,J. & Huang, H.P. 2004. Effect of polymerization on the antioxidant capacity of anthocyanin in Roselle. Food Research International, 37: 313-318.
Wrolstad, R.E. 1976. Color and pigment analyses in fruit products. Agricultural Experiment Station Bulletin, 624: 1-17.
Wu, H.Y., Yang, K.M. & Chiang, P.Y. 2018. Roselle anthocyanins: antioxidant properties and stability to heat and pH. Molecules, 23: 1357-1370.
Zahradník, A. & Petríková, K. 2007. Effect of alternative organic fertilizers on the nutritional value and yield of head cabbage. Horticultural Science, 34(2): 65-71.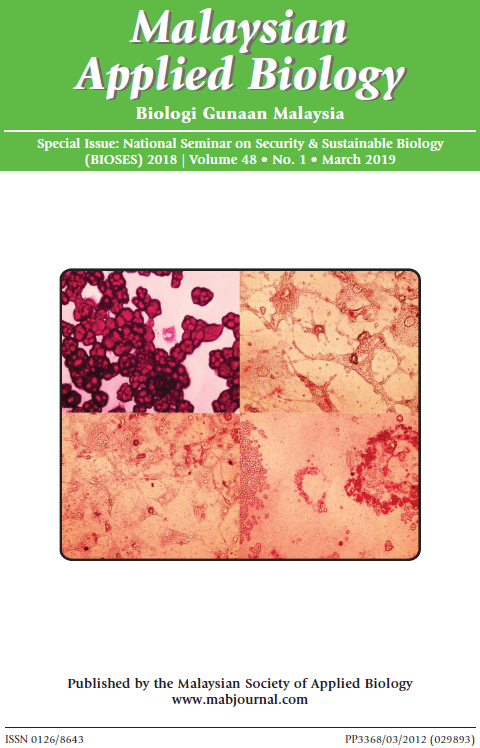 How to Cite
NORHAYATI, Y., NG, W., & DZEMI, M. (2019). EFFECTS OF ORGANIC FERTILIZERS ON GROWTH AND YIELD OF ROSELLE (Hibiscus sabdariffa L.) ON BRIS SOIL. Malaysian Applied Biology, 48(1), 177–184. Retrieved from https://jms.mabjournal.com/index.php/mab/article/view/2313
Section
Research Articles
Copyright & Licensing
Any reproduction of figures, tables and illustrations must obtain written permission from the Chief Editor (wicki@ukm.edu.my). No part of the journal may be reproduced without the editor's permission