Saline Tolerant of Marine Endophytic Fungi from Teluk Kemang Malaysia – A Rich Source of Bioactive Material
Keywords:
antifungal, identification, marine endophytic fungi, salinity, seaweed
Abstract
Endophytic fungi have been reported to have the potential as an alternative source for active metabolites in drug discovery. In a recent study, bioactive compounds were isolated from marine endophytic fungi in Malaysia. However, marine endophytic fungi were not identified. In this study, therefore the 18 endophytic fungi that were isolated from eight marine seaweeds collected from Teluk Kemang Negeri Sembilan, Malaysia were identified and evaluated for their antimicrobial activity. Out of 18 marine endophytic fungi, 11 of them were successfully identified based on internal transcribed spacer (ITS) sequencing. Of the 11, six marine endophytic fungi (MV, CN, CS1, CS2, ED1, PA1) identified were Aspergillus sp, whereas the other marine endophytic fungi isolates (UF, ED2, PA2) had sequences that were similar to Exophiala dermatitidis, Diaporthe pseudomangiferae, Arthrinium xenocordella, Phanerochaete carnosa, and Psathyrella purpureobadia respectively. A significant antifungal activity against three pathogenic fungi was exhibited by using the disc diffusion method. Eight extracts (CN, CN1, MV, MV1, ED1, ED11, ED2, ED21, PA7, PA71) exhibited antifungal activity ranging from 6.5 mm ± 0.71 mm to 12mm±1.41 (p<0.05) against Candida albicans and Trichophyton rubrum. The fungicidal effect of CN1 and ED11 extracts was detected at a lower concentration tested (0.625mg/mL) and the diameter of zone inhibitions for these two extracts (CN:9.0 mm ± 0.00 and ED11: 10.5 mm ± 0.71) were even bigger when compared to Amphotericin B (7.5mm ± 0.71). This study also showed that the salinity (additional 3% sea salt) influenced the growth, spore production, and antifungal properties of the marine endophytic fungi. Marine endophytic fungi isolated from the selected seaweeds in the present study, therefore represent a promising source of antifungal and warrant further detailed investigation.
Downloads
Download data is not yet available.
References
Abdel-Motaal, F.F., Nassar, M.S., El-Zayat, S.A., El-sayed, M.A. & Ito, S.I. 2010. Antifungal activity of endophytic fungi isolated from Egyptian henbane (Hyoscyamus muticus L.). Pakistan Journal of Botany, 42(4): 2883-2894.
Agusta, A., Ohashi, K. & Shibuya, H. 2006. Bisanthraquinone metabolites produced by the endophytic fungus Diaporthe sp. Chemical and Pharmaceutical Bulletin (Tokyo), 54(4): 579-582. DOI: https://doi.org/10.1248/cpb.54.579
Aqilah , H.M., Norhayati A.S. & Siti, A.A. 2018. Wound healing properties in Sprague-Dawley rats of marine endophytic fungi extracts. Malaysian Applied Biology, 47: 213–218.
Ariffin, S., Davis, P. & Ramasamy, K. 2011. Cytotoxic and antimicrobial activities of Malaysian marine endophytic fungi. Botanica Marina, 54(1): 95-100. DOI: https://doi.org/10.1515/bot.2011.005
Ariffin, S.A., Ramasamy, K., Davis, P., Mani, V. & Abdulla, M.A. 2014. Safety of Malaysian marine endophytic fungal extract S2 from a brown seaweed Turbinaria conoides. Journal of Coastal Life Medicine, 2(7): 527-534.
Bungihan, M.E., Tan, M.A., Kitajima, M., Kogure, N., Franzblau, S.G., Dela, C.T.E., Takayama, H. & Nonato, M.G. 2011. Bioactive metabolites of Diaporthe sp. P133, an endophytic fungus isolated from Pandanus amaryllifolius. Journal of Natural Medicine. 65(3-4): 606-609. DOI: https://doi.org/10.1007/s11418-011-0518-x
CLSI 2020. M100 Performance Standards for Antimicrobial Susceptibility Tests, 30th Edition. Clinical and Laboratory Standards Institute, USA.
Egusa, H., Soysa, N.S., Ellepola, A.N., Yatani, H. & Samaranayake, L. P. 2008. Oral candidosis in HIV-infected patients. Current HIV research, 6(6): 485–499. DOI: https://doi.org/10.2174/157016208786501445
Ellis, D., Davis, S., Alexiou, H., Handke, R. & Bartley, R. 2007. Descriptions of Medical Fungi. 2nd Ed. School of Molecular & Biomedical Science University of Adelaide, North Adelaide. 204 pp.
Flewelling, A. J., Ellsworth, K.T., Sanford, J., Forward, E., Johnson, J.A., & Gray, C.A. 2013. Macroalgal endophytes from the Atlantic coast of Canada: A potential source of antibiotic natural products? Microorganisms, 1(1): 175–187. DOI: https://doi.org/10.3390/microorganisms1010175
Flewelling, A.J., Currie, J., Gray, C.A. & Johnson, J.A. 2015. Endophytes from marine macroalgae: promising sources of novel natural products. Current Science, 109(1): 88-11.
Fouillaud, M., Venkatachalam, M., Girard-Valenciennes, E., Caro, Y. & Dufossé, L. 2016. Anthraquinones and derivatives from marine-derived fungi: structural diversity and selected biological activities. Marine Drugs, 14(4): 64-92. DOI: https://doi.org/10.3390/md14040064
Hazalin, N.A.M.N., Lim, S.M., Cole, A.L.J., Majeed, A.B.A. & Ramasamy, K. 2013. Apoptosis induced by desmethyl-lasiodiplodin is associated with the up-regulation of apoptotic genes and the downregulation of monocyte chemotactic protein-3. Anti-Cancer Drugs, 24(8): 852-861. DOI: https://doi.org/10.1097/CAD.0b013e3283635a47
Huang, J., Lu, C., Qian, X., Huang, Y. & Zheng, Z. 2011. Effect of salinity on the growth, biological activity, and secondary metabolites of some marine fungi. Acta Oceanologica Sinica, 30: 118–123. DOI: https://doi.org/10.1007/s13131-011-0126-3
Jayasiri, S.C., Hyde, K.D., Ariyawansa, H.A., Bhat, J., Buyck, B., Cai, L. & Jeewon, R. 2015. The faces of fungi database: fungal names linked with morphology, phylogeny and human impacts. Fungal Diversity, 74(1): 3-18. DOI: https://doi.org/10.1007/s13225-015-0351-8
Jeewon, R., Ittoo, J., Mahadeb, D., Jaufeerally-Fakim, Y., Wang, H.K. & Liu, A.R. 2013. DNA-based identification and phylogenetic characterisation of endophytic and saprobic Fungi from Antidesma madagascariense, a medicinal plant in Mauritius. Journal of Mycology, 2013(6): 1-10. DOI: https://doi.org/10.1155/2013/781914
Kamat S., Kumari M., Taritla S., & Jayabaskaran C. 2020. Endophytic fungi of marine alga from Konkan Coast, India - A rich source of bioactive material. Frontiers in Marine Science, 7(31). DOI: https://doi.org/10.3389/fmars.2020.00031
Karthikeyan, A., Joseph, A. & Nair, B.G. 2022. Promising bioactive compounds from the marine environment and their potential effects on various diseases. Journal of Genetic Engineering and Biotechnology, 20(14): 1-38. DOI: https://doi.org/10.1186/s43141-021-00290-4
Kerzaon, I., Grovel, O., Pont, T.R.D., Le Pape, P. & Pouchus, Y.F. 2008. Effects of seawater on growth and gliotoxin excretion of marine strains of Aspergillus fumigatus. Toxican, 51(3): 398–405. DOI: https://doi.org/10.1016/j.toxicon.2007.10.015
Khan, A., Hamayun, M.H., Waqas, M., Kang, S., Kim, Y., Kim, D. & Lee, I. 2012. Exophiala sp.LHL08 association gives heat stress tolerance by avoiding oxidative damage to cucumber plants. Biology and Fertility of Soils, 48: 519–529. DOI: https://doi.org/10.1007/s00374-011-0649-y
Pansanit, A. & Pripdeevech, P. 2018. Antibacterial secondary metabolites from an endophytic fungus, Arthrinium sp. MFLUCC16-1053 isolated from Zingiber cassumunar. Mycology, 9(4): 264 - 272. DOI: https://doi.org/10.1080/21501203.2018.1481154
Sette, L., Passarini, M., Delarmelina, C., Salati, F. & Duarte, M. 2006. Molecular characterization and antimicrobial activity of endophytic fungi from coffee plants. World Journal of Microbiology and Biotechnology, 22: 1185-1195. DOI: https://doi.org/10.1007/s11274-006-9160-2
Strobel, G. A. 2003. Endophytes as sources of bioactive products. Microbes and Infection, 5(6): 535-544. DOI: https://doi.org/10.1016/S1286-4579(03)00073-X
Tibpromma, S., Hyde, K., Bhat, J., Mortimer, P., Xu, J., Promputtha, I., Doilom, M., Yang, J., Tang, A. & Karunarathna, S. 2018. Identification of endophytic fungi from leaves of Pandanaceae based on their morphotypes and DNA sequence data from southern Thailand. MycoKeys, 33: 25-67. DOI: https://doi.org/10.3897/mycokeys.32.23670.figure7
Wei, M.Y., Wang, C.Y., Liu, Q.A., Shao, C.L., She, Z.G. & Lin, Y.C. 2010. Five sesquiterpenoids from a marine-derived fungus Aspergillus sp. isolated from a gorgonian Dichotella gemmacea. Marine Drugs, 8(4): 941-499. DOI: https://doi.org/10.3390/md8040941
Xu, Tang-Chang, Lu, Yi-Han, Wang, J.F & Song, Zhi-Qiang. 2021. Bioactive secondary metabolites of the genus Diaporthe and anamorph Phomopsis from terrestrial and marine habitats and endophytes: 2010–2019. Microorganisms, 9(2): 217-266. DOI: https://doi.org/10.3390/microorganisms9020217
Zakaria, L., Jamil, M.I.M. & Anuar, I.S.M. 2016. Molecular characterisation of endophytic fungi from roots of wild banana (Musa acuminata). Tropical Life Sciences Research, 27(1): 153-161.
Zhang, X.Y., Zhang, Y., Xu, X.Y. & Qi, S.H. 2013. Diverse deep-sea fungi from the South China Sea and their antimicrobial activity. Current Microbiology, 67(5): 525–530. DOI: https://doi.org/10.1007/s00284-013-0394-6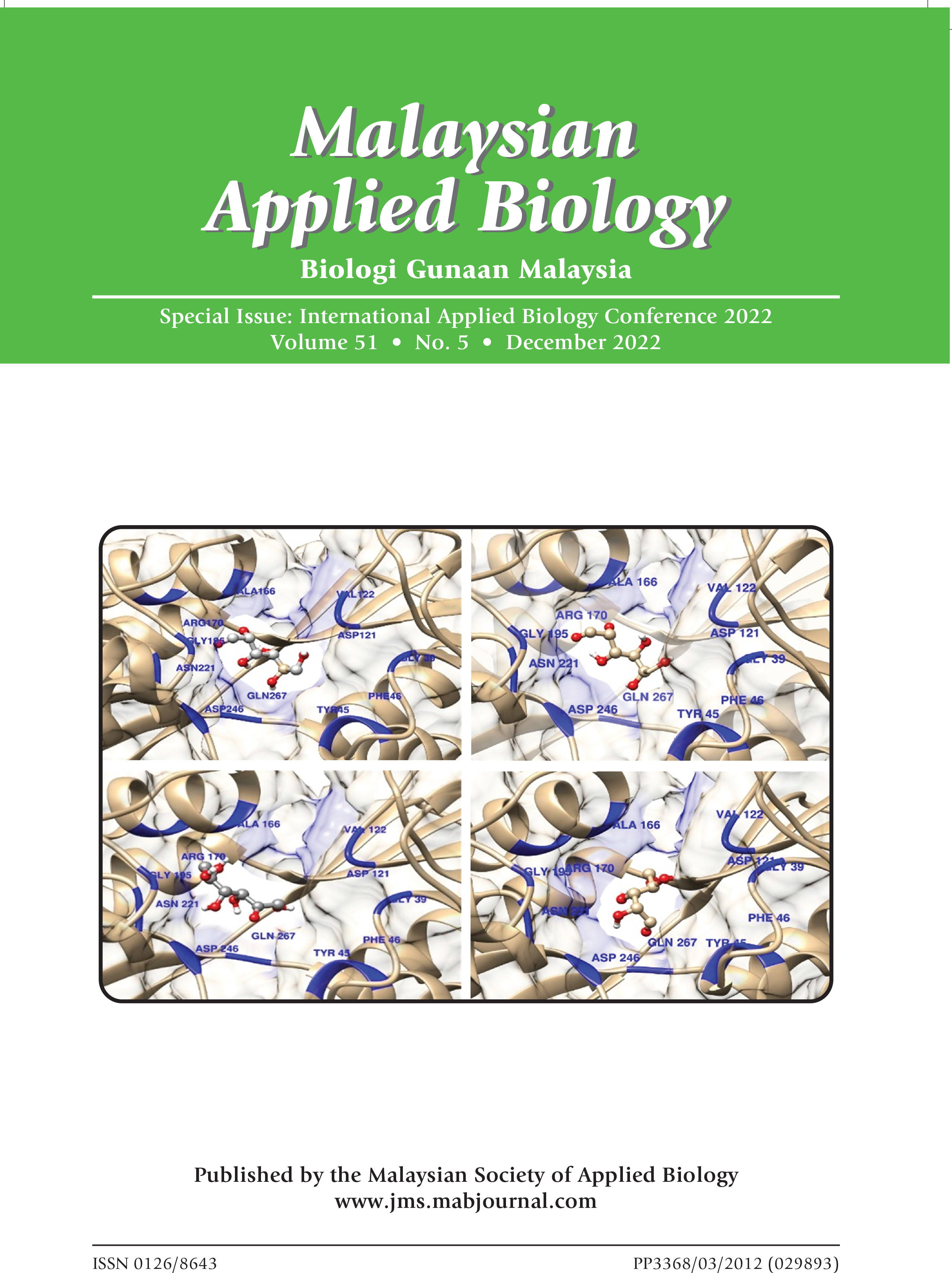 How to Cite
Latif, P. S. M. A. ., Noor, N. M. M. ., Mazlan, S. ., Razali, N. ., Ramasamy, K. ., & Ariffin, S. A. . (2022). Saline Tolerant of Marine Endophytic Fungi from Teluk Kemang Malaysia – A Rich Source of Bioactive Material. Malaysian Applied Biology, 51(5), 193–200. https://doi.org/10.55230/mabjournal.v51i5.2366
Section
Research Articles
Copyright & Licensing
Any reproduction of figures, tables and illustrations must obtain written permission from the Chief Editor (wicki@ukm.edu.my). No part of the journal may be reproduced without the editor's permission