Regeneration of Syzygium myrtifolium Walp. from Seed Fragments – Evidence of Polyembryony?
Keywords:
Adventitious, cotyledon, in vivo, plantlet, spontaneous
Abstract
Intact Syzygium myrtifolium seed produces a single seedling although most species within the same genus are polyembryonic. Following the earlier work that found the potential of more than one plantlet development from the fractionated seeds of some monoembryonic Eugenia spp. belonging to the same family, the present work assessed the sprouting of S. myrtifolium seed fractions on moistened paper towel pads. This study was carried out in the enclosed plastic boxes at ambient temperature in the laboratory. The results obtained indicated that the different parts of the cotyledons could develop plantlets spontaneously following incision of a seed into separated fractions. Despite the reduced mass, the seed fragments revealed the potential of developing more than one plantlet in vivo from a seed. Injury or seed incision has been suggested to trigger the development of embryonic cell in the cotyledon leading to the formation of an entire plant in contrast to polarity committed by whole seed. For the fragmented seeds that did not regenerate full plants, more than 80% of them exhibited unsynchronized adventitious root development. In the re-growth evaluation, more than 70% of the seed fragments formed new adventitious roots on the new cotyledonary surfaces after the removal of plantlets and the attached cotyledons. This phenomenon suggests the spread of meristematic tissues within the cotyledons. Future work should look into the intrinsic signals and external cues that regulate the cellular differentiation and development in the seed fractions in revealing the polyembryony in S. myrtifolium.
Downloads
Download data is not yet available.
References
Ahmad Nazarudin, M.R., Tsan, F.Y. & Mohd Fauzi, R. 2014. Paclobutrazol effects on growth performance and public preference on potted Syzygium myrtifolium (Roxb.) Walp. Journal of Agrobiotechnology, 5: 17–29.
Amador, T.S. & Barbedo, C.J. 2015. Germination inhibits the growth of new roots and seedlings in Eugenia uniflora and Eugenia brasiliensis. Journal of Seed Science, 37(3): 241–247. DOI: https://doi.org/10.1590/2317-1545v37n3150595
Blando, F., Onlu, S., Colella, G. & Konczak, I. 2013. Plant regeneration from immature seeds of Eugenia myrtifolia Sims. In Vitro Cellular and Developmental Biology - Plant, 49(4): 388–395. DOI: https://doi.org/10.1007/s11627-013-9502-3
Calvi, G.P., Anjos, A.M.G., Kranner, I., Pritchard, H.W. & Ferraz, I.D.K. 2017a. Exceptional flooding tolerance in the totipotent recalcitrant seeds of Eugenia stipitata. Seed Science Research, 27(2): 121–130. DOI: https://doi.org/10.1017/S0960258517000125
Calvi, G.P., Aud, F.F., Ferraz, I.D.K., Pritchard, H.W. & Kranner, I. 2017b. Analyses of several seed viability markers in individual recalcitrant seeds of Eugenia stipitata McVaugh with totipotent germination. Plant Biology, 19(1): 6–13. DOI: https://doi.org/10.1111/plb.12466
Chickarmane, V.S., Gordon, S.P., Tarr, P.T., Heisler, M.G. & Meyerowitz, E.M. 2012. Cytokinin signaling as a positional cue for patterning the apical-basal axis of the growing Arabidopsis shoot meristem. Proceedings of the National Academy of Sciences of the United States of America, 109(10): 4002–4007. DOI: https://doi.org/10.1073/pnas.1200636109
Delgado, L.F., Mello, J.I.O. & Barbedo, C.J. 2010. Potential for regeneration and propagation from cut seeds of Eugenia (Myrtaceae) tropical tree species. Seed Science and Technology, 38(3): 624–634. DOI: https://doi.org/10.15258/sst.2010.38.3.10
Farsi, E., Esmailli, K., Shafaei, A., Khadeer Ahamed, M.B., Abdul Majid, A.S., Abdul Sattar, M.Z. & Abdul Majid, A.M.S. 2016. Preclinical safety assessment and mutagenicity of the hydroethanolic extract of Syzygium campanulatum leaves. International Journal of Phytomedicine, 8(4): 514–524. DOI: https://doi.org/10.5138/09750185.1955
Gaillochet, C. & Lohmann, J.U. 2015. The never-ending story: From pluripotency to plant developmental plasticity. Development, 142(13): 2237–2249. DOI: https://doi.org/10.1242/dev.117614
Gambhir, G., Kumar, P. & Srivastava, D.K. 2017. High frequency regeneration of plants from cotyledon and hypocotyl cultures in Brassica oleracea cv. Pride of India. Biotechnology Reports, 15: 107–113. DOI: https://doi.org/10.1016/j.btre.2017.02.005
ISTA. 2019. International Rules for Seed Testing 2019. International Seed Testing Association, Switzerland.
Karuppusamy, S. & Ravichandran, V. 2016. On the identity and nomenclature of Syzygium sriganesanii K. Ravik. & V. Lakshm. (Myrtaceae) in southern Western Ghats, India. Journal of Biological Records, e0072016: 65–72.
Landrum, L.R. & Kawasaki, M.L. 1997. The genera of Myrtaceae in Brazil: An illustrated synoptic treatment and identification keys. Brittonia, 49(4): 508–536. DOI: https://doi.org/10.2307/2807742
Li, Y.H., Mo, Y.W., Wang, S.B. & Zhang, Z. 2020. Auxin efflux carriers, MiPINs, are involved in adventitious root formation of mango cotyledon segments. Plant Physiology and Biochemistry, 150: 15–26. DOI: https://doi.org/10.1016/j.plaphy.2020.02.028
Lughadha, E.N. & Proença, C. 1996. A survey of the reproductive biology of the Myrtoideae (Myrtaceae). Annals of the Missouri Botanical Garden, 83: 480–503. DOI: https://doi.org/10.2307/2399990
Memon, A.H., Ismail, Z., Aisha, A.F.A., Al-Suede, F.S.R., Hamil, M.S.R., Hashim, S., Ahmed Saeed, M.A., Laghari, M. & Abdul Majid, A.M.S. 2014. Isolation, characterization, crystal structure elucidation, and anticancer study of dimethyl cardamonin, isolated from Syzygium campanulatum Korth. Evidence-Based Complementary and Alternative Medicine, 2014. DOI: https://doi.org/10.1155/2014/470179
Mohamed, S.S., Al-Hawshabi, O.S.S., Atef, M.A.A. & Aulaqi, W.A. 2014. Syzygium jambos (L.) Alston (Myrtaceae), a new record introduced to the flora of Yemen. Journal of Biology and Earth Sciences, 4(1): B52–B56.
Nair, P.S., Kumar, K.G.A., Gayatri, G.P. & Deth, G.S.K. 2020. Recalcitrant behaviour of the seeds of Syzygium cumini (L.) Skeels during embryogeny and natural desiccation. Plant Physiology Reports, 25(3): 426–431. DOI: https://doi.org/10.1007/s40502-020-00528-2
Pierre-Jerome, E., Drapek, C. & Benfey, P.N. 2018. Regulation of division and differentiation of plant stem cells. Annual Review of Cell and Developmental Biology, 34: 289–310. DOI: https://doi.org/10.1146/annurev-cellbio-100617-062459
Sampathkumar, A., Yan, A., Krupinski, P. & Meyerowitz, E.M. 2014. Physical forces regulate plant development and morphogenesis. Current Biology, 24(10): R475–R483. DOI: https://doi.org/10.1016/j.cub.2014.03.014
Shareef, S.M., Santhosh Kumar, E.S. & Shaju, T. 2013. A new species of Syzygium (Myrtaceae) from the southern Western Ghats of Kerala, India. Phytotaxa, 129(1): 34–38. DOI: https://doi.org/10.11646/phytotaxa.129.1.2
Sivasubramaniam, K. & Selvarani, K. 2012. Viability and vigor of jamun (Syzygium cumini) seeds. Brazilian Journal of Botany, 35(4): 397–400. DOI: https://doi.org/10.1590/S0100-84042012000400012
Snow, N., Young, S.L. & Callmander, M.W. 2016. Syzygium dawsoniana (Myrtaceae): A new species from New Caledonia with bullate leaves. Systematic Botany, 41(1): 197–201. DOI: https://doi.org/10.1600/036364416X690615
Staggemeier, V.G., Diniz-Filho, J.A.F. & Morellato, L.P.C. 2010. The shared influence of phylogeny and ecology on the reproductive patterns of Myrteae (Myrtaceae). Journal of Ecology, 98: 1409–1421. DOI: https://doi.org/10.1111/j.1365-2745.2010.01717.x
Sujanapal, P., Robi, A.J., Udayan, P.S. & Dantus, K.J. 2013. Syzygium sasidharanii sp. nov. (Myrtaceae) – A new species with edible fruits from Agasthyamala Hills of Western Ghats, India. International Journal of Advanced Research, 1(5): 44–48.
Thurlby, K.A.G., Connelly, C., Wilson, P.G. & Rossetto, M. 2011. Development of microsatellite loci for Syzygium paniculatum (Myrtaceae), a rare polyembryonic rainforest tree. Conservation Genetics Resources, 3(2): 205–208. DOI: https://doi.org/10.1007/s12686-010-9323-1
Tsan, F.Y. & Awang, N.F. 2021. Fruit ripeness effects on characteristics, germination and desiccation tolerance of Syzygium myrtifolium Walp. seeds. Journal of Tropical Plant Physiology, 13(1): 40–50.
van Wyk, A.E. & Botha, R. 1984. The genus Eugenia (Myrtaceae) in southern Africa: Ontogeny and taxonomic value of the seed. South African Journal of Botany, 3(1): 63–80. DOI: https://doi.org/10.1016/S0022-4618(16)30083-3
WCSP. 2021. World Checklist of Selected Plant Families. Royal Botanic Gardens, Kew, http://apps.kew.org/wcsp/
Zimik, M. & Arumugam, N. 2017. Induction of shoot regeneration in cotyledon explants of the oilseed crop Sesamum indicum L. Journal of Genetic Engineering and Biotechnology, 15: 303–308. DOI: https://doi.org/10.1016/j.jgeb.2017.07.006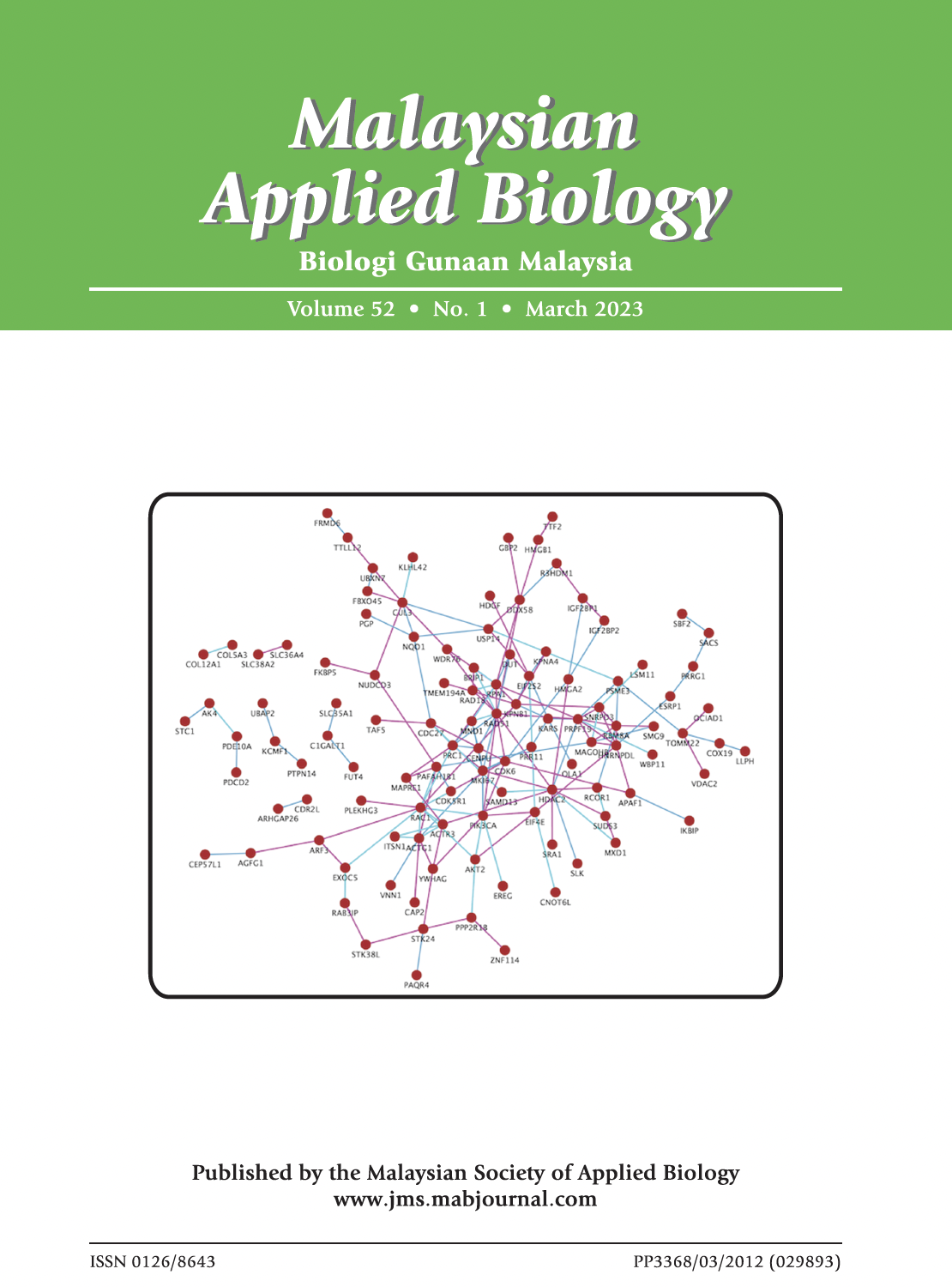 How to Cite
Tsan, F. Y. (2023). Regeneration of Syzygium myrtifolium Walp. from Seed Fragments – Evidence of Polyembryony?. Malaysian Applied Biology, 52(1), 101–107. https://doi.org/10.55230/mabjournal.v52i1.2446
Section
Research Articles
Copyright & Licensing
Any reproduction of figures, tables and illustrations must obtain written permission from the Chief Editor (wicki@ukm.edu.my). No part of the journal may be reproduced without the editor's permission