Antibacterial Properties of Purified Sago Frond Sugar Against Food-Borne Associated Disease Bacteria
Keywords:
Cellobiose, enzymatic hydrolysis, food-borne disease, powdered activated charcoal
Abstract
Sago palm is recognised as key to sustainable food security due to its advantages resilient against extreme conditions such as wildfire and flood associated with adaptability to climate change. Sago palm is also known to remain solid after being attacked by pests and infected by the disease. Unfortunately, for the last ten years, the Sago palm industry experiences a significant decrease in plantation area and productivity. The long maturation period is identified to be the major factor that is responsible towards the respected issue. Thus, alternative commodities from the growing sago palm must be explored to offer a better perspective on the sago industry. Sago frond (SF) was utilised into Sago Frond Sugar (SFS) via enzymatic hydrolysis using cellulase enzyme containing cellobiose and glucose as main sugar at 9-10 g/L and 5-6 g/L concentration respectively. SFS was purified (PSFS) using Powdered Activated Charcoal (PAC) to remove the impurities. Antibacterial analysis shows that PSFS able to inhibit the growth of Staphylococcus aureus, Escherichia coli and Salmonella typhi at 23.5 mm, 22.5mm and 13.25 mm clearing zone respectively. However, the growth of Listeria monocytogenes seems unaffected by the presence of PSFS. Promoting the versatility of sago frond as raw material to synthesise high-value products such as SFS will extend the potential of the sago palm to be recognised as an important crop to ensure global food security and safety.
Downloads
Download data is not yet available.
References
Adeni, D.S.A., Ahmad, M.N. & Bujang, K. 2018. Maximising production of prebiotic sugar (cellobiose) from sago frond. Malaysian Applied Biology, 47(1): 89-95.
Ahmad, M.N., Bujang, K., Adeni, D.S.A. & Lananan, F. 2020. Sugars from sago frond as prebiotic substrate to enhance the growth of lactococcus lactis io-1 and production of l-lactic acid. IOP Conf. Series: Materials Science and Engineering, 716: 12-14. DOI: https://doi.org/10.1088/1757-899X/716/1/012014
ATCC. 2023. Genomes. https://genomes.atcc.org/genomes (accessed 01.23.23).
Cassell, G.H. & Mekalanos, J. 2001. Development of antimicrobial agents in the era of new and reemerging infectious diseases and increasing antibiotic resistance. Jama, 285(5): 601–605. DOI: https://doi.org/10.1001/jama.285.5.601
Dąbrowski , A., Podkościelny, P., Hubicki, Z & Barczak, M. 2004. Adsorption of phenolic compounds by activated carbon. Chemosphere, 58(8): 1049-1070. DOI: https://doi.org/10.1016/j.chemosphere.2004.09.067
Gehin, A., Gelhaye, E., Raval, G. & Petitdemange, H. 1995. Clostridium cellulolyticum viability and sporulation under cellobiose starvation conditions. Applied and Environmental Microbiology, 61(3): 868–71. DOI: https://doi.org/10.1128/aem.61.3.868-871.1995
Kunz, T., Reinhardt, Ch., Eon-Jeong, L., Dörr, T., Radowski, A. & Methner, F.J. 2012. Impact of fermentable and non-fermentable carbohydrates on the sweetness, improvement of palate fullness and SO2-content in beer. BrewingScience 65(11–12): 140–49.
Leclercq, R., Cantón, R., Brown, D.F.J., Giske, C.G., Heisig, P., Macgowan, A.P. & Kahlmeter, G. 2013. EUCAST expert rules in antimicrobial susceptibility testing. Clinical Microbiology and Infection. DOI: https://doi.org/10.1111/j.1469-0691.2011.03703.x
Ren, X., Ma, L., Chu, J., Wang, Y., Zhuang, Y., Zhang, S., Yang, H. & An, H. 2012. Optimization of enzymatic hydrolysis of channel catfish bones for preparing antimicrobial agents. Journal of Aquatic Food Product Technology, 21(2): 99–110. DOI: https://doi.org/10.1080/10498850.2011.586136
Sikem, N. D. 2017. Physio-chemical Analyses of Raw and Purified Sago Sugars (Masters). Universiti Malaysia Sarawak.
Tchobanoglous, G. & Burton. F.L. 1991. Wastewater Engineering : Treatment Disposal Reuse. McGraw-Hill, New York.
Universiti of Delaware. 2016. Effect of Antibiotic in Animal Feed. http://www1.udel.edu/chem/C465/senior/fall97/feed/present.html (assessed 06.13.16)
Vihakas, M & Salminen, J.P. 2014. Flavonoids And Other Phenolic Compounds: Characterization and Interactions With Lepidopteran and Sawfly Larvae. Department of chemistry, University of Turku, Turku, Finland.
Waite, B.L., & Hutkins, R.W. 1998. Bacteriocins inhibit glucose PEP: PTS activity in Listeria monocytogenes by induced efflux of intracellular metabolites. Journal of Applied Microbiology, 85(2): 287–92. DOI: https://doi.org/10.1046/j.1365-2672.1998.00502.x
WHO. 2001. World Water Day Report. http://www.who.int/water_sanitation_health/takingcharge.html (accessed 03.05.20).
Wyman, C.E., Dale, E., Elander, R.T., Holtzapple, M., Ladisch, M.R. & Lee, Y.Y. 2005. Coordinated development of leading biomass pretreatment technologies. Bioresource Technology, 96(18): 19: 59–66. DOI: https://doi.org/10.1016/j.biortech.2005.01.010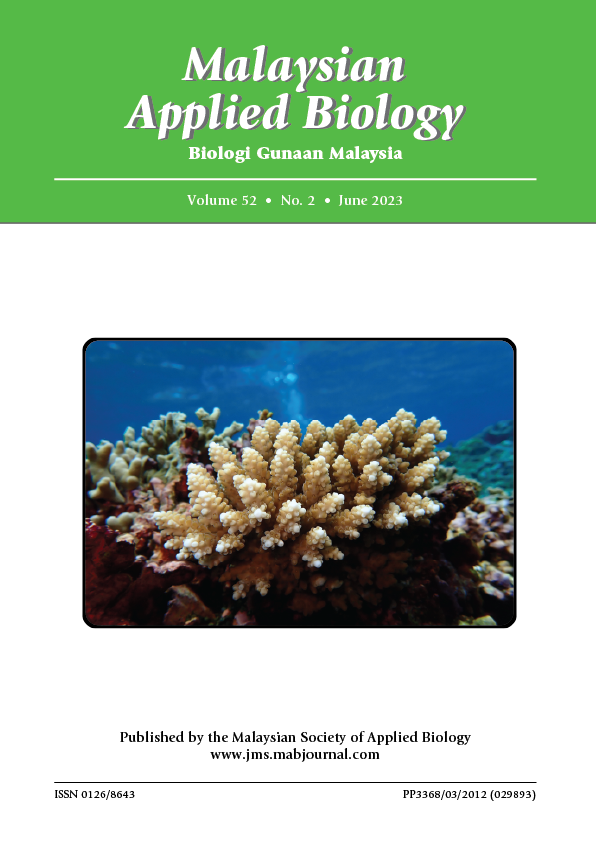 How to Cite
Ahmad, M. N. ., Matnin, N. ., Adeni, D. S. A., Suhaili, N. ., & Bujang, K. (2023). Antibacterial Properties of Purified Sago Frond Sugar Against Food-Borne Associated Disease Bacteria. Malaysian Applied Biology, 52(2), 71–75. https://doi.org/10.55230/mabjournal.v52i2.2656
Section
Research Articles
Copyright & Licensing
Any reproduction of figures, tables and illustrations must obtain written permission from the Chief Editor (wicki@ukm.edu.my). No part of the journal may be reproduced without the editor's permission