Evaluation of The In-Vitro Anthelmintic Activity of Leucas zeylanica Extracts on Earthworms
Keywords:
Anthelminthic activity, earthworms, in vitro, Leucas zeylanica, medicinal plant
Abstract
Leucas zeylanica known as Ketumbit has a wide range of medical applications. This fact includes the traditional practice of L. zeylanica for the treatment of worm infections successfully, however to date, the anthelmintic effect has still not been scientifically proven. Therefore, the present study aimed to evaluate the anthelmintic activity of L. zeylanica. The study began with the extraction of L. zeylanica extracts using methanol, ethanol, and aqueous. Subsequently, experiments were conducted to evaluate the possible in vitro anthelmintic activity of various extracts of L. zeylanica against earthworms. Various concentrations (25, 50 & 100 mg/mL) of extracts were tested and results were expressed in terms of the time of paralysis and time of death of worms. All extracts of the plant exhibited considerable anthelmintic activities in a dose-dependent manner. Of them all, methanolic extract at 100 mg/mL showed the most efficacious anthelmintic activity that was comparable to the reference drug (albendazole, 25 mg/mL). Therefore, we conclude that methanolic extract at the concentration of 100 mg/mL could be considered a candidate for worm treatment apart from the standard medication. This work may provide a framework for further study of L. zeylanica as an alternative treatment for worm infection.
Downloads
Download data is not yet available.
References
Abdullah, F., Nasir, S.N.A.M., Han, D.K., Appalasamy, S., Nor, M.M. & Rak, A.E. 2019. Potential of Leucas zeylanica extract to eliminate E. coli and S. aureus in Corbicula fluminea (Etak) tissue. Malaysian Journal of Fundamental and Applied Sciences, 15(4): 597–599. DOI: https://doi.org/10.11113/mjfas.v15n4.1248
Agarwal, S., Jacob, S., Chettri, N., Bisoyi, S., Badarinath, D.K., Vedamurthy, A.B., Krishna, V. & Hoskeri, H.J. 2011. Evaluation of in vitro anthelmintic activity of Leucas aspera extracts. Pharmacognosy Journal, 3(24): 77–80. DOI: https://doi.org/10.5530/pj.2011.24.15
Das, S., Ray, A., Nasim, N., Nayak, S. & Mohanty, S. 2019. Effect of different extraction techniques on total phenolic and flavonoid contents, the antioxidant activity of betelvine and quantification of its phenolic constituents by validated HPTLC method. 3 Biotech, 9(1): 37. DOI: https://doi.org/10.1007/s13205-018-1565-8
Das, S., Rumana, A., Huque, S., Anwar, R., Das, P., Tanni, K.A. & Shahriar, M. 2017. In vitro anthelmintic activity of leaf extracts of four different types of calamus species. Pharmacy & Pharmacology International Journal, 5(2): 72–76. DOI: https://doi.org/10.15406/ppij.2017.05.00118
Ediriweera, S. 2014. Effect of decoction of Leucas zeylanica in worm infestation with special reference to Enterobius vermicularis. Journal of Ayurveda and Holistic Medicine, 2: 11–17.
Gupta, D.K., Agrawal, K.K., Anju, V. & Kishan, S. 2012. Investigation of in-vitro anthelmintic activity of L. lavandulifolia, L. cephalotes and L. aspera. Journal of Pharmacy Research, 5(1): 212– 213.
Islam, A., Hussain, M., Sen, N., Abedin, F., Millat, M.S., Islam, M.S., Das, A., Kar, A. & Hossain, M.M. 2017. Investigation of in vitro thrombolytic and anti-helminthic activity and in vivo anxiolytic and antidepressant potentiality with phytochemical nature of methanolic extract of Leucas lavandulifolia. Sustainable Chemistry, and Pharmacy, 6: 61–66. DOI: https://doi.org/10.1016/j.scp.2017.09.001
Kalpana, V.N. & Rajeswari, V.D. 2016. Phytochemical and Pharmacological investigation of an indigenous medicinal plant Leucas aspera. International Journal of PharmTech Research, 9(8): 2455–9563.
Kumar, B.S.A., Lakshman, K., Jayaveera, K.N., Velmurugan, C., Manoj, B. & Sridhar, S.M. 2010. Anthelmintic activity of methanol extract of Amaranthus caudatus Linn. Journal of Food Safety, 12: 127–129.
Lim, L.A. & Chua, T.H. 2016. Worm infection among children in Malaysia. Borneo Journal of Medical Sciences, 10(1): 59–74. DOI: https://doi.org/10.51200/bjms.v10i1.568
Lloyd, A.E., Honey, B.L., John, B.M. & Condren, M. 2014. Treatment options and considerations for intestinal helminthic infections. The Journal of Pharmacy Technology, 30(4): 130–139. DOI: https://doi.org/10.1177/8755122514533667
Murugamani, V., Raju, L., Anand Raj V.B., Sarma Kataki, M. & Sankar G.G. 2012. The new method was developed for evaluation of anthelmintic activity by housefly worms and compared with conventional earthworm method. International Scholarly Research Notices, 2012: 709860. DOI: https://doi.org/10.5402/2012/709860
Omale, J. & Ojonugwa, T.G.U. 2014. In vitro antihelmintic activity of Saba florida (benth) extracts against Nigerian adult earthworm (Terrestris lumbricoides). Planta Medica, 2014: 80. DOI: https://doi.org/10.1055/s-0034-1394734
Radha, P., Nur Hafizah, R., Nagavalli, D., Pruthvi, N., Prabhu, M. & Joysa Ruby, J. 2018. In vitro anthelmintic study of Bauhinia acuminata Linn. leaf extracts against the housefly worms, Indo American Journal of Pharmaceutical Sciences, 5(6): 5082–5089.
Suresh, K., Priyanka, K., Ramanjaneyulu, K. & Himabindhu, J. 2016. Phytochemical screening and in vitro anthelmintic activity of Alysicarpus monilifer. International Journal of Pharmacognosy and Phytochemical Research, 8(10): 1630–1633.
Wendt, S., Trawinski, H., Schubert, S., Rodloff, A.C., Mössner, J. & Lübbert, C. 2019. The diagnosis and treatment of pinworm infection. Deutsches Arzteblatt International, 116(13): 213–219. DOI: https://doi.org/10.3238/arztebl.2019.0213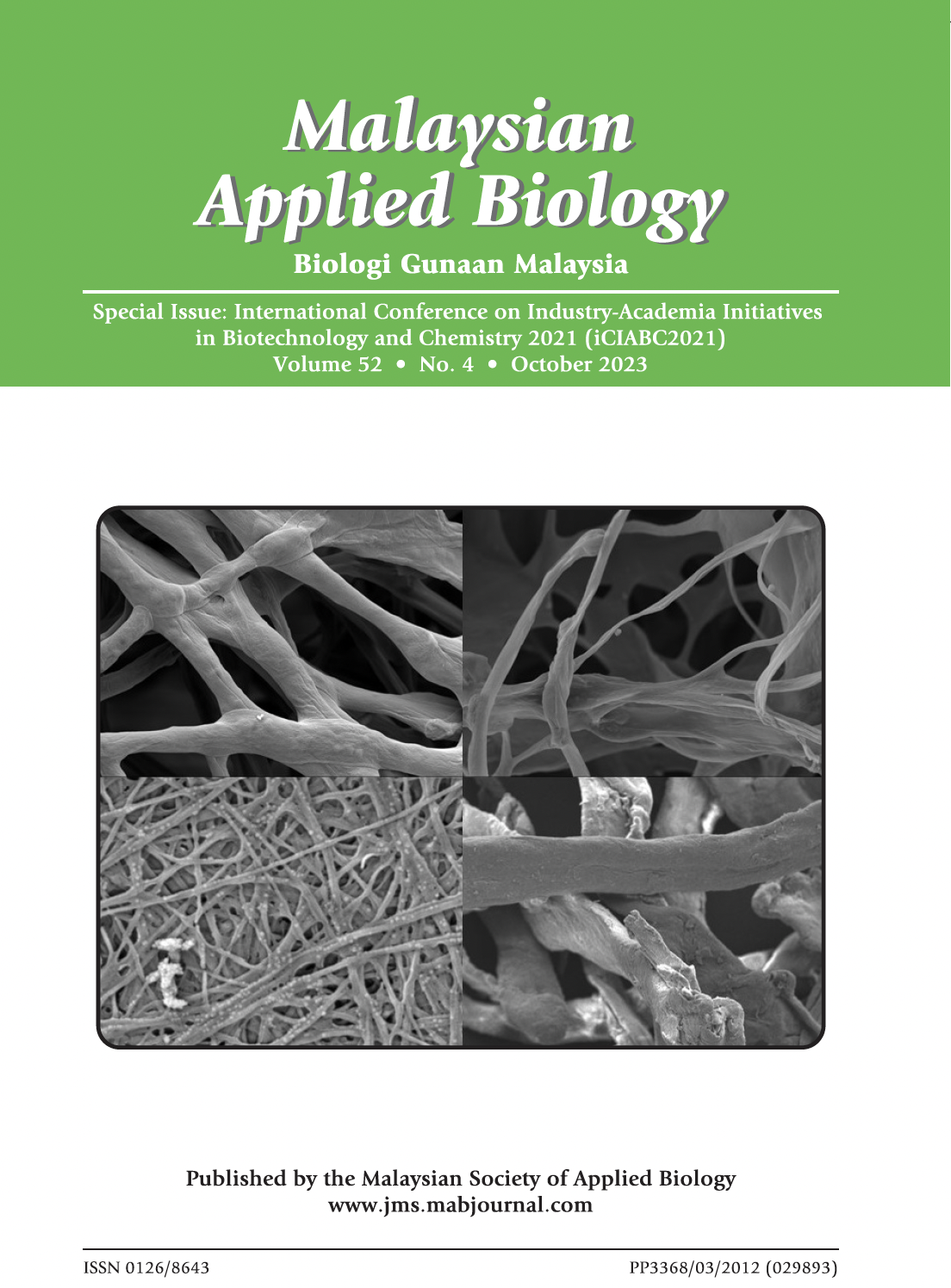 How to Cite
Manisekaran, H. ., Selahuddeen, M. L. ., Rahmat, Z., Abdullah, F., & A Samad, A. F. . (2023). Evaluation of The In-Vitro Anthelmintic Activity of Leucas zeylanica Extracts on Earthworms. Malaysian Applied Biology, 52(4), 57–64. https://doi.org/10.55230/mabjournal.v52i4.d119
Section
Research Articles
Copyright & Licensing
Any reproduction of figures, tables and illustrations must obtain written permission from the Chief Editor (wicki@ukm.edu.my). No part of the journal may be reproduced without the editor's permission