Effects of Selected Plants Against Rice Weevil (Sitophilus oryzae)
Keywords:
Antifeedant, anti-progeny, plants, repellency, rice weevil
Abstract
Rice weevils (Sitophilus oryzae) have caused significant damage and losses in rice storage. The use of chemical pesticides to control them has had negative environmental effects and limited efficacy. To address this issue, natural plant-based insect-control alternatives were investigated. This study aimed to assess the effectiveness of (Pandanus amaryllifolius), kaffir lime leaves (Citrus hystrix), and "asam gelugor" (Garcinia atroviridis) in repelling, inhibiting feeding, and reducing the offspring of rice weevils. Plant samples were extracted using the soxhlet extraction method, and the crude extracts were concentrated using a rotary evaporator. The extract solutions were then tested for their effects on rice weevils. The results showed that pandan leaves were the most effective, with a repellency percentage of 46.67% and a better anti-progeny effect of 2.175%. Kaffir lime leaves had no effect on rice weevils, while asam keping only showed an anti-progeny effect of 6.525%. The study revealed that low concentrations (0.002 - 0.006 g/mL) of insecticides from pandan extracts could provide a repellency effect against rice weevils. Therefore, plant extracts from Pandanus can be used as botanical insecticides to manage S. oryzae infestations.
Downloads
Download data is not yet available.
References
Adeleye, V.O., Seal, D.R., Liburd, O.E., McAuslane, H. & Alborn, H. 2022. Pepper weevil, Anthonomus eugenii (Coleoptera: Curculionidae) suppression on jalapeño pepper using non-host insect repellent plants. Crop Protection, 154: 105893. DOI: https://doi.org/10.1016/j.cropro.2021.105893
Balamurugan, V., Raja, K., Selvakumar, S. & Vasanth, K. 2019. Phytochemical screening, antioxidant, anti-diabetic and cytotoxic activity of leaves of Pandanus canaranus Warb. Materials Today: Proceedings, 48: 322-329. DOI: https://doi.org/10.1016/j.matpr.2020.07.603
Devi, A., Dwivedi, S., Verma, O.P., Kumari, P., Dwivedi, D.K., Singh, P.K. & Dwivedi, R. 2017. Studies on heterosis and combining ability in rice (Oryza sativa L.) for morpho-physiological traits under normal and saline conditions. International Journal of Current Microbiology and Applied Sciences, 6(8): 1558-1571. DOI: https://doi.org/10.20546/ijcmas.2017.608.187
Devi, M.B., Devi, N.V. & Singh, S.N. 2014. Effects of six plant extracts on rice weevil Sitophilus oryzae in the stored wheat grains. International Journal of Agriculture Innovations and Research, 1(4): 2-6.
Fauzi, S. & Prastowo, S. 2021. Repellent effect of the pandanus (Pandanus amaryllifolius Roxb.) and neem (Azadirachta indica) against rice weevil. Entomology, Ornithology & Herpetology: Current Research, 11(2): 1000276.
Fernando, H.S. & Karunaratne, M.M.S. 2013. Mella (Olax zeylanica) leaves as an eco-friendly repellent for storage insect pest management. Journal of Tropical Forestry and Environment, 3: 64-69. DOI: https://doi.org/10.31357/jtfe.v3i1.1124
Ikawati, S., Dhuha, M. & Himawan, T. 2017. Bioactivity of citrus hystrix D.C. leaf extract against cigarette beetle Lasioderma serricorne (F.). Journal of Tropical Life Science, 7(3): 189-196. DOI: https://doi.org/10.11594/jtls.07.03.01
Ishii, T., Matsuzawa, H. & Vairappan, C.S. 2010. Repellent activity of common spices against the rice weevil, Sitophilus zeamais Motsch (Coleoptera, Curculionidae). Journal of Tropical Biology and Conservation 7: 75-80.
Khani, M., Awang, R.M., Omar, D., Rahmani, M. & Rezazadeh, S. 2011. Tropical medicinal plant extracts against rice weevil, Sitophilus oryzae L . Journal of Medicinal Plant Research, 5(2): 259-265.
Koehler, P.G. 1999. Rice weevil, Sitophilus oryzae (Coleoptera: Curculionidae) [WWW Document]. UF/IFAS. URL https:// https://edis.ifas.ufl.edu/publication/IG120 (accessed 1.20.21).
Lee, B.H., Choi, W.S., Lee, S.E. & Park, B.S. 2001. Fumigant toxicity of essential oils and their constituent compounds towards the rice weevil, Sitophilus oryzae (L.). Crop Protection, 20(4): 317-320. DOI: https://doi.org/10.1016/S0261-2194(00)00158-7
Negahban, M., Moharramipour, S. & Sefidkon, F. 2006. Chemical composition and insecticidal activity of Artemisia scoparia essential oil against three coleopteran stored-product insects. Journal of Asia-Pacific Entomology, 9(4): 381-388. DOI: https://doi.org/10.1016/S1226-8615(08)60318-0
Ravi, D., Dawar, H., Garg, S., Basir, S. & Talwar, G. 1996. Effect of volatiles from neem and other natural products on genotrophic cycle and oviposition of Anopheles stephensi and An. culicifacies (Diptera: Culicidae). Journal of Medical Entomology, 33: 195-201. DOI: https://doi.org/10.1093/jmedent/33.2.195
Yazdgerdian, A.R., Akhtar, Y. & Isman, M.B. 2015. Insecticidal effects of essential oils against wooly beech aphid, Phyllaphis fagi (Hemiptera: Aphididae)and rice weevil, Sitophilus oryzae (Coleoptera: Curculionidae). Journal of Entomology and Zoology Studies, 3(3): 211-217.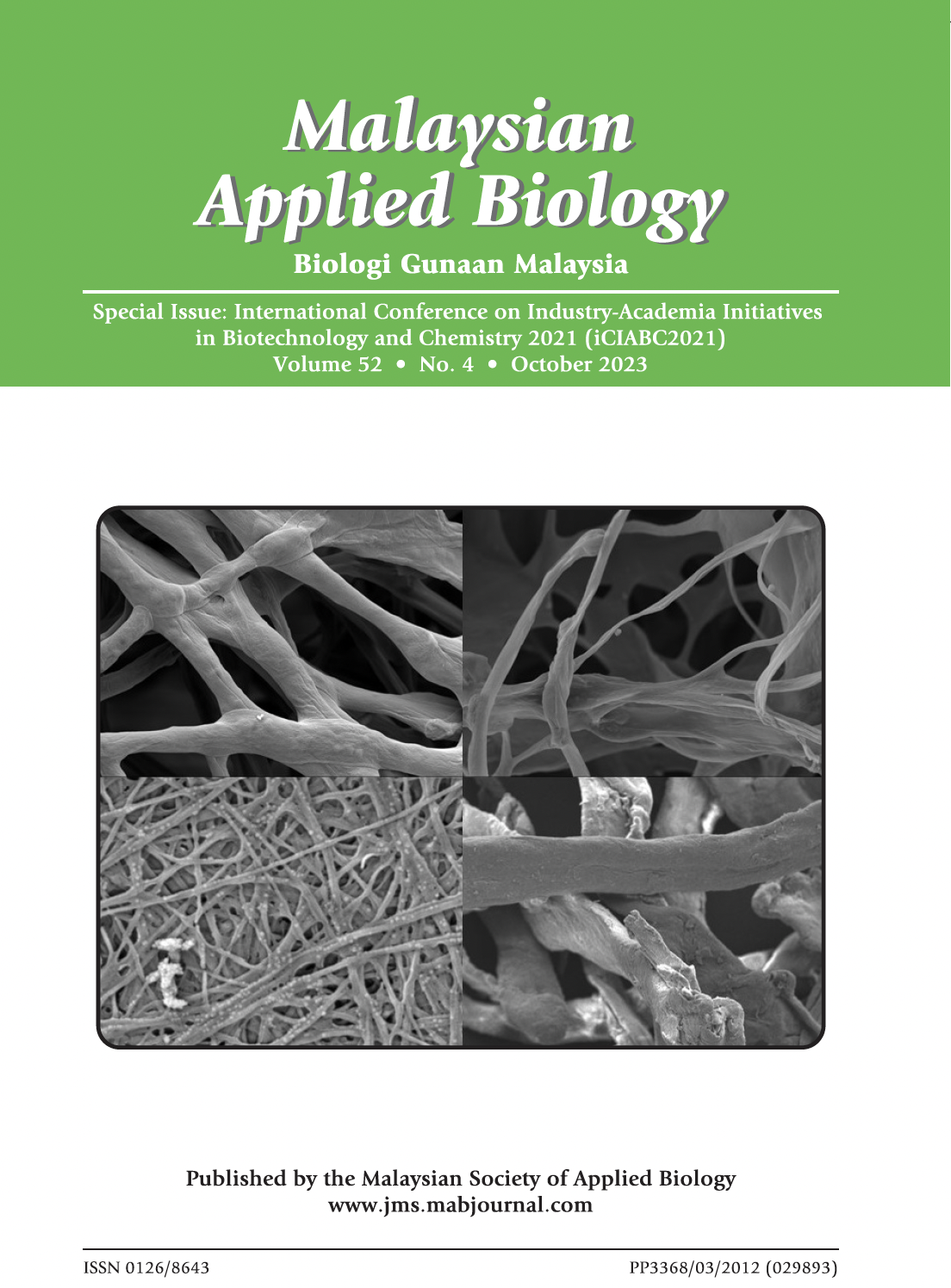 How to Cite
Mohd Arafah, N. S. ., Jun, C. Y., Mohamed Shariff, S. S. ., Mohd Noor, N. Q. I. ., & Zaharudin, N. (2023). Effects of Selected Plants Against Rice Weevil (Sitophilus oryzae). Malaysian Applied Biology, 52(4), 113–118. https://doi.org/10.55230/mabjournal.v52i4.d044
Section
Research Articles
Copyright & Licensing
Any reproduction of figures, tables and illustrations must obtain written permission from the Chief Editor (wicki@ukm.edu.my). No part of the journal may be reproduced without the editor's permission