MICROBIAL-INDUCED CALCITE PRECIPITATION: A MILESTONE TOWARDS SOIL IMPROVEMENT
Keywords:
Biomineralization, Calcium carbonate, calcite, urease enzyme, ureolysis, ureolytic bacteria
Abstract
Microbial-induced calcite precipitation (MICP) is a natural process that offered various applications in the engineering field materials and construction industry. It has recently emerged as an innovative, eco-friendly, and economically engineered
process. One of the successful MICP methods of improving the engineering properties of soils is ureolysis. The ureolysis drove the process of precipitate calcite which binds soil particles within the soil matrix thus enhance soil characteristics
such as stiffness, permeability, hydraulic conductivity, shear strength, and compressive strength. This paper aimed at reviewing the concept of utilizing calcium carbonate (CaCO3) precipitation by ureolytic bacteria towards the improvement of soil and sand engineering properties for various geotechnical applications. The potential applications of this technology
in soil erosion, stability, and reinforcement were discussed. Detail overviews of the temperature, pH, bacteria cell concentration, nutrients, types of bacteria, and concentration of reactants that affect the efficiency of the process are also reviewed. This review demonstrated the potential of the MICP technology from the laboratory to a field-scale or commercial applications.
Downloads
Download data is not yet available.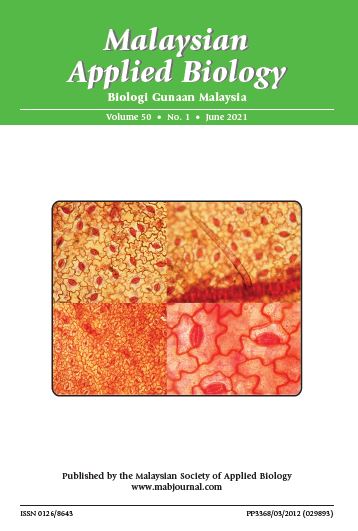 How to Cite
DARDAU, A. A., MUSTAFA, M. ., & ABD AZIZ, N. A. (2021). MICROBIAL-INDUCED CALCITE PRECIPITATION: A MILESTONE TOWARDS SOIL IMPROVEMENT. Malaysian Applied Biology, 50(1), 11–27. https://doi.org/10.55230/mabjournal.v50i1.9
Copyright & Licensing
Any reproduction of figures, tables and illustrations must obtain written permission from the Chief Editor (wicki@ukm.edu.my). No part of the journal may be reproduced without the editor's permission