MOLECULAR CHARACTERIZATION AND MATING STUDY OF Fusarium proliferatum FROM VARIOUS HOSTS IN MALAYSIA
Keywords:
Fusarium proliferatum, mating study, RFLP-IGS, TEF-1α
Abstract
Fusarium proliferatum is a well-known plant pathogenic fungus-infected many crops. The present study was carried out to molecularly identified and characterized morphologically identified F. proliferatum from various hosts and substrates. The species identity of the isolates was verified as F. proliferatum based on TEF-1α sequences and phylogenetic analysis indicated high intraspecific variations. RFLP-IGS analysis also indicated high intraspecific variations of which the isolates were clustered into three RFLP Groups (I, II, and III) comprising 67 IGS haplotypes. Seventy isolates were crossed-fertile and proven to be members of mating population D (MP-D) of Gibberella fujikuroi while four isolates were infertile. A high level of intraspecific variations is vital for F. proliferatum adaptation and survival in the host and environment. Correct species identification of F. proliferatum is important as the fungus is a well-known plant pathogen and mycotoxin producer. Correct species identity is also essential to strategize suitable disease control methods as well as to predict their host range and mycotoxin production.
Downloads
Download data is not yet available.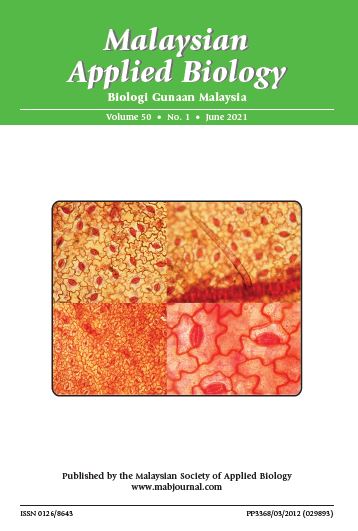 How to Cite
AZUDDIN, N. F. ., MOHD, M. H., MOHAMED NOR, N. M. I. ., & ZAKARIA, L. (2021). MOLECULAR CHARACTERIZATION AND MATING STUDY OF Fusarium proliferatum FROM VARIOUS HOSTS IN MALAYSIA. Malaysian Applied Biology, 50(1), 133–144. https://doi.org/10.55230/mabjournal.v50i1.1502
Section
Research Articles
Copyright & Licensing
Any reproduction of figures, tables and illustrations must obtain written permission from the Chief Editor (wicki@ukm.edu.my). No part of the journal may be reproduced without the editor's permission