POLYPHENOLIC PROFILE AND ANTIOXIDANT ACTIVITIES OF FREEZE-DRIED MELON MANIS TERENGGANU PEEL EXTRACTS
Keywords:
Antioxidant, freeze-drying, Melon Manis Terengganu peel, polyphenols
Abstract
Melon Manis Terengganu (MMT) also known as Cucumis melo var. Inodorus cv. Manis Terengganu 1 originates from Terengganu, Malaysia, is composed of 28–30% inedible peels and discarded as waste. Hence, this study aimed to quantify the polyphenol and flavonoid contents, identify polyphenolic compounds and evaluate the antioxidant activity of freezedried Melon Manis Terengganu (MMT) peel aqueous extract. The total phenolic and flavonoid contents were determined
spectrophotometrically by gallic acid and quercetin standard curves, respectively. Whereas, antioxidant activity was explored by using 1,1-diphenyl-2-picrylhydrazyl (DPPH) and 2,2-azino-bis (3 ethylben-zothiazoline-6-sulfonic acid) diammonium salt (ABTS) assay. Next, liquid chromatography-mass spectrometry (LC-MS) was applied for phenolic compounds identification. Results reported that the total phenolic content was 12.35 (0.59) μg GAE/mg while total flavonoid content was 2.01 (0.70) μg QE/mg. The IC50 of DPPH and ABTS assay were 27.74 (1.59) mg/mL and 4.87 (0.06) mg/mL, respectively. LC-MS results revealed the presence of polyphenolic compounds, such as kaempferol 3-(6''-sinapylglucosyl)-(1->2)-galactoside), isoorientin 7-O-(6'"-O-(E)-feruloyl)glucoside and isoscoparin 2''-(6-(E)-ferulylglucoside) in the sample extract. In summary, these findings served as preliminary data for further exploration on the potential application of freezedried MMT peel aqueous extract in the food and nutraceutical industry.
Downloads
Download data is not yet available.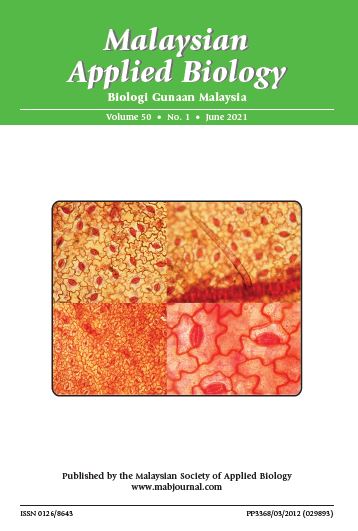 How to Cite
ONG, Y. Q., HARITH, S. ., SHAHRIL, M. R., SHAHIDAN, N., & HAPIDIN, H. (2021). POLYPHENOLIC PROFILE AND ANTIOXIDANT ACTIVITIES OF FREEZE-DRIED MELON MANIS TERENGGANU PEEL EXTRACTS. Malaysian Applied Biology, 50(1), 181–188. https://doi.org/10.55230/mabjournal.v50i1.1506
Section
Research Articles
Copyright & Licensing
Any reproduction of figures, tables and illustrations must obtain written permission from the Chief Editor (wicki@ukm.edu.my). No part of the journal may be reproduced without the editor's permission