EFFECT OF VARIOUS DIETARY PATTERN ON BLOOD PRESSURE MANAGEMENT: A REVIEW
Keywords:
Blood pressure, diet, dietary pattern, hypertension, risk
Abstract
Hypertension is a major contributor to the burden of cardiovascular morbidity and mortality worldwide as 25% of the world's adult population suffers from hypertension. For people with cardiovascular disease, adherence to a healthy diet has benefits additive to drug therapy and associated with reduction in mortality of between 8 and 45%. This review focuses the effect of various dietary patterns on blood pressure management. General search of academic journals (English) on diet, dietary pattern, blood pressure, hypertension and risk published from 2010 to 2019 was conducted. A total of 20 studies were selected from two electronic databases (PubMed, Science Direct). Eleven of the studies were from United States, one from Canada, China, Italy, Australia, Denmark, Spain, Germany, Brazil and Netherland. Twenty studies showed reduction in Systolic Blood Pressure (SBP) which range from 0.60 mmHg to 20.79 mm Hg and the highest reduction in SBP was from combination of Dietary Approach to Stop Hypertension (DASH) diet with low sodium intake. Diastolic Blood Pressure (DBP) nitrate-rich vegetable diet indicated highest reduction where it ranges from 0.60 mm Hg to 9.00 mm Hg. Fruits and vegetables intake should be practice to prevent the burden of non-communicable disease. This is great importance to public health and to reduce medical costs.
Downloads
Download data is not yet available.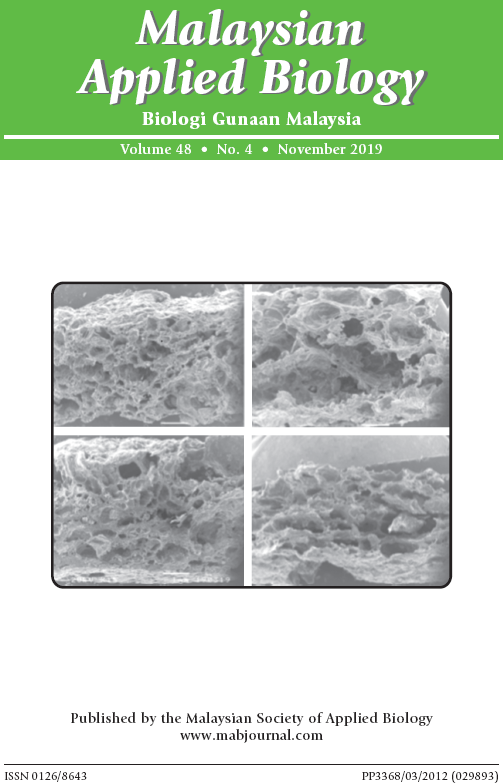 How to Cite
CHE WAN MANSOR, W. A. N., HARITH, S. ., & CHE TAHA, C. S. (2019). EFFECT OF VARIOUS DIETARY PATTERN ON BLOOD PRESSURE MANAGEMENT: A REVIEW. Malaysian Applied Biology, 48(4), 1–10. Retrieved from https://jms.mabjournal.com/index.php/mab/article/view/1871
Copyright & Licensing
Any reproduction of figures, tables and illustrations must obtain written permission from the Chief Editor (wicki@ukm.edu.my). No part of the journal may be reproduced without the editor's permission