EFFECT OF CALCIUM IONS TO THE ACTIVITY AND STABILITY OF EXTRACELLULAR LIPASE PRODUCED BY MODERATE HALOPHILIC BACTERIA Halomonas meridiana BK-AB4
Keywords:
Extracellular lipase, halophilic bacteria, Halomonas meridiana BK-AB4, metal ions activator
Abstract
This study reported the isolation and biochemical studies of extracellular lipase produced by a moderate halophilic bacterium, Halomonas meridiana BK-AB4. The estimated molecular weight of the lipase BK-AB4 is about 50 kDa. The study of metal ions effect to the enzyme activity revealed the strong dependency towards the presence of Ca2+ ion. Further studies showed that the optimum pH of the enzyme was similar in the presence and the absence of Ca2+ ions. However, the presence of Ca2+ ions could improve the enzyme thermal stability as indicated by the shift of its optimum temperature from 45°C - 50°C. The addition of Ca2+ ions was also enhancing residual activity towards various inhibitors, such as SDS and PMSF up to 55% and 68%, respectively. Another interesting effect of the addition of Ca2+ ions were noted when various organic solvents were added to the enzyme solution in the ratio of 1:1. The activity of the enzyme increased up to 122% and 126% relative to the control when methanol and n-butanol were added, respectively. This study thus showed that the addition of Ca2+ ion not only improved the catalytic activity of lipase BK-AB4 but also made the enzyme more tolerable against various perturbations.
Downloads
Download data is not yet available.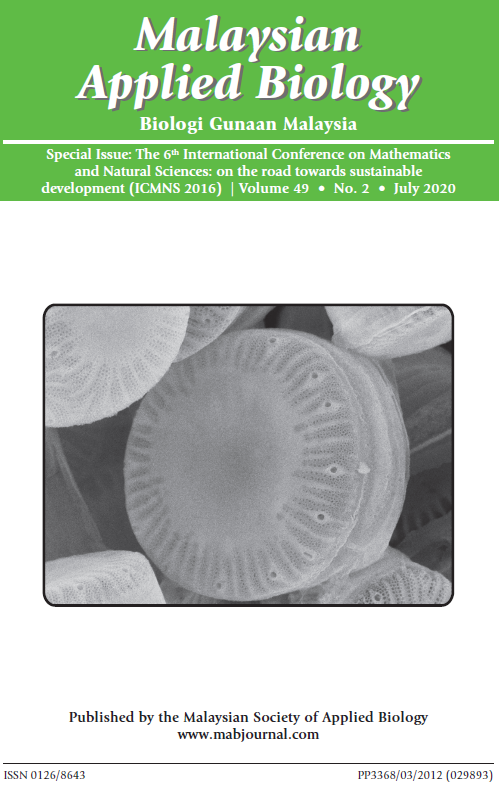 How to Cite
NANDA, G. A. M., & HERTADI, R. . (2021). EFFECT OF CALCIUM IONS TO THE ACTIVITY AND STABILITY OF EXTRACELLULAR LIPASE PRODUCED BY MODERATE HALOPHILIC BACTERIA Halomonas meridiana BK-AB4. Malaysian Applied Biology, 49(2). https://doi.org/10.55230/mabjournal.v49i2.1519
Copyright & Licensing
Any reproduction of figures, tables and illustrations must obtain written permission from the Chief Editor (wicki@ukm.edu.my). No part of the journal may be reproduced without the editor's permission