EFFECTS OF DRYING METHODS ON THE CHARACTERISTICS OF Pleurotus sajor-caju MUSHROOM
Keywords:
Pleurotus spp., drying curve, solar drying, antioxidant
Abstract
Mushrooms of the Pleurotus spp. are very sensitive and the shelf-life of mushrooms is limited, that is a few days under normal or low temperatures, which is a limitation in the distribution and marketing of fresh products. To extend their shelf life, drying methods need to be applied. Total drying time decreased with increased drying temperatures (960 and 330 min of drying at 40 and 70°C, respectively). The drying curve equations is establised as y=a.exp(-kt) (R2>0.95). These equations can be applied to predict moisture reduction during drying of Pleurotus spp. at the temperature ranges studied. Besides, effect of drying methods (convection, sun and solar drying) was investigated. Results showed that the quality of sample treated with solar drying was higher than others. In the solar drying samples, the highest protein, carbohydrate, flavonoid,
b-glucan content (in dry basis) were 16.22%, 24.84% and 5.82 mg QE/gm, 0.41%, respectively. The antioxidant capacity (FRAP and DPPH) was 362.58 mM Fe2+/gm and 62.35%, respectively. The lighter color was obtained for the mushroom dried using a solar dryer.
Downloads
Download data is not yet available.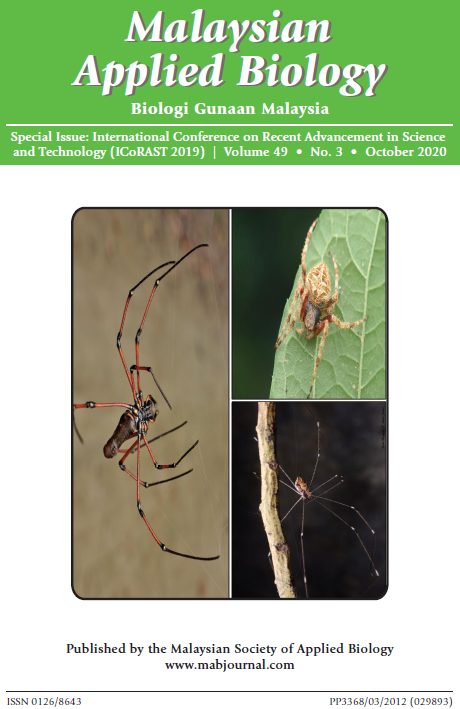 How to Cite
THI, N. G. N. ., & NGUYEN, M. T. . (2020). EFFECTS OF DRYING METHODS ON THE CHARACTERISTICS OF Pleurotus sajor-caju MUSHROOM. Malaysian Applied Biology, 49(3), 31–36. https://doi.org/10.55230/mabjournal.v49i3.1538
Section
Research Articles
Copyright & Licensing
Any reproduction of figures, tables and illustrations must obtain written permission from the Chief Editor (wicki@ukm.edu.my). No part of the journal may be reproduced without the editor's permission