BIODEGRADATION OF AZO DYE (REACTIVE GREEN 19) BY Pseudomonas aeruginosa ISOLATED FROM TEXTILE EFFLUENT
Keywords:
Decolorization, reactive green 19 dye, Pseudomonas aeruginosa, pH, temperature, dye concentration
Abstract
Azo dyes are widely used in the textile industry. The release of these undesirable dye effluents to the environment can be toxic and carcinogenic towards humans and other organisms. The removal of these dyestuff wastes using the biodegradation method is to consider eco-friendlier compared to physical and chemical methods. Thus, this study was conducted to identify and analyze the biodegradation activity of the azo dye by the potential bacteria isolated from textile dye effluent. For decolorization analysis, the isolated bacteria were inoculated into flasks containing mineral salt medium added with Reactive Green 19 dye (50 mg/L) and was incubated for 9 days at 37°C. Spectrophotometry analysis was carried out at 635 nm to analyze the level of azo dye degradation. From the analysis, we found that the optimum pH, temperature, and dye concentration for the decolorization were detected at pH 7, 37°C, and 50 mg/L, respectively. The identified bacteria Pseudomonas aeruginosa showed 94% decolorization of Reactive Green 19 dye after 9 days of incubation. The result of decolorization activity by this bacterial strain can be used in the biological treatment of textile effluent.
Downloads
Download data is not yet available.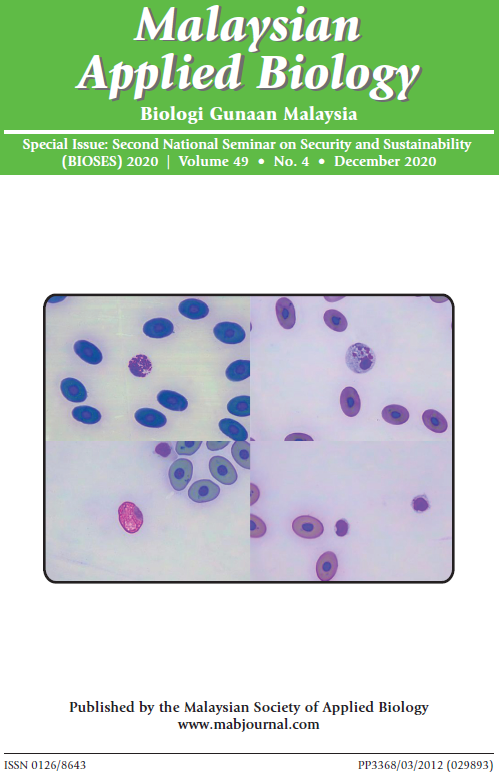 How to Cite
ARIFFIN , B. K., & ARIFFIN, F. . (2021). BIODEGRADATION OF AZO DYE (REACTIVE GREEN 19) BY Pseudomonas aeruginosa ISOLATED FROM TEXTILE EFFLUENT. Malaysian Applied Biology, 49(4), 1–8. https://doi.org/10.55230/mabjournal.v49i4.1560
Section
Research Articles
Copyright & Licensing
Any reproduction of figures, tables and illustrations must obtain written permission from the Chief Editor (wicki@ukm.edu.my). No part of the journal may be reproduced without the editor's permission