PEA CRAB DISTRIBUTION AND ITS MORPHOLOGICAL CHARACTERISTICS STUDIED IN BIVALVES FROM SETIU WETLANDS, TERENGGANU
Keywords:
Arcotheres sp., hard clam, pea crab, microscopic, macroscopic, clam shell
Abstract
Pea crab is a small crustacean known as kleptoparasite and belongs to the family Pinnotheridae, inhabit bivalves, gastropods, and other species. Nonetheless, pea crab is one of the unfamiliar species to the Malaysia citizen and the information is limited. This study aimed to determine the distribution of pea crab from four bivalves species (mud clam, oyster, hard clam and cockle) in Setiu Wetlands, Terengganu. Sampling was conducted twice, in October 2018 and February 2019, in which mud clam, oyster, cockle and hard clam were collected. In this study, the distribution of pea crab was observed by collecting randomly fifty samples of each bivalve at four sites and checked for any presence of pea crab. The size shell length of mud clams measured was 40 to 75 mm, oysters were 30 to 80 mm, marine clams and cockles were 20 to 40 mm. Pea crab presence was analysed and identified for the genus identification based on the microscopic and macroscopic methods. The result showed that, pea crab only present in the mud clam but none in other bivalves. Fifteen pea crabs were isolated from the first sampling (mean=0.3) with 11 females, whilst 13 pea crabs from the second sampling (mean=0.26) with 10 females- identified. The size of the pea crab measured was between 10 mm to 15 mm and belongs to the genus of Arcotheres sp. However, there were other none pea crab species were found in the oyster. On the other hand, the correlation between the carapace width of pea crab and mud clam shell length were analysed using linear regression (r²=0.0699, p=0.341) from first sampling, while (r²=0.2885, p=0.058) from second sampling. The size range of mud clams without pea crab was 35 to 60 mm shell length.
Downloads
Download data is not yet available.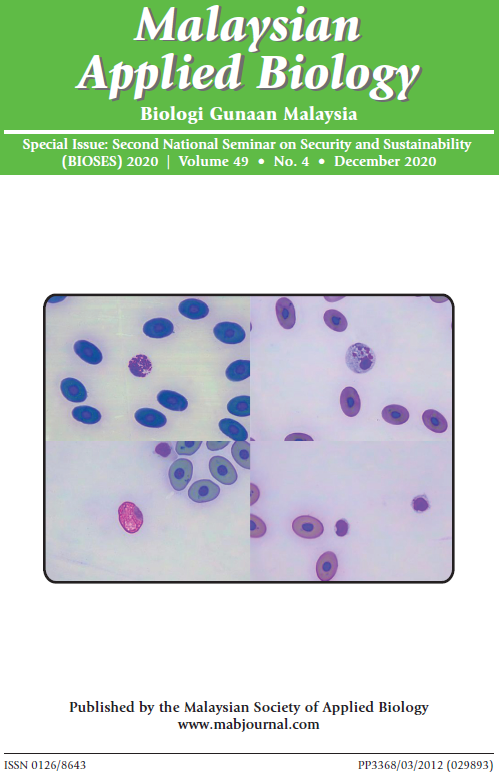 How to Cite
HARUN, N. O. ., ABDULLAH, N. N. S. C. ., & ABDULLAH, M. I. . (2020). PEA CRAB DISTRIBUTION AND ITS MORPHOLOGICAL CHARACTERISTICS STUDIED IN BIVALVES FROM SETIU WETLANDS, TERENGGANU. Malaysian Applied Biology, 49(4), 99–106. https://doi.org/10.55230/mabjournal.v49i4.1598
Section
Research Articles
Copyright & Licensing
Any reproduction of figures, tables and illustrations must obtain written permission from the Chief Editor (wicki@ukm.edu.my). No part of the journal may be reproduced without the editor's permission