AQUEOUS EXTRACT EMULSIFYING OINTMENT OF Marphysa moribidii (ANNELIDA: POLYCHAETA) INCREASES COLLAGEN DEPOSITION IN WOUND HEALING MODEL AT LOW CONCENTRATION
Keywords:
Acute wound, collagen formation, Marphysa moribidii, polychaete, wound healing
Abstract
Acute wound cases are increasing every year. Meanwhile, current treatments have many adverse impacts; thus, alternative treatment is required. Marphysa moribidii; a local polychaete is found to has a promising potential as a wound-healing agent due to its regenerative capability. However, no prior study has been conducted to prove this notion. Hence, this study is aimed to determine the effectiveness of aqueous extract of M. moribidii in wound healing treatment. The polychaete was finely pulverized and lyophilized by freeze-dryer to form a powdery-form extract before preparing in three different concentrations: 0.3% (w/w), 1.0% (w/w), and 2.0% (w/w) in ointment form. The treatments including Gamat oil 0.4% (w/w) as control were applied to the rat model once daily for 14 days. Gamat oil (0.4%) demonstrated the most rapid wound healing, followed by polychaete ointment (0.3%). However, based on Masson's trichrome staining, the polychaete ointment exhibited the most collagen deposition compared to other treatments. The staining indicates a more effective healing process of the wound after treated with the polychaete ointment. Based on the findings, polychaete extract has great potential in wound healing; more detailed studies are needed to gain more evidences.
Downloads
Download data is not yet available.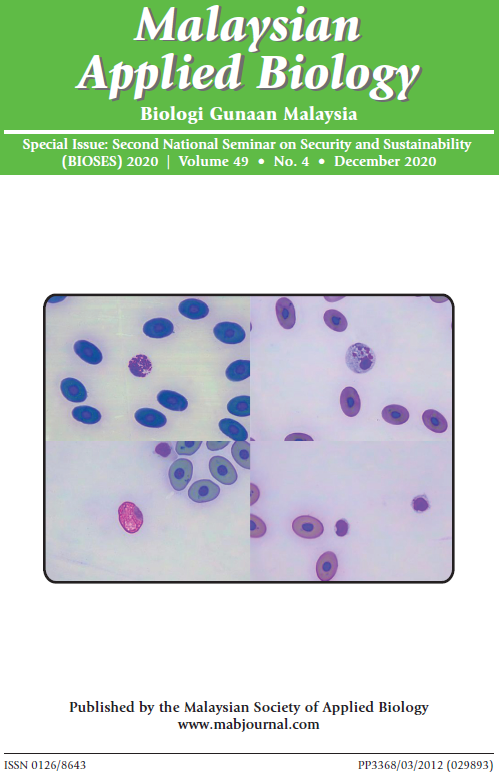 How to Cite
PERUMAL, L. ., SOH, N. 'AWATIF C. ., RAPI, H. S. ., ASSAW, S. ., OMAR, M. A. A. B., IDRIS, I. ., & ISMAIL, W. I. W. (2020). AQUEOUS EXTRACT EMULSIFYING OINTMENT OF Marphysa moribidii (ANNELIDA: POLYCHAETA) INCREASES COLLAGEN DEPOSITION IN WOUND HEALING MODEL AT LOW CONCENTRATION. Malaysian Applied Biology, 49(4), 223–231. https://doi.org/10.55230/mabjournal.v49i4.1625
Section
Research Articles
Copyright & Licensing
Any reproduction of figures, tables and illustrations must obtain written permission from the Chief Editor (wicki@ukm.edu.my). No part of the journal may be reproduced without the editor's permission