QUALITATIVE AND QUANTITATIVE OF PHYTOCHEMICAL ANALYSIS OF MALAYSIAN Euphorbia milii (EUPHORBIACEAE) AND ITS ANTIOXIDANT ACTIVITIES
Keywords:
Euphorbia milii, Euphorbiaceae, phytochemical screening, total flavonoid content, antioxidant activities
Abstract
Euphorbiaceae plants had been traditionally used in healing various diseases. This study was designed to determine the secondary metabolites that exist in Malaysian Euphorbia milii (Euphorbiaceae) and it's potential in antioxidant activities. Dried leaves and flowers of E. milii were extracted using hexane, ethyl acetate, and methanol. The qualitative and quantitative phytochemical analysis was performed toward the crude extracts. The outcomes showed that alkaloids, flavonoids, quinones, carbohydrates, and reducing sugar were mainly present in all of the samples extracted by the three solvents. For quantitative analysis, methanolic leaves extract contained the highest amount of flavonoids, given as 0.0867 ± 0.005 mg QE/g of the sample compared to other extracts. Meanwhile, the determination of antioxidant activities of each extract showed that methanol leaves extract consists of the highest antioxidant activity due to the presence of phytochemical compounds. This significant data provides preliminary findings that may lead to further development as a potential source of herbal medicine.
Downloads
Download data is not yet available.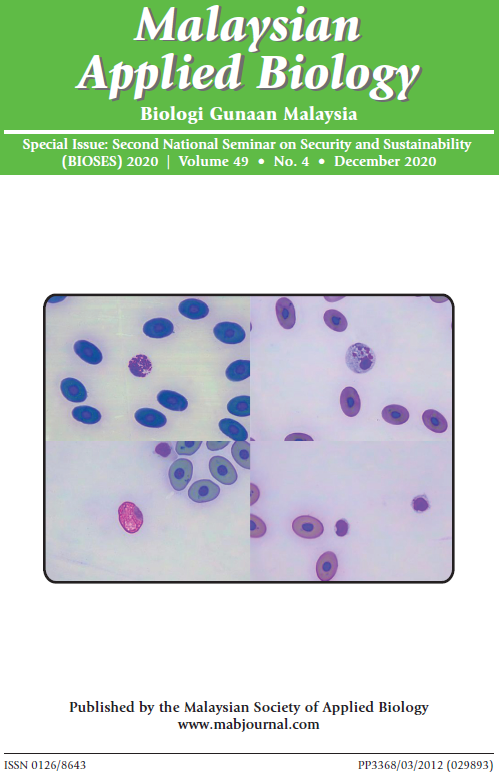 How to Cite
ABD. MUTALIB, . N. S. A. ., YUSUF, N. ., ASARI, A. ., AZIZ, A. N. ., & WAHAB, N. H. A. . (2020). QUALITATIVE AND QUANTITATIVE OF PHYTOCHEMICAL ANALYSIS OF MALAYSIAN Euphorbia milii (EUPHORBIACEAE) AND ITS ANTIOXIDANT ACTIVITIES. Malaysian Applied Biology, 49(4), 233–239. https://doi.org/10.55230/mabjournal.v49i4.1626
Section
Research Articles
Copyright & Licensing
Any reproduction of figures, tables and illustrations must obtain written permission from the Chief Editor (wicki@ukm.edu.my). No part of the journal may be reproduced without the editor's permission