EVALUATION OF PHYTOCHEMICAL AND ANTIBACTERIAL PROPERTIES OF WHITE MULBERRY (Morus alba)
Keywords:
Morus alba, Moraceae, phytochemicals, antibacterial, qualitative assessment
Abstract
Traditional Chinese Medicine is mainly derived from medicinal herbal plant sources, which are easily obtained and cheaper than modern medicines. One such plant used as a remedy to treat various illnesses is Morus alba, known as white mulberry. This study aimed to screen the phytochemicals of M. alba and examine the potential antibacterial activity against several pathogenic bacteria. Leaves, fruits, and stems of M. alba were extracted using three solvents of different polarities (hexane, ethyl acetate, methanol) to screen the presence of phytochemical constituents, followed by an evaluation of their antimicrobial potential. The qualitative phytochemical tests revealed that carbohydrates, flavonoids, tannins, saponins, steroids, coumarins, alkaloids, and terpenoids were detected in the crude extracts of M. alba. Extracts of ethyl acetate and methanol preparations were subjected to antibacterial susceptibility test using disk diffusion method against Bacillus sp., Staphylococcus aureus, Enterococcus faecalis, Klebsiella pneumoniae, Escherichia coli, and Salmonella sp. Interestingly, M. alba methanolic leaf extract showed noticeable antibacterial activity in a dose-dependent manner (concentration range 6.25–100%) against all tested Gram-positive bacteria. Data of this study provide preliminary findings on the potential use of M. alba leaf for the treatment of infections caused by the Gram-positive bacteria.
Downloads
Download data is not yet available.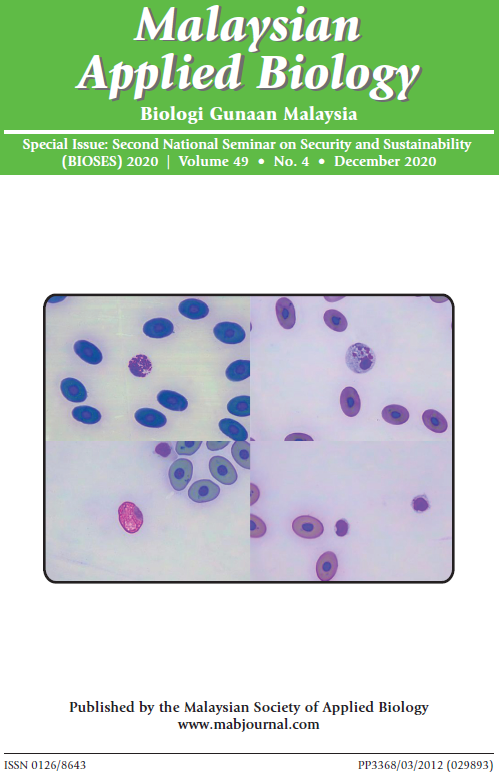 How to Cite
WAHAB, N. H. A. ., HAO, H. Z. ., & MISBAH, S. (2020). EVALUATION OF PHYTOCHEMICAL AND ANTIBACTERIAL PROPERTIES OF WHITE MULBERRY (Morus alba). Malaysian Applied Biology, 49(4), 107–112. https://doi.org/10.55230/mabjournal.v49i4.1599
Section
Research Articles
Copyright & Licensing
Any reproduction of figures, tables and illustrations must obtain written permission from the Chief Editor (wicki@ukm.edu.my). No part of the journal may be reproduced without the editor's permission