PROMOTING KERATINASE ACTIVITY FROM NEWLY IDENTIFIED STRAIN Strenotrophomonas maltophilia B6 THROUGH OPTIMIZATION AND CHARACTERIZATION
Keywords:
Feather waste, keratinase, serine protease, Strenotrophomonas maltophilia
Abstract
Strenotrophomonas maltophilia B6 was a newly identified keratinolytic bacteria isolated from a landfill in North Sumatra. Keratinolytic activitiy of this strain was investigated through optimization and characterization of its enzymatic properties. Amino acid profiles were quantified using High Performance Liquid Chromatography (HPLC) after a 96-h of incubation resulted in 2.2569 mg mL-1 amino acids from a 40-mL fermentation supplemented with 10 g/L chicken feathers. The keratinolytic activities were enhanced through addition of 1% glucose yielded 67.41 ± 1.1 UmL-1 and 0.5% peptone yielded
90.24 ± 0.7 UmL-1. Keratinolytic activity enhanced with the addition of Ca+ (116%), Na+ (111%), Mg+ (110%) at 10 mM concentration. Zymogram analysis showed a protein band in the 26 kDa of molecular mass, similar to serine protease. Physical and chemical characteristics of degradation products were analyzed using Scanning Electron Microscope (SEM) and Fourier Transform Infra Red (FTIR). Qualitatively, the optimum activity occurred at 96-h of incubation through SEM image analysis. The FTIR peaks detected were peak 3747 cm-1 (-OH); peak 2972 cm-1 (asymmetric -CH3); peak 1641 cm-1 (amide I); peak 1438 cm-1 (amide II); peak 1092 cm-1 (-C-C-); peak 523 cm-1 (-S-S-). Thus, Strenotrophomonas maltophilia B6 may be used as potential biodegradative bacterium to chicken feather wastes in nature.
Downloads
Download data is not yet available.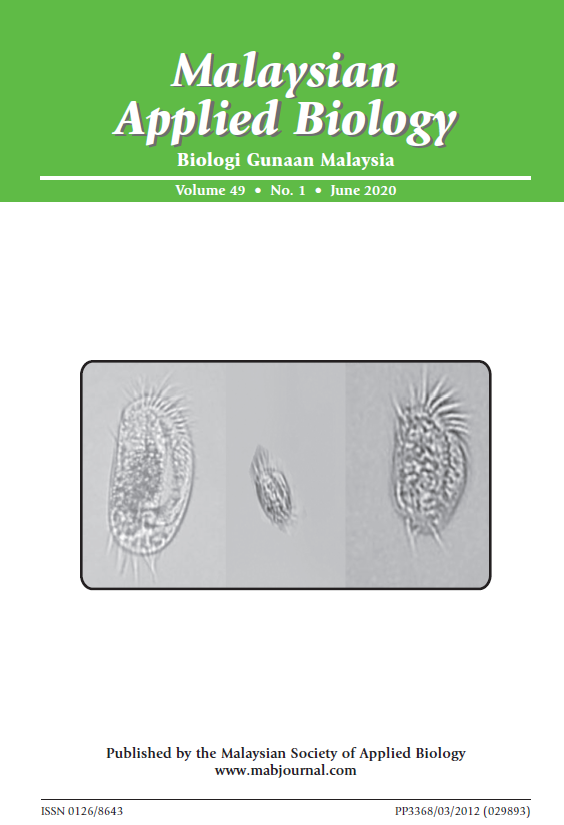 How to Cite
MAMANGKEY, J. ., SURYANTO, D. ., MUNIR, E. ., & MUSTOPA, A. Z. (2020). PROMOTING KERATINASE ACTIVITY FROM NEWLY IDENTIFIED STRAIN Strenotrophomonas maltophilia B6 THROUGH OPTIMIZATION AND CHARACTERIZATION. Malaysian Applied Biology, 49(1), 75–86. https://doi.org/10.55230/mabjournal.v49i1.1657
Section
Research Articles
Copyright & Licensing
Any reproduction of figures, tables and illustrations must obtain written permission from the Chief Editor (wicki@ukm.edu.my). No part of the journal may be reproduced without the editor's permission