EFFECTS OF CARBON SOURCES, PLANT GROWTH REGULATORS AND INOCULUM SIZE ON Citrus suhuiensis CELL SUSPENSION CULTURE GROWTH
Keywords:
Citrus suhuiensis, cell suspension culture, carbon source, inoculum size, plant growth regulators (PGRs)
Abstract
Cell suspension culture of Citrus suhuiensis (C. suhuiensis) was established to determine the best growth condition based on the effects of carbon source, plant growth regulators (PGRs) and inoculum size. Friable callus from the cotyledon explant was used to initiate the cell suspension cultures. Murashige and Skoog (MS) medium supplemented with 50 g/L glucose achieved the highest cell dry weight (CDW) and µmax of 23.2 g/L and 0.47 h-1 respectively compared to glucose at 30 g/L and other carbon sources. For PGRs effects, 0.5 mg/L 2,4-dichlorophenoxyacetic acid (2,4-D) gave the highest amount of CDW and µmax; 11.91 g/L and 0.32 h-1. Furthermore, the inoculum size at 10% (v/v) gave the maximum CDW and µmax of
15.45 g/L and 0.71 h-1 respectively compared to 20% (v/v) and 30% (v/v) of inoculum. The results achieved can be used for further statistical optimization of C. suhuiensis cell suspension culture growth parameters in which the interactions between those parameters can be further studied and understood.
Downloads
Download data is not yet available.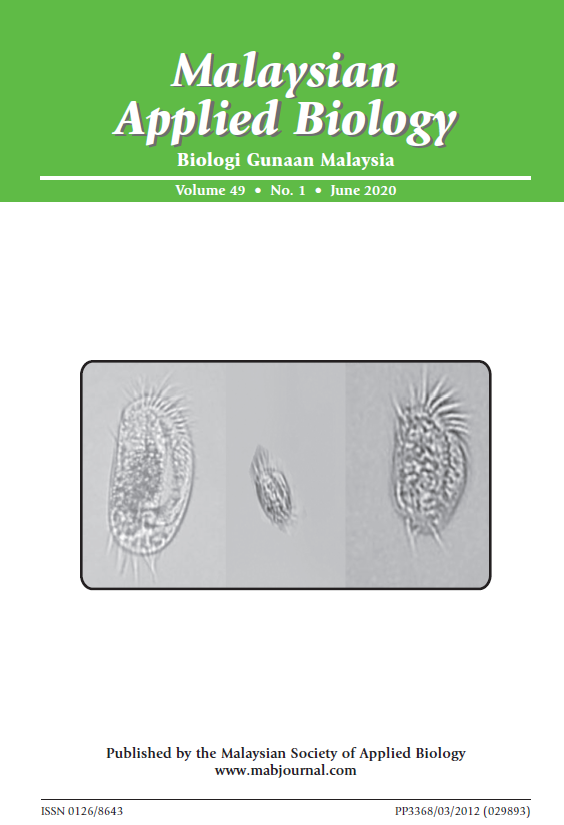 How to Cite
MOHAMAD PUAD, N. I. ., M. FATHIL, N. A. ., AMID, A. ., & AZMI, A. S. . (2020). EFFECTS OF CARBON SOURCES, PLANT GROWTH REGULATORS AND INOCULUM SIZE ON Citrus suhuiensis CELL SUSPENSION CULTURE GROWTH. Malaysian Applied Biology, 49(1), 87–93. https://doi.org/10.55230/mabjournal.v49i1.1658
Section
Research Articles
Copyright & Licensing
Any reproduction of figures, tables and illustrations must obtain written permission from the Chief Editor (wicki@ukm.edu.my). No part of the journal may be reproduced without the editor's permission