PRODUCTION AND TOXICITY EVALUATION OF RHAMNOLIPIDS PRODUCED BY Pseudomonas STRAINS ON L6 AND HepG2 CELLS
Keywords:
Pseudomonas, biosurfactant, rhamnolipid, cytotoxicity, marine bacteria
Abstract
Biosurfactant rhamnolipid (RL) production using renewable resource is gaining attraction for commercial application. In this study, RL produced from three different strains of Pseudomonas using glycerol as a carbon source was used to evaluate toxicity towards rat skeletal muscle (L6) and liver cancer (HepG2) cells. In the present study, Pseudomonas aeruginosa PAO1 produced the highest concentration of RL (1.53 ± 0.28 g/L) and able to reduce the surface tension (ST) value of water the lowest (29.1 ± 0.5 mN/m). Toxicity evaluation using MTT assay indicated that RL produced does not have a cytotoxic effect towards both cell lines except where 50% inhibition concentration (IC50) was detected for HepG2 only at high concentration (100 µg/mL) for RL produced by P. aeruginosa PAO1. The RL produced by strains in this study is nontoxic with good ST reducing ability that has potential applications in food, cosmetics and pharmaceutical sector.
Downloads
Download data is not yet available.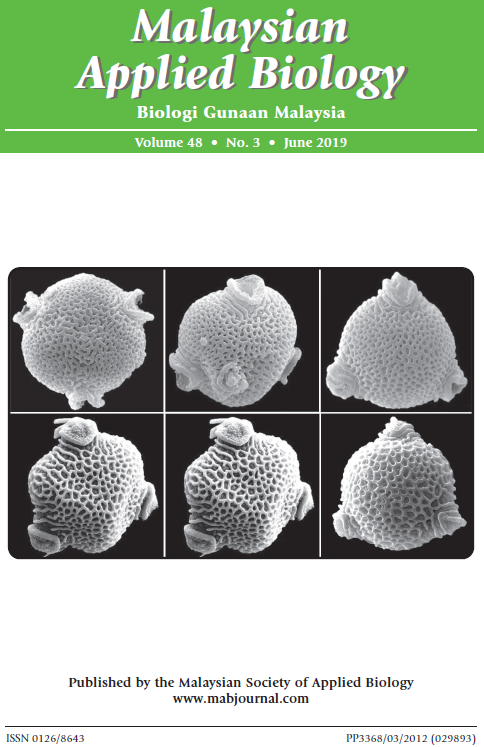 How to Cite
TAMOTHRAN, A. M., SEVAKUMARAN, V. ., & BHUBALAN, K. (2019). PRODUCTION AND TOXICITY EVALUATION OF RHAMNOLIPIDS PRODUCED BY Pseudomonas STRAINS ON L6 AND HepG2 CELLS. Malaysian Applied Biology, 48(3), 149–156. Retrieved from https://jms.mabjournal.com/index.php/mab/article/view/1850
Section
Research Articles
Copyright & Licensing
Any reproduction of figures, tables and illustrations must obtain written permission from the Chief Editor (wicki@ukm.edu.my). No part of the journal may be reproduced without the editor's permission