SYNTHESIS AND ANTIMICROBIAL ACTIVITY OF CERIUM OXIDE/AG DOPES SILICA MESOPOROUS MODIFICATION AS NANOFILLERS FOR FOOD PACKAGING APPLICATIONS
Keywords:
Nanofiller, cerium oxide, silver, mesoporous silica, active packaging
Abstract
Nanofiller of cerium oxide/ silver doped modified mesoporous silica (Ce/Ag-MMS) had been successfully synthesized by the hydrothermal method. Based on the results of the XRD analysis using the Scherer method, nanofiller Ce/Ag-MMS crystal sizes were obtained between 9.68 – 12.44 nm. The morphology of Ce/Ag-MMS nanofiller based on the results of SEM analysis was spherical with a uniform size. The particle size of Ce/Ag-MMS from TEM analysis was around 3.4 – 4.5 nm. The antimicrobial properties Ce/Ag-MMS nanofiller increased become 86.85% compared to cerium/silver nanofillers when used to inhibit the growth of Staphylococcus aureus bacteria. This nanofiller had been one of the alternatives to be exploited and developed for applications in active packaging. The use of nanofiller as an active packaging needs further economic assessment for industrial-scale production.
Downloads
Download data is not yet available.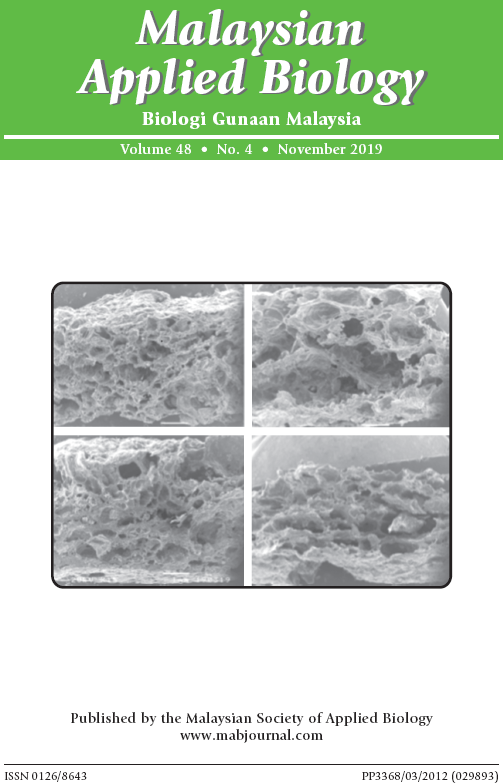 How to Cite
PUTRI, G. E., GUSTI, F. R. ., SARY, A. N., ARIEF, S., JAMARUN, N., & AMAR B, S. . (2019). SYNTHESIS AND ANTIMICROBIAL ACTIVITY OF CERIUM OXIDE/AG DOPES SILICA MESOPOROUS MODIFICATION AS NANOFILLERS FOR FOOD PACKAGING APPLICATIONS. Malaysian Applied Biology, 48(4), 25–32. Retrieved from https://jms.mabjournal.com/index.php/mab/article/view/1873
Section
Research Articles
Copyright & Licensing
Any reproduction of figures, tables and illustrations must obtain written permission from the Chief Editor (wicki@ukm.edu.my). No part of the journal may be reproduced without the editor's permission