ANTI-CHOLANGIOCARCINOMA CELL GROWTH AND SELECTIVE ABILITY OF BIOACTIVE COMPONENTS OF RIPE WILD MANGO (Spondias pinnata) FRUIT EXTRACT
Keywords:
cancer, bile duct, phytochemical, makok, cytotoxic effect, selective property
Abstract
Cholangiocarcinoma is a serious problem of public health in the northeastern region of Thailand. Cancer therapies have many side effects to healthy cells and tissues. Therefore, new anticancer agents are identified from natural resources to decrease side effects and increase the potential of cancer treatments. Ripe wild mango fruit extract which called 6A* was determined the cytotoxic effect in cholangiocarcinoma MO55 cells and a normal epithelial cell of the bile duct MMNK1 cells by using MTT assay. The extract was analyzed total phenolic contents and total flavonoid contents, including screened phytochemical types. In this study, 6A* displayed cytotoxicity in MO55 cells (IC50 0.40 mg/mL) and low cytotoxicity against MMNK1 cells (IC50 2.70 mg/mL). The total phenolic contents and total flavonoid contents of 6A* were 192.14 ± 30.69 mg GAE/g extract, and 73.13 ± 6.34 mg QT/g extract, respectively. The study also found that phytochemicals in 6A* contained tannin, gallic acid, flavonoids, terpenoids, and cardiac glycoside. These molecules could be developed as the new anticancer drugs or cancer prevention agents for treatment cholangiocarcinoma in the future.
Downloads
Download data is not yet available.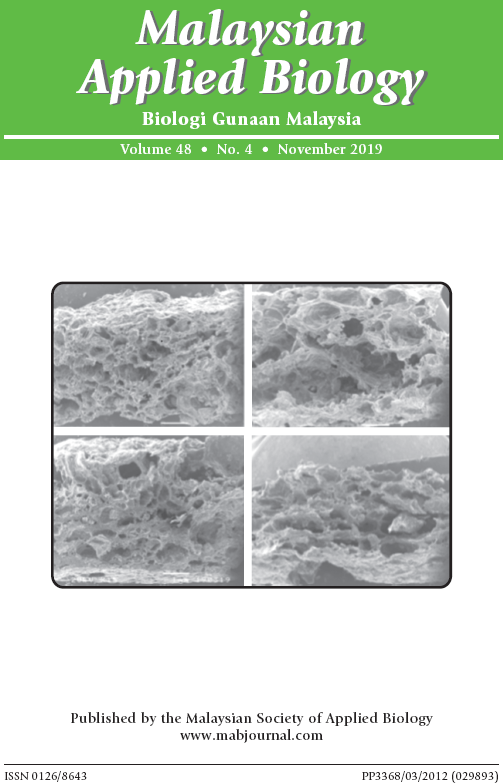 How to Cite
PATATHANANONE, S., DADUANG, J., & KORANEEKIJ, A. (2019). ANTI-CHOLANGIOCARCINOMA CELL GROWTH AND SELECTIVE ABILITY OF BIOACTIVE COMPONENTS OF RIPE WILD MANGO (Spondias pinnata) FRUIT EXTRACT. Malaysian Applied Biology, 48(4), 107–114. Retrieved from https://jms.mabjournal.com/index.php/mab/article/view/1884
Section
Research Articles
Copyright & Licensing
Any reproduction of figures, tables and illustrations must obtain written permission from the Chief Editor (wicki@ukm.edu.my). No part of the journal may be reproduced without the editor's permission