ANTIHYPERGLYCEMIC AND ANDROGENIC PROPERTIES OF Moringa oleifera LEAVES AQUEOUS EXTRACT ATTENUATE SEXUAL DYSFUNCTION IN DIABETES-INDUCED MALE RATS
Keywords:
antihyperglycemic, diabetes, moringa oleifera, sexual dysfunction, sexual behaviour, testosterone
Abstract
Moringa oleifera leaves were essential for lowering blood glucose levels and increasing androgen levels. This study evaluates the antihyperglycemic properties of Moringa oleifera (MO) leaves aqueous extract and its effect on diabetes-induced male Sprague Dawley rats in attenuating sexual dysfunction. A total of 40 mature male rats were divided into four main groups which were normal control group that received 1 mL of distilled water, the negative control group which did not receive any treatment, positive control group that received 500 mg/kg body weight of metformin, and MO treated group that received 400 mg/kg body weight of Moringa oleifera leaves aqueous extract. All groups were analyzed after 14 and 21 days for their fasting blood glucose level (FBGL) and sexual behavior (mounting latency and mounting frequency). Analysis of testosterone level was also conducted using the testosterone kit of enzyme-linked immunosorbent assay (ELISA). The data of the treatment group were compared to the control group subjected to one-way ANOVA using IBM SPSS Statistics 22 analysis. The FBGL of diabetes-induced rats treated with Moringa oleifera leaves aqueous extract significantly decreased (p<0.05) and the plasma testosterone level increased (p<0.05) compared to the negative and positive control groups. Diabetes- induced rats treated with Moringa oleifera leaves aqueous extract also showed a significant decrease (p<0.05) in mounting latency and increase (p<0.05) in mounting frequency within 15 min of the observation period. This study demonstrated that Moringa oleifera leaves aqueous extract could reduce FBGL significantly and improve the sexual dysfunction of diabetes- induced male rats.
Downloads
Download data is not yet available.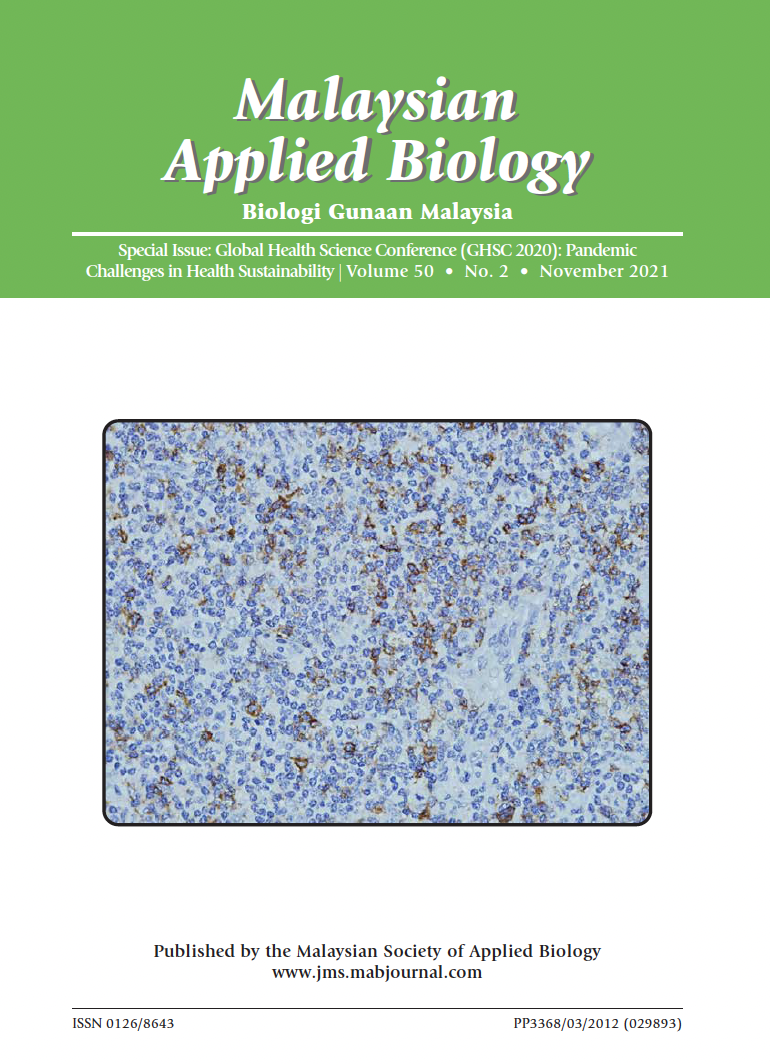 How to Cite
KAMAR BASHAH, N. A., & MAT NOOR, M. (2021). ANTIHYPERGLYCEMIC AND ANDROGENIC PROPERTIES OF Moringa oleifera LEAVES AQUEOUS EXTRACT ATTENUATE SEXUAL DYSFUNCTION IN DIABETES-INDUCED MALE RATS. Malaysian Applied Biology, 50(2), 99–105. https://doi.org/10.55230/mabjournal.v50i2.1977
Section
Research Articles
Copyright & Licensing
Any reproduction of figures, tables and illustrations must obtain written permission from the Chief Editor (wicki@ukm.edu.my). No part of the journal may be reproduced without the editor's permission