THE EFFECT OF AUTOGENOUS, NON-VASCULARIZED PERIOSTEUM TRANSPLANTATION ON ALLOGRAFT BONE GRAFTING FOR LARGE CORTICAL LOAD-BEARING BONE DEFECT – A RABBIT MODEL
Keywords:
allograft, bone grafting, large cortical defect, periosteum, union
Abstract
Segmental bone allografts are widely used in managing large cortical bone defects. To improve host-graft union, the effect of allograft on a large cortical tibial bone defect augmented with a non-vascularized periosteal flap was studied. Twelve mature Australian white rabbits (Oryctolagus cuniculus) were divided into intervention groups and a control group. Bone defects in the intervention groups were treated with segmental allografts wrapped with a non-vascularized periosteal flap. The control group was treated with allograft transplantation alone. Healing was evaluated at the end of the 2nd, 4th, and 6th weeks with plain radiographs, CT scan, and histology. In the intervention groups, the bony union was achieved at both ends of the allografts at the 4th to 6th weeks. Solid callus encasing the whole allograft segments at the end of the 6th week. In the control group, the union did not occur at both ends of the allograft segments even up to the end of the 6th week. No callus formation surrounding the allograft segments. Fragmentation and telescoping of the allograft segment into the medullary cavity of the host were observed. The use of autogenous, non-vascularized periosteal flap modified the healing process of allograft and maintained the integrity of the allograft.
Downloads
Download data is not yet available.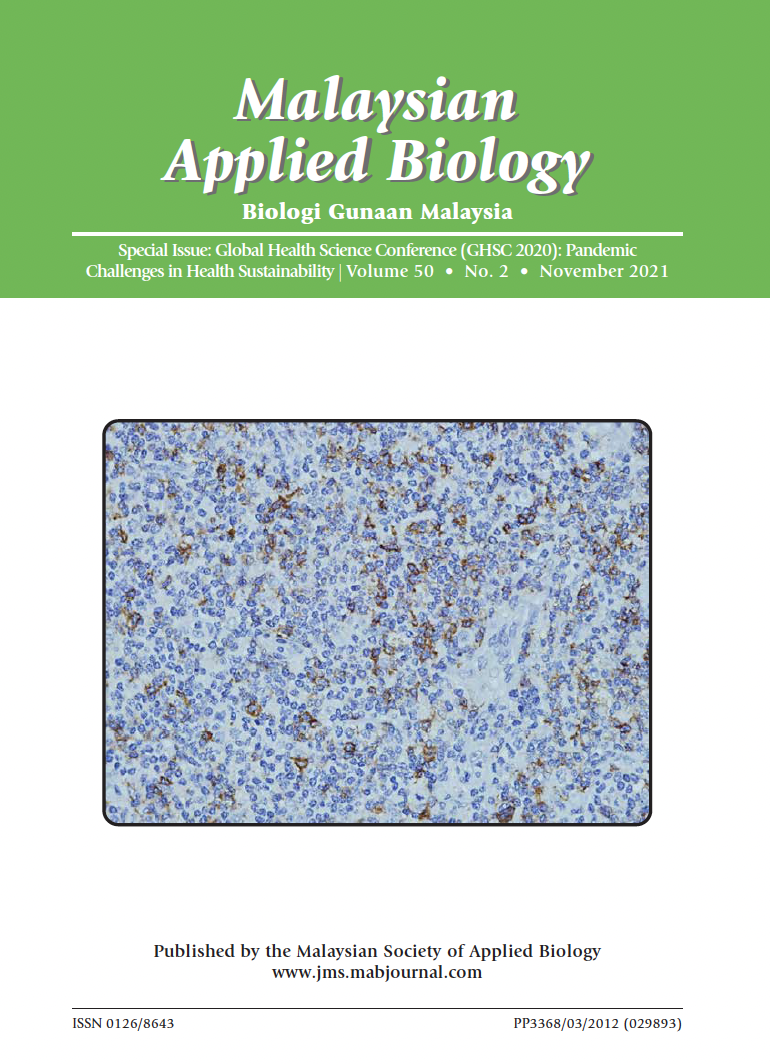 How to Cite
AZID, A., SHARIFUDIN, M. A., WAN, Z., ABDULLAH, M. S., & JAAFAR, H. (2021). THE EFFECT OF AUTOGENOUS, NON-VASCULARIZED PERIOSTEUM TRANSPLANTATION ON ALLOGRAFT BONE GRAFTING FOR LARGE CORTICAL LOAD-BEARING BONE DEFECT – A RABBIT MODEL. Malaysian Applied Biology, 50(2), 47–53. https://doi.org/10.55230/mabjournal.v50i2.1983
Section
Research Articles
Copyright & Licensing
Any reproduction of figures, tables and illustrations must obtain written permission from the Chief Editor (wicki@ukm.edu.my). No part of the journal may be reproduced without the editor's permission