LENGTH-WEIGHT RELATIONSHIP AND CONDITION FACTOR OF RIVER SPRATS, Clupeichthys sp. FROM TASIK KENYIR, TERENGGANU, MALAYSIA
Keywords:
Allometric growth, Clupeichthys, condition factor, length-weight, Tasik Kenyir
Abstract
The length-weight relationship (LWR) and condition factor for river sprat, Clupeichtys sp. from Tasik Kenyir was determined and qualitatively compared with the other known species within the genus in Southeast Asia. A total of 408 individuals were collected from the mouth of Sungai Cacing, one of the main feeder rivers in Tasik Kenyir. Total length of the individuals ranges from 2.80 to 4.60 cm, while their body weight ranging from 0.10 to 0.80 grams. The mean of the total length is 3.80 ± 0.32 while the mean for total weight is 0.50 ± 0.20. The growth pattern for this species was given by the b value of 2.94, which is slightly lower than that of the reported b values for C. aesarnensis (3.27 and 3.21) from Thailand, but higher than that of the reported b value for Clupeichthys goniognathus (2.67) from Indonesia. The relative condition factor was 1.01 ± 0.23, almost similar to other reported values for Clupeichthys spp. in Southeast Asia.  This is the first report on the length-weight relationship and condition factor of river sprat from this genus in Peninsular Malaysia.
Downloads
Download data is not yet available.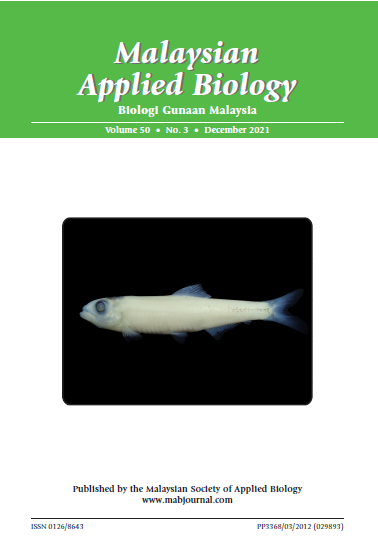 How to Cite
AQMAL-NASER, M. ., FAHMI-AHMAD, M. ., & AHMAD, A. (2021). LENGTH-WEIGHT RELATIONSHIP AND CONDITION FACTOR OF RIVER SPRATS, Clupeichthys sp. FROM TASIK KENYIR, TERENGGANU, MALAYSIA. Malaysian Applied Biology, 50(3), 69–75. https://doi.org/10.55230/mabjournal.v50i3.1988
Section
Research Articles
Copyright & Licensing
Any reproduction of figures, tables and illustrations must obtain written permission from the Chief Editor (wicki@ukm.edu.my). No part of the journal may be reproduced without the editor's permission