PHYSICAL-CHEMICAL PARAMETERS IN RELATION TO FISH ASSEMBLAGES IN THE EAST COAST OF PENINSULAR MALAYSIA
Keywords:
Physical-chemical parameters, dry and rainy season, fish abundance, South China Sea
Abstract
The fish assemblage patterns are partially dependent on the environmental or anthropogenic changes which always affect the community. The objective of this study was to determine the spatial and temporal distribution pattern of fish assemblages due to physical-chemical in Setiu Wetlands. Fish samples were collected from June 2011 to July 2012 at three study sites using gill, trawl nets, and traps. The salinity and pH results were significantly different among sites and the temperature, pH, and DO revealed significant differences among months. However, the regression obtained between the abundance of fishes and rainfall and the physical-chemical parameters were not-significant differences. The low and negative correlation values were suggested and believed to not be sensitive between fish abundance and physical-chemical parameters. Four water physical- chemical variables in explaining variation in certain some fish species composition and abundance during the rainy and dry season in Setiu Wetlands. Our study revealed that the anthropogenic activities might be giving an impact on the wetlands related to the mean value of the physical-chemical characteristic. More extensive research is needed for over longer periods whereas long term research for five to ten years data to better understand for fish assemblages in Setiu Wetland.
Downloads
Download data is not yet available.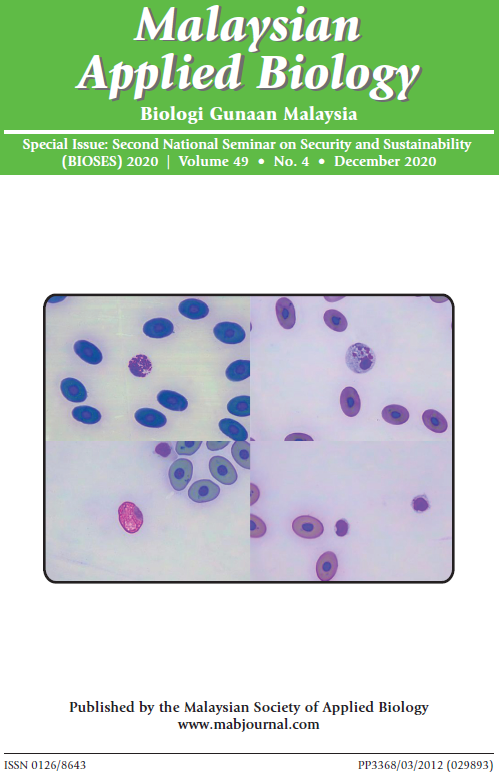 How to Cite
KADIR, S. T. S. A., AB. MANAF, N. ., ALI, A. N., WAIL, N. F. C., BIDAI, J. A. ., AHMAD, H. ., ABDULLAH, C. M. K. A. C. ., AHMAD, M. F. ., MOHAMAD, M. N. ., AHMAD, A. ., BACHOK, Z. ., MOTOMURA, H. ., HUSAIN, M. L. ., AMBAK , M. A. ., & GHAFFAR, M. A. . (2020). PHYSICAL-CHEMICAL PARAMETERS IN RELATION TO FISH ASSEMBLAGES IN THE EAST COAST OF PENINSULAR MALAYSIA. Malaysian Applied Biology, 49(4), 193–199. https://doi.org/10.55230/mabjournal.v49i4.1618
Section
Research Articles
Copyright & Licensing
Any reproduction of figures, tables and illustrations must obtain written permission from the Chief Editor (wicki@ukm.edu.my). No part of the journal may be reproduced without the editor's permission