ANTIBACTERIAL ACTIVITY OF Andrographis paniculata AQUEOUS EXTRACT AGAINST ORAL PATHOGENS
Downloads
Download data is not yet available.
References
Alash, S.A. & Mohammed, M.Q. 2019. Antibacterial activity of some mouthwash solutions against Staphylococcus lentus isolated from mouth infections. Iraqi Journal of Science, 60(12): 2583-2589.
Alexander, S.C.P. 2017. Antibacterial activity of Andrographis paniculata extracts. The Pharma Innovation Journal, 6(5): 1-4.
Aniel, K., Naidu, L. & Rao. 2010. In vitro antibacterial activity in the extrats of Andrographis paniculata Burm. F. International Journal of Pharmtech Research, 2(2): 1383-1385.
Azizah M., Pripdeevech P., Thongkongkaew T., Mahidol C., Ruchirawat S. & Kittakoop P. 2020. UHPLC-ESI-QTOF-MS/MS-based molecular networking guided isolation and dereplication of antibacterial and antifungal constituents of Ventilago denticulata. Antibiotics, 9(9): 606.
Balouiri, M., Sadiki, M. & Ibnsouda, S.K. 2016. Methods for in vitro evaluating antimicrobial activity: A review. Journal of Pharmaceutical Analysis, 6(2): 71-79.
Benahmed, A., Gasmi, A., Dadar, M., Arshad, M. & Bjorklund, G. 2021. The role of sugar-rich diet and salivary protein in dental plaque formation and oral health. Journal of Oral Biosciences, 63(2): 134-141.
Caesar, L.K. & Cech, N.B. 2019. Synergy and antagonism in natural product extracts: When 1 + 1 does not equal 2. Natural Product Reports, 36(6): 869-888.
Gahlot, M., Bhatt, P., Joshi, J., Fellow, S.R. & Pantnagar, T. 2018. Study on yield of plant extracts using different solvents and methods. Bulletin of Environment, Pharmacology and Life Sciences, 7(6): 65-67.
Nath, S. 2018. Syringe punch and delivery protocol for well diffusion test. MOJ Toxicology, 4(1): 23-24.
Polash, S.A., Saha, T., Hossain, M.S. & Sarker, S.R. 2017. Investigation of the phytochemicals, antioxidant, and antimicrobial activity of the Andrographis paniculata leaf and stem extracts. Advances in Bioscience and Biotechnology, 8(5): 149-162.
Sadhana H.M, Suresh J. & Hamsalakshmi. 2020. Andrographis paniculata - a review. International Journal of Research in Pharmaceutical Sciences, 11(4): 5395-5400.
Tuan Kub, T.N., Ab Manaf, N.A. & Che Ibrahim, A.S. 2021. Comparison of well diffusion, disc diffusion and broth dilution methods for antimicrobial activity of Andrographis paniculata herbal gel against acne-associated pathogens. Malaysian Journal of Microbiology, 17(1): 90-96.
Van Swaaij, B.W.M., Van Der Weijden, G.A., Bakker, E.W.P., Graziani, F. & Slot, D.E. 2020. Does chlorhexidine mouthwash, with an anti-discoloration system, reduce tooth surface discoloration without losing its efficacy? A systematic review and meta-analysis. International Journal of Dental Hygiene, 18(1): 27-43.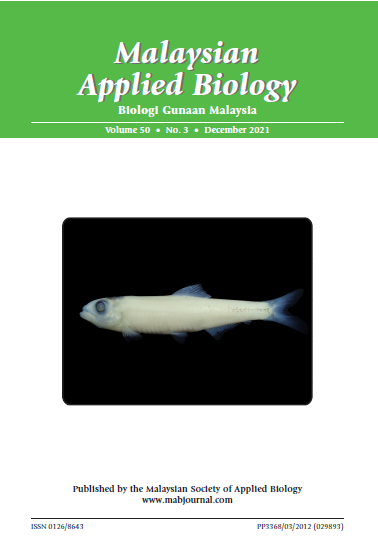 How to Cite
MUHAMAD ALOJID, A. A., TUAN KUB, T. N. ., MIRAN, H., MOHAMAD, S., TUAN ISMAIL TUAN MANAH, T. N. N. ., YUSOFF, M. E. ., ABDULLAH, R. ., HASSAN, S. A. ., SALMUNA, Z. N. ., & AHMAD, N. N. . (2021). ANTIBACTERIAL ACTIVITY OF Andrographis paniculata AQUEOUS EXTRACT AGAINST ORAL PATHOGENS. Malaysian Applied Biology, 50(3), 163–167. https://doi.org/10.55230/mabjournal.v50i3.2001
Section
Research Notes (Short Communication)
Copyright & Licensing
Any reproduction of figures, tables and illustrations must obtain written permission from the Chief Editor (wicki@ukm.edu.my). No part of the journal may be reproduced without the editor's permission