EVALUATION OF TOXICITY AND ANTIBACTERIAL ACTIVITIES OF Andrographis paniculata HERBAL MOUTHWASH AGAINST ORAL PATHOGENS
Keywords:
Andrographis paniculata, antibacterial, brine shrimp, heavy metal, mouthwash, oral pathogen
Abstract
Andrographis paniculata (AP) is an ancient herb known for its medicinal and therapeutic values. In this study, we aimed to evaluate the antibacterial activity and cytotoxicity of AP herbal mouthwash. Aqueous extract of AP was used to prepare the herbal mouthwash. The product was tested against selected oral pathogens namely Actinomyeces viscosus, Staphylococcus aureus, Streptococcus mutans, Streptococcus sobrinus, and Porphyromonas gingivalis for its antibacterial activity using the agar well diffusion method. Toxicity analysis was carried out and subjected to cytotoxicity screening using 3-(4,5-dimethylthiazol-2-yl)-2,5-diphenyl tetrazolium bromide (MTT) assay, in vivo study using brine shrimp lethality bioassay, and detection of heavy metals using atomic absorption spectroscopy (AAS). Five AP herbal mouthwash concentrations (62.5, 125, 250, 500, 1000 mg/mL) were developed. AP herbal mouthwash exhibited the strongest antibacterial activity against A. viscosus. AP herbal mouthwash (125 to 1000 mg/mL) showed inhibition against P. gingivalis, S. mutans and S. sobrinus, except for S. aureus which did not reflect any sign of antibacterial activity. In brine shrimp lethality bioassay, AP herbal mouthwash has LC50 3255.064 µg/mL. In vitro cytotoxic evaluation was done on L929 mouse fibroblast cell lines using MTT assay with IC50 43.55 mg/mL denotes the mouthwash is non-toxic. Heavy metals content in AP herbal mouthwash falls within the permissible range of plumbum (2.50 ppm) followed by arsenic (1.875 ppm), mercury (0.15 ppm), and cadmium (0.06 ppm). Thus, verifying AP herbal mouthwash is effective in common oral pathogens and has a non-toxic effect.
Downloads
Download data is not yet available.
References
Aboalola, D.M., Weli, A.M., Hossain, M.A. & Al Touby, S. 2020. Toxicological study of various crude extracts of Hyoscyamus gallagheri native to Oman. Toxicology Reports, 7(3): 680–684. DOI: https://doi.org/10.1016/j.toxrep.2020.05.004
Ahmad, I., Irfan, S., Abohashrh, M., Wahab, S., Abullais, S.S., Javali, A., Nisar, N., Alam, M.M., Srivastava, S., Saleem, M., Zaman, G.S., Ahmad, I. & Mansuri, N. 2021. Inhibitory effect of Nepeta deflersiana on climax bacterial community isolated from the oral plaque of patients with periodontal disease. Molecules, 26(1): 202. DOI: https://doi.org/10.3390/molecules26010202
Bahari, R., Kasim, K.F. & Najwa Nasaruddin, N.F. 2021. Extraction of Andrographis paniculata as material for developing soap and sanitizer. IOP Conference Series: Earth and Environmental Science, 765(1): 1–13. DOI: https://doi.org/10.1088/1755-1315/765/1/012059
Cunha, B.G., Duque, C., Sampaio Caiaffa, K., Massunari, L., Catanoze, I.A., Micheline, D., Santos, D., Penha De Oliveira, S.H. & Guiotti, A.M. 2020. Cytotoxicity and antimicrobial effects of citronella oil (Cymbopogon nardus) and commercial mouthwashes on Staphylococcus aureus and Candida albicans biofilms in prosthetic materials. Archive of Oral Biology, 109: 1–10. DOI: https://doi.org/10.1016/j.archoralbio.2019.104577
Daniel, I.E. & Ibok, E.N. 2019. Toxicological evaluation of different extracts of Andrographis paniculata. South Asian Research Journal of Natural Products, 2(4): 1–10.
De, C.W., Werner, A. & Seymour, R.A. 2009. Are alcohol containing mouthwashes safe? British Dental Journal, 207(E19): 1–4. DOI: https://doi.org/10.1038/sj.bdj.2009.1014
Goel, N., Gajbhiye, R.L., Saha, M., Nagendra, C., Reddy, A.M., Ravichandiran, V., Das Saha, K. & Jaisankar, P. 2021. A comparative assessment of in vitro cytotoxic activity and phytochemical profiling of Andrographis nallamalayana J.L.Ellis and Andrographis paniculata (Burm. f.) Nees using UPLC-QTOF-MS/MS approach. Royal Society of Chemistry Advances, 11(57): 35918–35936. DOI: https://doi.org/10.1039/D1RA07496B
Hossain, S., Urbi, Z., Karuniawati, H., Mohiuddin, R.B., Qrimida, A.M., Allzrag, A.M.M., Ming, L.C., Pagano, E. & Capasso, R. 2021. Andrographis paniculata (Burm. f.) wall. ex nees: An updated review of phytochemistry, antimicrobial pharmacology, and clinical safety and efficacy. Life, 11(4): 348. DOI: https://doi.org/10.3390/life11040348
Kar, A., Pandit, S., Mukherjee, K., Bahadur, S. & Mukherjee, P.K. 2016. Safety assessment of selected medicinal food plants used in Ayurveda through CYP450 enzyme inhibition study. Journal of Science Food Agriculture, 97: 333–340. DOI: https://doi.org/10.1002/jsfa.7739
Lim, X.Y., Chan, J.S.W., Tan, T.Y.C., Teh, B.P., Mohd Abd Razak, M.R., Mohamad, S. & Syed Mohamed, A.F. 2021. Andrographis paniculata (Burm. F.) Wall. Ex Nees, andrographolide, and andrographolide analogues as SARS-CoV-2 antivirals? A rapid review. Natural Product Communications, 16(5): 1–15. DOI: https://doi.org/10.1177/1934578X211016610
Muhamad Alojid, A.A., Tuan Kub, T.N., Miran, H., Mohamad, S., Ismail, T.N.N.T., Manah, T., Yusoff, M.E., Abdullah, R., Hassan, S.A., Salmuna, Z.N. & Ahmad, N.N. 2021. Antibacterial activity of Andrographis paniculata aqueous extract against oral pathogens. Malaysian Applied Biology, 50(3): 163–167. DOI: https://doi.org/10.55230/mabjournal.v50i3.2001
National Pharmaceutical Regulatoy Division. 2017. List of Updates for Drgd Second Edition, September 2016, Revised September 2017 Updates (Issue September).
Sirilun, S., Sivamaruthi, B.S., Kumar, N., Kesika, P., Peerajan, S. & Chaiyasut, C. 2016. Lactobacillus-fermented plant juice as a potential ingredient in cosmetics: Formulation and assessment of natural mouthwash. Asian Journal of Pharmaceutical and Clinical Research, 9(12): 52–56. DOI: https://doi.org/10.22159/ajpcr.2016.v9s3.14707
Su, C.Y., Chen, C.C., Chen, H.Y., Lin, C.P., Lin, F.H. & Fang, H.W. 2019. Characteristics of an alternative antibacterial biomaterial for mouthwash in the absence of alcohol. Journal of Dental Sciences, 14(2): 192–197. DOI: https://doi.org/10.1016/j.jds.2019.01.002
Sule, A., Ahmed, Q.U., Samah, O.A. & Omar, M.N. 2010. Screening for antibacterial activity of Andrographis paniculata used in Malaysian folkloric medicine: A possible alternative for the treatment of skin infections. Ethnobotanicals Leaflets, 14(1): 445–456.
Swargiary, A. & Daimari, M. 2021. GC–MS analysis of phytocompounds and antihyperglycemic property of Hydrocotyle sibthorpioides Lam. SN Applied Sciences, 3(36): 1–6. DOI: https://doi.org/10.1007/s42452-020-04101-2
Tan, M.C.S., Oyong, G.G., Shen, C.C. & Ragasa, C.Y. 2017. Cytotoxic labdane diterpenoids from Andrographis paniculata (Burm.F.) Nees. Asian Journal of Pharmaceutical and Clinical Research, 10(12): 99–104. DOI: https://doi.org/10.22159/ajpcr.2017.v10i12.19194
Van Swaaij, B.W.M., van der Weijden, G.A., Bakker, E.W.P., Graziani, F. & Slot, D.E. 2020. Does chlorhexidine mouthwash, with an anti-discoloration system, reduce tooth surface discoloration without losing its efficacy? A systematic review and meta-analysis. International Journal of Dental Hygiene, 18(1): 27–43. DOI: https://doi.org/10.1111/idh.12402
Yang, S.Y., Choi, Y.R., Lee, M.J. & Kang, M.K. 2020. Antimicrobial effects against oral pathogens and cytotoxicity of Glycyrrhiza uralensis extract. Plants, 9(838): 1–12. DOI: https://doi.org/10.3390/plants9070838
Yang, S.Y. & Kang, M.K. 2020. Biocompatibility and antimicrobial activity of Reynoutria elliptica extract for dental application. Plants, 9(6): 670. DOI: https://doi.org/10.3390/plants9060670
Zhou, X., Li, C.-G., Chang, D. & Bensoussan, A. 2019. Current status and major challenges to the safety and efficacy presented by chinese herbal medicine. Medicines, 6(1): 14. DOI: https://doi.org/10.3390/medicines6010014
Zulkepeli, S.Z.B. 2012. Formulation of Natural Non-Toxic Mouthwash Lotion from Extraction of Jatropha curcas Latex (B. Eng.). Universiti Malaysia Pahang.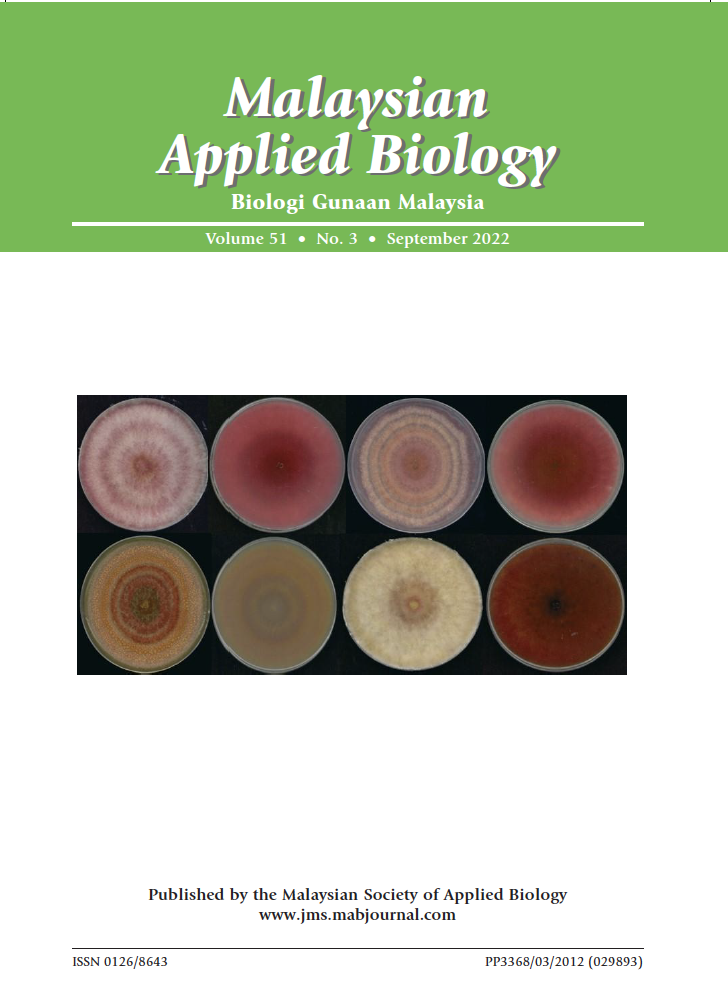 How to Cite
MUHAMAD ALOJID, A. A. ., TUAN KUB, T. N. ., MIRAN, H. ., MOHAMAD, S. ., TUAN ISMAIL, T. N. N. ., YUSOFF, M. E. ., ABDULLAH, R. ., HASSAN, S. A. ., SALMUNA, Z. N. ., & AHMAD, N. N. . (2022). EVALUATION OF TOXICITY AND ANTIBACTERIAL ACTIVITIES OF Andrographis paniculata HERBAL MOUTHWASH AGAINST ORAL PATHOGENS. Malaysian Applied Biology, 51(3), 71–78. https://doi.org/10.55230/mabjournal.v51i3.2263
Section
Research Articles
Copyright & Licensing
Any reproduction of figures, tables and illustrations must obtain written permission from the Chief Editor (wicki@ukm.edu.my). No part of the journal may be reproduced without the editor's permission