A PRELIMINARY STUDY ON THE EFFECTS OF STINGLESS BEE HONEY (SBH) ON FASTING BLOOD GLUCOSE IN STREPTOZOTOCIN (STZ)-INDUCED DIABETIC RAT MODELS
Keywords:
antihyperglycemic, Diabetes mellitus, fasting blood glucose, Stingless bee honey, STZ-induced diabetic rats
Abstract
Diabetes is a metabolic disorder characterized by hyperglycemia due to defects in insulin secretion, insulin action, or both. SBH has good antihyperglycemic potential and has traditionally been used as an alternative treatment for diabetes mellitus (DM). Since the role of SBH in glucose control is still unclear in animal and human studies, the present study was designed to evaluate the antihyperglycemic effects of SBH in streptozotocin-induced diabetic rat models. Fifteen Sprague-Dawley rats (200-250 g) were equally divided into five groups, the first group being a normal (non-diabetic) rat and the other four groups being diabetic. The normal and untreated diabetic groups received normal saline while the other diabetic groups were treated with SBH (2 g/kg body weight), metformin (MET /250 mg/kg body weight) and SBH + MET respectively. The treatment was given within 12 days. Fasting blood glucose (FBG) was measured at baseline and every two weeks thereafter. On days 7 and 12, SBH significantly lowered FBG, comparable to the normal group (p<0.05). In the group treated with MET and the combination of SBH-MET, FBG improved only on the 12th day of treatment (p<0.05). The results show that a single SBH treatment is effective in lowering blood glucose levels. Thus, SBH could be of great value in the treatment of diabetes in humans.
Downloads
Download data is not yet available.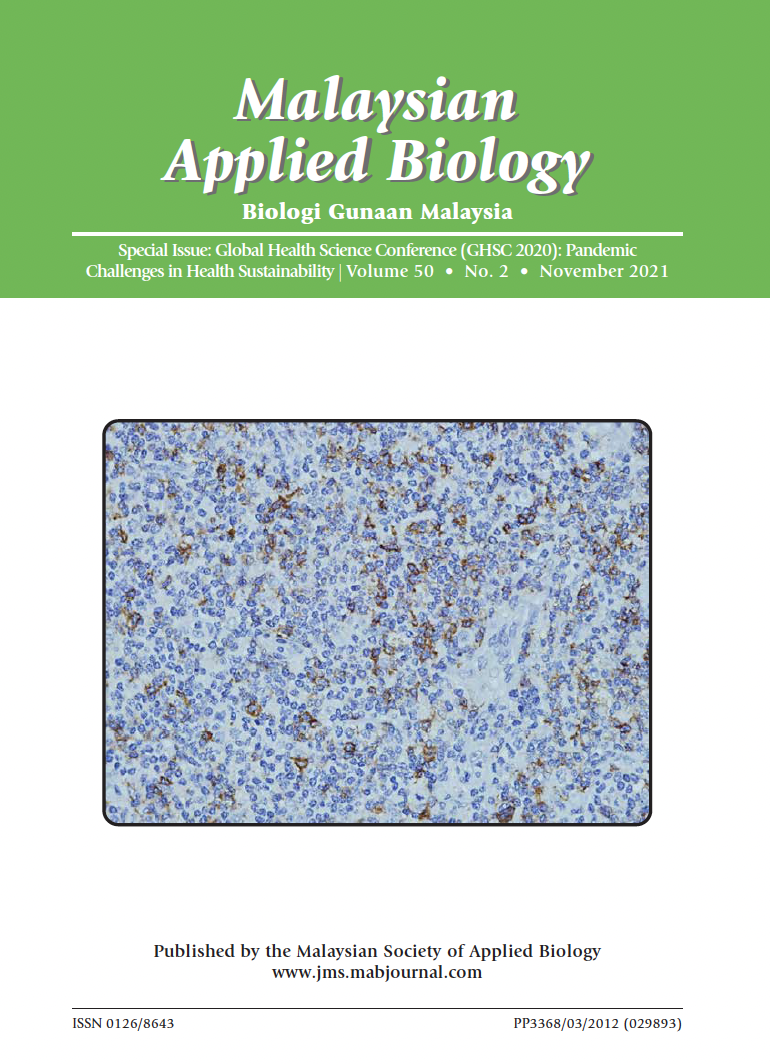 How to Cite
ISMAIL, A. F., MOHD NASIR, S., TUAN ISMAIL, T. S., WAN AHMAD, W. A. N., WAN ABDUL RAHMAN, W. F., SALAM SIRAJUDEEN, K. N., & TENGKU DIN, T. A. D. A.-A. (2021). A PRELIMINARY STUDY ON THE EFFECTS OF STINGLESS BEE HONEY (SBH) ON FASTING BLOOD GLUCOSE IN STREPTOZOTOCIN (STZ)-INDUCED DIABETIC RAT MODELS. Malaysian Applied Biology, 50(2), 151–156. https://doi.org/10.55230/mabjournal.v50i2.2148
Section
Research Articles
Copyright & Licensing
Any reproduction of figures, tables and illustrations must obtain written permission from the Chief Editor (wicki@ukm.edu.my). No part of the journal may be reproduced without the editor's permission