GROWTH MEDIA DERIVED FROM SOLID WASTE FOR ORCHID Dendrobium kingianum CULTURE
Keywords:
Orchid cultivation, waste derived compost, diaper waste, food waste
Abstract
Food waste and diaper waste contribute to top three ranking solid wastes in Malaysia. Many studies show that urine and food waste can be used as plant fertilizer but less attention has been given to the recycling of used diaper. Therefore, this study was conducted to formulate Dendrobium kingianum growing media by utilizing diaper waste and selected food waste: banana peels, coffee waste and eggshells. The chemical composition in diaper waste and food waste were determined by using ICP-OES method. Biochar derived from oil palm waste, sugarcane and sawdust were tested to reduce and neutralize the high ammonium content from diaper waste. Biochar derived from oil palm waste showed the best reduction of ammonium in diaper waste. Survival and growth performance of Dendrobium kingianum was observed and recorded. Results show that orchid in diaper formulated growth media T3 showed the best adaptation and growth performance with highest percentage of healthy leaves and number of absorption roots within 3 weeks observation period. These results revealed that diaper waste could be recycled as orchid growing media by formulating with food waste and biochar.
Downloads
Download data is not yet available.
References
Akpan-Idiok, A.U., Udo, I.A. & Braide, E.I. 2012. The use of human urine as organic fertilizer in the production of okra (Abelmoschus esculentus) in South Eastern Nigeria. Resources, Conservation and Recycling, 62: 14-20.
Bai, W., Zhang, H., Liu, B., Wu, Y. & Song, J. 2010. Effects of super-absorbent polymers on the physical and chemical properties of soil following different wetting and drying cycles. Soil Use and Management, 26: 253-260.
Gao, F., Xue, Y., Deng, P., Cheng, X. & Yang, K. 2015. Removal of aqueous ammomium by biochars derived from agricultural residuals at different pyrolysis temperatures. Chemical Speciation & Bioavailability, 27(2): 92-97.
Heinonen-Tanski, H., Sjöblom, A., Fabritius, H. & Karinen, P. 2007. Pure human urine is a good fertilizer for cucumbers. Bioresource Technology, 98(1): 214-217.
Hu, Y., Beach, J., Raymer, J. & Gardner, M. 2004. Disposable diaper to collect 30 urine samples from young children for pyrethroid pesticide studies. Journal of Exposure Analysis and Environmental Epidemiology, 14(5): 378-384.
Jönsson, H., Stintzing, A.R., Vinnerås, B. & Salomon, E. 2004. Guidelines on the use of urine and faeces in crop production. EcoSanRes Fact Sheet 6.
Koupai, J.A., Eslamian, S.S. & Kazemi, J.A. 2008. Enhancing the available water content in unsaturated soil zone using hydrogel, to improve plant growth indices. Ecohydrology & Hydrobiology, 8(1): 67-75.
Liang, P., Yu, H., Huang, J., Zhang, Y. & Cao, H. 2016. The review on adsorption and removing ammonia nitrogen with biochar on its mechanism. MATEC Web of Conferences, 67pp.
Liew, R.K., Nam, W.L., Chong, M.Y., Phang, X.Y., Su, M.H., Yek, P.N.Y., Ma, N.L., Cheng, C.K., Chong, C.T. & Lam, S.S. 2017. Oil palm waste: an abundant promising feebstock for microwave pyrolysis conversion into good quality biochar with potential multi-applications. Process Safety and Environmental Protection, 115: 57-69.
Pradhan, S.K., Nerg, A., Sjoblom, A., Holopainen, J.K. & Heinonen-Tanski, H. 2007. Use of human fertilizer in cultivation of cabbage (Brassica oleracea) – impacts on chemical, microbial and flavor quality. Journal of Agricultural and Food Chemistry, 55(21): 8657-8663.
Ranasinghe, E.S.S., Karunaranthne, C.L.S.M., Beneragama, C.K. & Wijesooriya, B.G.G. 2016. Human urine as a low cost and effective nitrogen fertilizer for bean production. Procedia Food Science, 6: 279-282.
Rudzinski, W.E., Dave, A.M., Vaishnav, U.H., Kumbar, S.G., Kulkarni, A.R. & Aminabhavi, T.M. 2002. Hydrogels as controlled release devices in agriculture. Designed Monomers and Polymers, 5(1): 39-65.
Sheila Sri, P. 2016. Soiled diaper stuck in landfills. The Star Online. http://www.thestar.com.my/metro/community/2016/05/23/soileddiapersstuck-in-landfills-recycling-is-the-way-forwardsays-expert.
Wambui, K.E., Joseph, M. & Makindi, S. 2015. Soiled diapers disposal practices among caregivers in poor and middle income urban settings. International Journal of Scientific and Research Publications, 5(10): 154-163
Wei, Y. & Durian, D.J. 2013. Effect of hydrogel particle additives on water-accessible pore structure of sandy soils: a custom pressure plate apparatus and capillary bundle model. Physical Review. 87pp.
Yao, Y., Gao, B., Zhang, M., Inyang, M. & Zimmerman, A.R. 2012. Effect of biochar amendment on sorption and leaching of nitrate, ammonium, and phosphate in sandy soil. Chemosphere, 89(11): 1467-1471.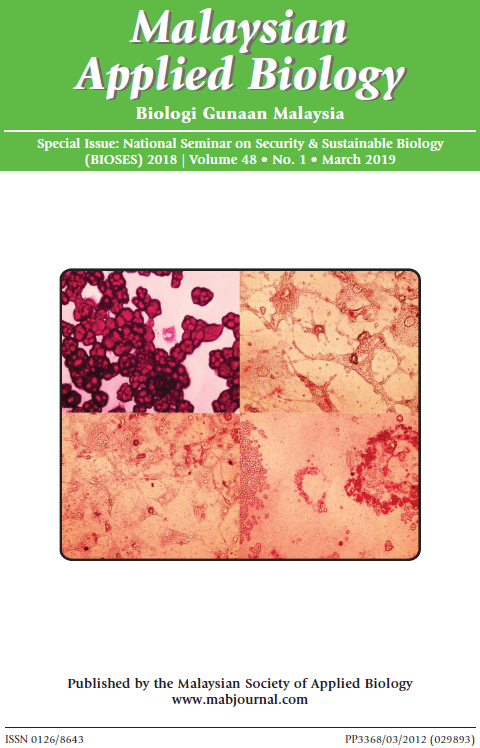 How to Cite
NYUK, L. M., SHING, C. K., LIM, K. L., SU, S. L., & SUAT, . H. T. (2019). GROWTH MEDIA DERIVED FROM SOLID WASTE FOR ORCHID Dendrobium kingianum CULTURE. Malaysian Applied Biology, 48(1), 73–78. Retrieved from https://jms.mabjournal.com/index.php/mab/article/view/2293
Section
Research Articles
Copyright & Licensing
Any reproduction of figures, tables and illustrations must obtain written permission from the Chief Editor (wicki@ukm.edu.my). No part of the journal may be reproduced without the editor's permission