METABOLITE PROFILING OF Scenedesmus regularis USING NUCLEAR MAGNETIC RESONANCE (NMR)
Keywords:
Metabolites profiling, nuclear magnetic resonance (NMR)
Abstract
Metabolites represent the end product of gene function and it reflects direct response of cells under certain conditions. Hence, metabolite profiling has become a powerful tool in examination of plant cell's response under certain conditions either in vitro or from tissue extract. This study aims to demonstrate how metabolite fingerprinting in microalgae in unfractionated extract. The results revealed the identification of 55 metabolites in unfractionated Scenedesmus regularis extract by using 1HNMR coupled with correlation spectroscopy (COSY).
Downloads
Download data is not yet available.
References
Bonzom, P.M., Nicolaou, A., Zloh, M., Baldeo, W. & Gibbons, W.A. 1999. NMR lipid profile of Agaricus bisporus. Phytochemistry, 50(8): 1311-1321.
Bubb, W.A. 2003. NMR spectroscopy in the study of carbohydrates: Characterizing the structural complexity. Concepts in Magnetic Resonance Part A, 19A(1): 1-19.
Catalanotti, C., Yang, W., Posewitz, M.C. & Grossman, A. 2013. Fermentation metabolism and its evolution in algae. Frontiers in Plant Science, 4(150): 1-7.
Cha, T.S., Chen, J.W., Goh, E.G., Aziz, A. & Loh, S.H. 2011. Differential regulation of fatty acid biosynthesis in two Chlorella species in response to nitrate treatments and the potential of binary blending microalgae oils for biodiesel application. Bioresource Technology, 102: 10633-10640.
Fan, J., Cui, Y., Wan, M., Wang, W. & Li, Y. 2014. Lipid accumulation and biosynthesis genes response of the oleaginous Chlorella pyrenoidosa under three nutrition stressors. Biotechnology for Biofuels, 7(1): 17.
Govindaraju, V., Young, K. & Maudsley, A.A. 2000. Proton NMR chemical shifts and coupling constants for brain metabolites. NMR in Biomedicine, 13(3): 129-153.
Guedes, A.C., Amaro, H.M. & Malcata, F.X. 2011. Microalgae as Sources of Carotenoids. Marine Drugs, 9(12): 625-644.
Holtin, K., Kuehnle, M., Rehbein, J., Schuler, P., Nicholson, G. & Albert, K. 2009. Determination of astaxanthin and astaxanthin esters in the microalgae Haematococcus pluvialis by LC- (APCI)MS and characterization of predominant carotenoid isomers by NMR spectroscopy. Analytical and Bioanalytical Chemistry, 395(6): 1613-1622.
Kneifel, H. 1979. Amines in microalgae. In Marine Algae in Pharmaceutical Science, 365-402.
Ma, N.L., Aziz, A., Teh, K.Y., Lam, S.S. & Cha, T.S. 2018. Metabolites Re-programming and Physiological Changes Induced in Scenedesmus regularis under Nitrate Treatment. Scientific Reports, 8(1): 9746.
Ma, N.L., Lam, S.S. & Rahman, Z. 2015. The Application of Algae for Cosmeceuticals in the Omics Age. Genomics, Proteomics and Metabolomics in Nutraceuticals and Functional Foods, 476-488.
Ma, N.L., Teh, K.Y., Lam, S.S., Kaben, A.M. & Cha, T.S. 2015. Optimization of cell disruption methods for efficient recovery of bioactive metabolites via NMR of three freshwater microalgae (chlorophyta). Bioresource Technology, 190: 536-542.
Mahrous, E.A. & Farag, M.A. 2015. Two dimensional NMR spectroscopic approaches for exploring plant metabolome: A review. Journal of Advanced Research, 6(1): 3-15.
O'Connell, T. & Jia, W. 2012. Metabolomics. In Present Knowledge in Nutrition, 38-57.
Sarpal, A.S., Teixeira, C.M.L.L., Silva, P.R.M., Lima, G.M., Silva, S.R., Monteiro, T.V. & Daroda, R.J. 2015. Determination of lipid content of oleaginous microalgal biomass by NMR spectroscopic and GC-MS techniques. Analytical and Bioanalytical Chemistry, 407: 3799-3816.
Sobolev, A.P., Brosio, E., Gianferri, R. & Segre, A.L. 2005. Metabolic profile of lettuce leaves by high-field NMR spectra. Magnetic Resonance in Chemistry, 43(8): 625-638.
Sharma, T. & Chauhan, R.S. 2016. Comparative transcriptomics reveals molecular components associated with differential lipid accumulation between microalgal sp., Scenedesmus dimorphus and Scenedesmus quadricauda. Algal Research, 19: 109-122.
Stringer, K.A., Serkova, N.J., Karnovsky, A., Guire, K., Paine, R. & Standiford, T.J. 2011. Metabolic consequences of sepsis-induced acute lung injury revealed by plasma 1H-nuclear magnetic resonance quantitative metabolomics and computational analysis. American Journal of Physiology Lung and Cellular and Molecular Physiology, 300(1): L4-L100.
Yen, H.W., Chiang, W.C. & Sun, C.H. 2012. Supercritical fluid extraction of lutein from Scenedesmus cultured in an autotrophical photobioreactor. Journal of the Taiwan Institute of Chemical Engineers, 43: 53-57.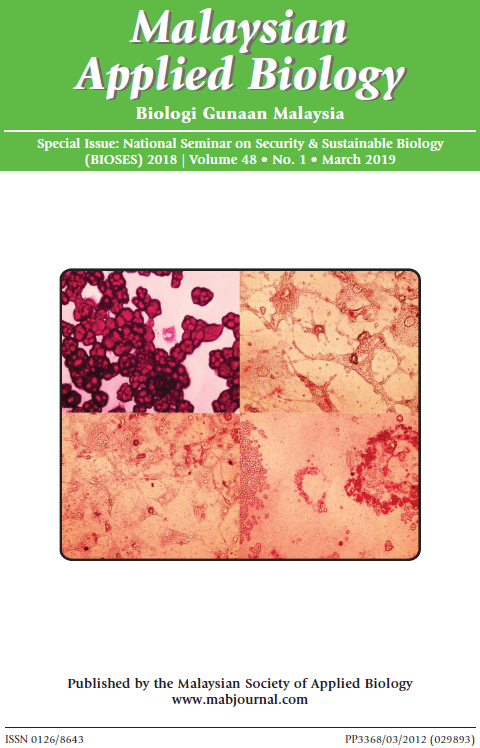 How to Cite
NYUK, . L. M., KIT, Y. T., AHMAD, A., SU, S. L., SAIDON, S. A., HUSRI, M. N., & CHA, T. S. (2019). METABOLITE PROFILING OF Scenedesmus regularis USING NUCLEAR MAGNETIC RESONANCE (NMR). Malaysian Applied Biology, 48(1), 117–121. Retrieved from https://jms.mabjournal.com/index.php/mab/article/view/2301
Section
Research Articles
Copyright & Licensing
Any reproduction of figures, tables and illustrations must obtain written permission from the Chief Editor (wicki@ukm.edu.my). No part of the journal may be reproduced without the editor's permission