TEMPORAL AND SPATIAL VARIATIONS OF SELECTED WATER QUALITY PARAMETERS IN SERGESTID SHRIMPS' HABITAT ALONG COASTAL WATER OF MIRI, SARAWAK, MALAYSIAN BORNEO
Keywords:
Biodiversity, coastal water, conservation, shrimp, water quality
Abstract
Evidences have shown that coastal water as habitat that support various flora and fauna as well as nursery ground which highlight the importance of water quality monitoring that act as basis for productivity of fisheries. Therefore, the objective of this study is to analyse the temporal and spatial variations of selected water quality parameters in sergestid shrimp's habitat along the coastal water of Miri, Sarawak. Nine water quality parameters namely dissolved oxygen (DO), temperature, turbidity, pH, salinity, chlorophyll a (chl a), total suspended solid (TSS), nitrate (NO3-) and orthophosphate (PO43-) were measured in four stations along Miri coastal water. The variation explained by the principal component analysis had a total variance of 55.95%. The PC1 shows that the waters in July 2017, September 2017, October 2017, December 2017 and January 2018 were characterized with high turbidity and TSS as well as low temperature and salinity. In contrast, stations in November 2017, March 2018 and April 2018 had warmer and clear water with high salinity reading, whereby blooms of sergestid shrimps were observed in March and April 2018. The PC2 result shows that in May 2017 and June 2017, coastal waters were characterized with low pH reading. Overall, the water quality parameters measured in all stations were close to the standard value of Class E of Malaysian Marine Water Quality Standards (MMWQS).
Downloads
Download data is not yet available.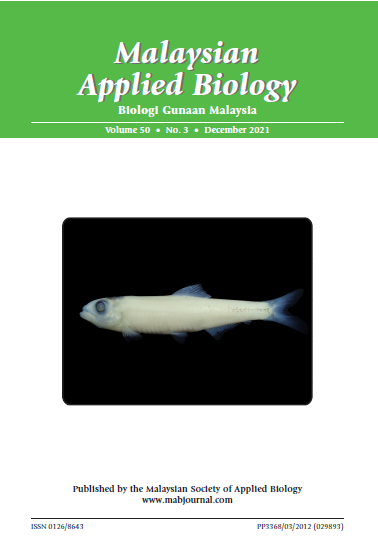 How to Cite
HASSAN, R. ., & OTHMAN, M. N. A. . (2021). TEMPORAL AND SPATIAL VARIATIONS OF SELECTED WATER QUALITY PARAMETERS IN SERGESTID SHRIMPS' HABITAT ALONG COASTAL WATER OF MIRI, SARAWAK, MALAYSIAN BORNEO. Malaysian Applied Biology, 50(3). https://doi.org/10.55230/mabjournal.v50i3.2214
Section
Research Articles
Copyright & Licensing
Any reproduction of figures, tables and illustrations must obtain written permission from the Chief Editor (wicki@ukm.edu.my). No part of the journal may be reproduced without the editor's permission