MORPHO-PHYSIOLOGICAL AND ANATOMICAL ASSESSMENT OF DIFFERENT RICE VARIETIES SUBJECTED TO DROUGHT STRESS AT EARLY VEGETATIVE STAGE
Keywords:
Acclimation, anatomy, drought stress, growth, rice
Abstract
Drought is a climate problem which has become a major constraint on crop production and causing social and economic devastation to local farmers worldwide. This climate issue has been the most destructive factors for rice cultivation and therefore requires scientist to be more responsive to this problem. In this study, we investigated the effect of drought stress at an early vegetative stage on plant growth, physiology and root anatomy of a few selected known tolerance rice varieties. Rice seeds were first germinated on moisturized filter papers before transplanted into polybags filled with topsoils. Drought treatment was imposed 4 weeks after transplanting until the first sign of rolled leaves were seen. In this study, drought had no major impact on plant height but reduced dry matter accumulation was seen in all varieties. Drought exposure had also triggered changes in the overall content of chlorophyll but not in the composition of chlorophyll a and b. Meanwhile, plants subject to drought in some parameters had better root morphology and structure compared to normal irrigation, especially in Kuku Belang, Apami and Huma Wangi Lenggong. However, depending on the variety, the responses varied in different order of magnitude.
Downloads
Download data is not yet available.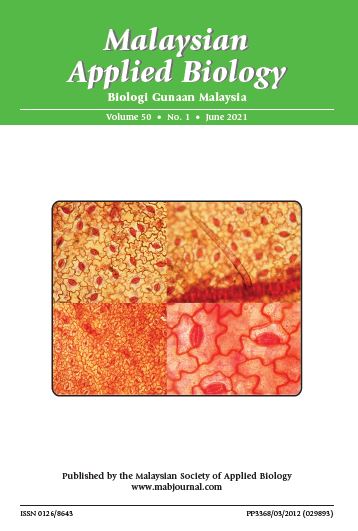 How to Cite
KARIM, M. F., MOHD ROSELY, N. F. S. ., MOHD KAMIL, N. A. ., & CHE AMRI, C. N. A. (2021). MORPHO-PHYSIOLOGICAL AND ANATOMICAL ASSESSMENT OF DIFFERENT RICE VARIETIES SUBJECTED TO DROUGHT STRESS AT EARLY VEGETATIVE STAGE. Malaysian Applied Biology, 50(1), 55–64. https://doi.org/10.55230/mabjournal.v50i1.12
Section
Research Articles
Copyright & Licensing
Any reproduction of figures, tables and illustrations must obtain written permission from the Chief Editor (wicki@ukm.edu.my). No part of the journal may be reproduced without the editor's permission