THE TAXONOMIC STUDY OF TRICHOME MORPHOLOGY IN SELECTED ASTERACEAE SPECIES OF PAHANG, MALAYSIA
Keywords:
Asteraceae, diagnostic characters, leaf micromorphology, medicinal plants, trichome
Abstract
A comparative study of foliar trichomes for selected Asteraceae collected in Pahang was observed. The selected species were Ageratum conyzoides L., Tridax procumbens L., Eclipta prostrata (L.) L., Sphagneticola trilobata (L.) Pruski, Emilia sonchifolia (L.) DC. and Youngia japonica (L.) DC. The objective of this study is to document various trichomes among selected Asteraceae species in Pahang. Trichomes are known as one of the micromorphological characteristics that can be investigated for the assisting identification of Asteraceae. The trichomes were examined under a light microscope and Scanning Electron Microscopy (SEM). The trichomes in this study were classified into eight types. The diagnostic characteristics in Ageratum conyzoides consist of glandular trichomes while the non-glandular trichomes are mostly shown in Tridax procumbens. Tridax procumbens showed four diagnostic characteristics which are simple multicellular trichome (coned shape), simple multicellular trichome (long, pointed-end), simple multicellular trichome (long, tapered-end), and stellate trichome. This study proved that data from plant anatomy can be used as supporting data for plant classification in Asteraceae.
Downloads
Download data is not yet available.
References
Akinnubi, F.M., Akinloye, A.J., Otunla, O.O. & Alakinde, T.A. 2014. Foliar anatomy of some species of Asteraceae in South Western Nigeria. African Journal of Plant Science, 8(9): 426-440. DOI: https://doi.org/10.5897/AJPS2014.1196
Amirul-Aiman, A.J., Noraini, T. & Nurul-Aini, C.A.C. 2017. Trichome morphology on petal and sepal of selected species of Acanthaceae in Peninsular Malaysia. Sains Malaysiana, 46(10): 1679–1685. DOI: https://doi.org/10.17576/jsm-2017-4610-02
Hardin, J.W. 1979. Atlas of foliar surface features in woods plants, I. Vesture and trichome types of eastern North America Quercus. Bulletin of the Torrey Botanical Club, 106: 313-325. DOI: https://doi.org/10.2307/2560358
Johansen, D.A. 1940. Plant Microtechnique. McGraw-HillBook Company Incorporated, London. 341 pp.
Kuldeep, G. & Pathak, A.K. 2013. Pharmacognostic and Phytochemical Evaluation of Tridax procumbens Linn. Journal of Pharmacognosy and Phytochemistry, 1(5): 42-46.
Metcalfe, C.R. & Chalk, L. 1950. Anatomy of the Dicotyledons: Leaves, Stem, and Wood in Relation to taxonomy, with notes on economic uses. Clarendon Press, Oxford.
Ndukwu, B.C. & Agbagwa, I.O. 2006. The value of leaf micromorphological in the taxonomic delimitation of Emilia Cass, (Asteraceae) species. Global Journal of Pure and Applied Science, 12(2): 183-187. DOI: https://doi.org/10.4314/gjpas.v12i2.16588
Nurul-Aini, C. A. C., Noraini, T., Latiff, A., Amirul-Aiman, A.J., Rozilawati, S. & Nurshuhada, T. 2018. Trichome morphology in Staurogyne Wall. (Acanthaceae) from Peninsular Malaysia. Malayan Nature Journal, 70(2): 239-244.
Perveen, A., Khan, M., Mansuri, S. & Tabassum, T. 2016. Morphological studies on trichome of family Asteraceae. International Journal of Biology and Biotechnology, 13(2): 177-182.
Ramayya, N. 1962. Studies on the trichomes of some Compositae I. General structure. Bulletin of the Botanical Survey of India, Calcutta, 4: 177-188.
Silva, C.J., Barbosa, L.C.A., Demuner, A.J., Montanari, R.M., Francino, D., Meira, R.M.S.A. & Souza, A.O. 2012. Chemical composition and histochemistry of Sphagneticola trilobata essential oil. Scientific Electronic Library Online, 22(3). DOI: https://doi.org/10.1590/S0102-695X2012005000012
Simpson, M.G. 2006. Plant Systematics. Elsevier Academic Press. 332-402 pp.
Smith, R.I.L. & Richardson, M. 2010. Fuegian plants in Antarctica: Natural or anthropogenically assisted immigrants? Biological Invasions, 13(1): 1-5. DOI: https://doi.org/10.1007/s10530-010-9784-x
Suntar, I. 2014. The medicinal value of Asteraceae family plants in terms of wound healing activity. Fabad Journal of Pharmaceutical Sciences, 39: 21-31.
Wina, D.P.S., Cicik, S. & Dina, H. 2020. Glandular trichome in the Asteraceae family. Jurnal Biologi Lingkungan, Industri, Kesehatan, 7(2): 164-171. DOI: https://doi.org/10.31289/biolink.v7i2.3333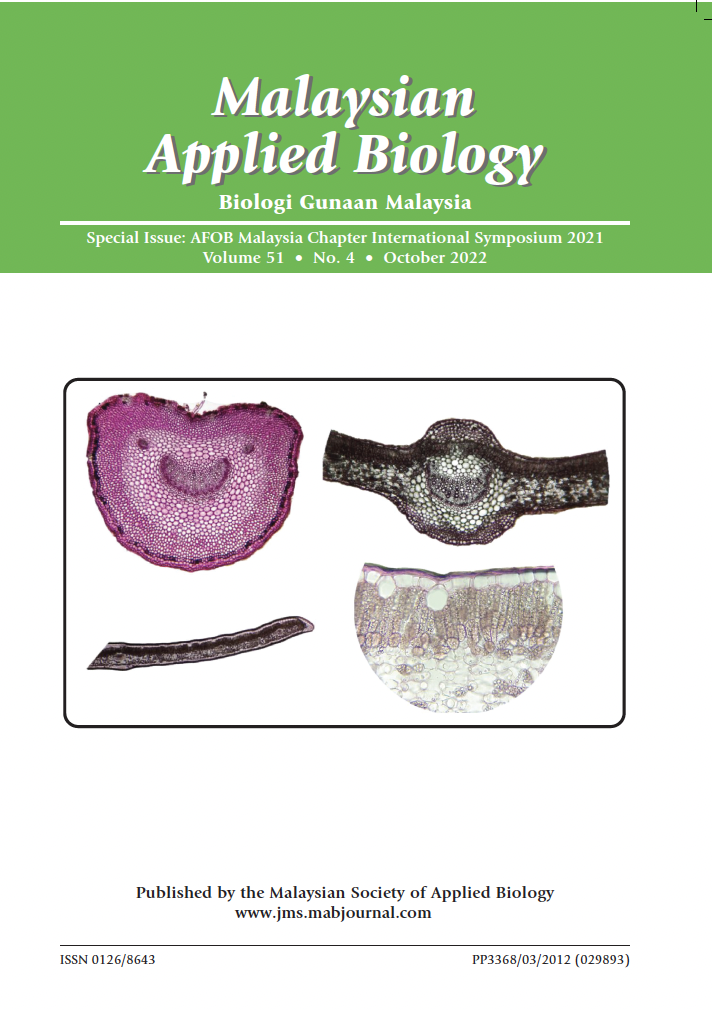 How to Cite
ABDUL RASHID, Z. S. ., CHE AMRI, C. N. A. ., & SHAHARI, R. . (2022). THE TAXONOMIC STUDY OF TRICHOME MORPHOLOGY IN SELECTED ASTERACEAE SPECIES OF PAHANG, MALAYSIA. Malaysian Applied Biology, 51(4), 1–4. https://doi.org/10.55230/mabjournal.v51i4.01
Section
Research Articles
Copyright & Licensing
Any reproduction of figures, tables and illustrations must obtain written permission from the Chief Editor (wicki@ukm.edu.my). No part of the journal may be reproduced without the editor's permission