Comparative Study of Leaf Anatomy and Micromorphology of Selected Justicia Species from Peninsular Malaysia
Keywords:
Acanthaceae, Justicia, leaf anatomy, leaf micromorphology
Abstract
Justicia has been recognized as one of the largest genera in the Acanthaceae family with 600 species have been identified. Most researchers have problems identifying Justicia species especially if the samples are incomplete. Other than that, there is no comprehensive study on Justicia species, especially in Peninsular Malaysia. Therefore, a comprehensive study of leaf anatomy and micromorphology of three selected Justicia species which are Justicia adathoda, Justicia gendarussa and Justicia procumbens were conducted in order to assess the leaf anatomical and micromorphological variations that would be useful to identify the plant species. The methods used in this study involved several methods such as cross-section using a sliding microtome and observation under the scanning electron microscope (SEM) for the epidermis of abaxial and adaxial surfaces. Collenchyma, sclerenchyma and mucilage cells can be found either in the petiole or the midrib in all species studied. Amphistomatic stomata have also been recorded in all species examined. Meanwhile, several differences were discovered in this study, including the type of trichomes, the pattern of vascular bundles, the type of epicuticular wax structures, cuticle ornamentation and the presence of cystolith cells. In conclusion, the characteristics of some Justicia species in Peninsular Malaysia can be identified using leaf anatomy and micromorphology.
Downloads
Download data is not yet available.
References
Alamgir, A.N.M. 2017. Pharmacognostical Botany: Classification of Medicinal and Aromatic Plants (MAPs), Botanical Taxonomy, Morphology, and Anatomy of Drug Plants. In: Therapeutic Use of Medicinal Plants and Their Extracts: Volume 1. Progress in Drug Research. K.D. Rainsford. (Ed.). Springer, Cham, Switzerland. pp. 177–293. DOI: https://doi.org/10.1007/978-3-319-63862-1_6
Burkill, H.M. 1985. Entry for Lasiurus hirsutus (Forssk.) Boiss. [family Poaceae]. In: The Useful Plants of West Tropical Africa. H.M. Burkill (Ed.). 2nd Ed. Royal Botanic Gardens, Kew, UK. pp. 254-257.
Candolle, C.D.E. 1879. Anatomie compare des feulles chez quelques familles de Dicotyledones. Mémoires de la Société de Physique et d'Histoire Naturelle de Genève, 26: 427-480.
Choopan, T. & Grote, P.J. 2015. Cystoliths in the leaves of the genus Pseuderanthemum (Acanthaceae) in Thailand. International Journal of Science, 12(2): 13-20.
Dickison, W.C. 2000. Integrative Plant Anatomy. New York. Harcourt Academic Press, pp 499-502.
Fongod, A., Bibiche, M., Veranso-Libalah, & Marie, C. 2013. Ethnobotany of Acanthaceae in the Mount Cameroon region. Journal of Medicinal Plants Research, 7(38): 2859-2866.
Ghazalli, M.N., Md Sah, M.S., Mat, M., Awang, K., Jaafar, M.A., Mirad, R., Zaini, A.Z., Nordin, A.R.M., Rusli, N.M., Mohamad, S.S. & Dalee, A.S.M. 2021. Leaf anatomy and micromorphology characteristics of Ketum [Mitragyna speciosa (Korth.) Havil.] (Rubiaceae). Tropical Life Sciences Research, 32(1): 107–117. DOI: https://doi.org/10.21315/tlsr2021.32.1.7
Johansen, D.A. 1940. Plant Microtechnique. McGraw Hill Book Company, New York.
Kavitha, K., Sangeetha, S., Sujatha, K. & Umamaheswari, S. 2014. Phytochemical and pharmacological profile of Justicia gendarussa Burm f. – Review. Journal of Pharmacy Research, 8: 990-997.
Khan, I., Jan, S.A., Shinwari, Z.K., Ali, M., Khan, Y. & Kumar, T. 2017. Ethnobotany and medicinal uses of folklore medicinal plants belonging to family Acanthaceae: An updated review. MOJ Biology and Medicine, 1(2): 34–38. DOI: https://doi.org/10.15406/mojbm.2017.01.00009
Khatijah, H. & Ruzi, A.R. 2006. Anatomical Atlas of Malaysian Medicinal Plants. Volume 2. UKM Press, Bangi.
Lopez, F.B. & Barclay, G.F. 2017. Plant anatomy and physiology. In: Pharmacognosy: Fundamentals, Applications and Strategies. S. Badal and R. Delgoda, (Eds.). Academic Press, USA. pp. 45-60. DOI: https://doi.org/10.1016/B978-0-12-802104-0.00004-4
Maisarah, Z., Nurul-Aini, C.A.C., Noraini, T., Latiff, A., Amirul-Aiman, A.J., Rozilawati, S., Nur-Shuhada, T. & Ruzi, A.R. 2020. The variation of cystoliths and its taxonomic significance in Acanthaceae of Peninsular Malaysia. Malaysian Applied Biology, 49(5): 25–31. DOI: https://doi.org/10.55230/mabjournal.v49i5.1634
Mauseth, J.D. 1988. Plant anatomy. California. Benjamin, Cummings.
Metcalfe, C.R. & L. Chalk. 1950. Anatomy of the dicotyledons. Oxford. Clarendon Press.
Noor-Syaheera, M.Y., Noraini, T., Radhiah, A.K. & Nurul-Aini, C.A.C. 2015. Leaf anatomical characteristics of Avicennia L. and some selected taxa in Acanthaceae. Malayan Nature Journal, 67(1): 81-94.
Noraini, T. & Cutler, D.F. 2009. Leaf anatomical and micromorphological characters of some Malaysian Parashorea (Dipterocarpaceae). Journal of Tropical Forest Science, 21(2): 156–167.
Noraini, T., Nurul-Aini, C.A.C., Nurhanim, M.N., Nabilah, M., Mohd-Norfaizal, G., Fitri, Z. & Hamidun, B. 2022. Taxonomic significance of leaf epidermis micromorphological characteristics of Pentace L. (Malvaceae s.l) in Malaysia. Malaysian Journal of Microscopy, 18(1): 192-201.
Noraini, T., Ruzi, A.R., Ismail, B.S., Ummu Hani, B., Salwa, S. & Azi-Azeyanty, J. 2016. Petiole vascular bundles and its taxonomic value in the tribe Dipterocarpeae (Dipterocarpaceae). Sains Malaysiana, 45(2): 247–253.
Nurul-Aini, C.A.C., Nurul-Atiqah, M.M. & Rozilawati, S. 2019. Leaf anatomy and micromorphology of selected plant species in coastal area of Kuantan, Pahang, Malaysia. Science Heritage Journal (GWS), 3(2): 22-25. DOI: https://doi.org/10.26480/gws.02.2019.22.25
Nurul-Aini, C.A.C., Noraini, T., Latiff, A., Amirul-Aiman, A.J., Ruzi, A.R. & Idris, S. 2014. Taxonomic significance of leaf micromorphology in some selected taxa of Acanthaceae (Peninsular Malaysia). AIP Conference Proceedings, 1614 (1): 727-733. DOI: https://doi.org/10.1063/1.4895291
Nurul-Aini, C.A.C., Nur Shuhada, T., Rozilawati, S., Fatin, M.A., Noraini, T. & Latiff, A. 2018. Comparative leaf anatomy of selected medicinal plants in Acanthaceae. IIUM Medical Journal Malaysia, 17(2): 17-24. DOI: https://doi.org/10.31436/imjm.v17i2.944
Petruzzello, M. 2013. Avicennia. Encyclopedia Britannica. https://www.britannica.com/plant/Avicennia (accessed 09.29.20222).
Pierantoni, M., Tenne, R., Rephael, B., Brumfeld, V., Cateren, A.V., Kupczik, K., Oron, D., Addadi, L. & Weiner, S. 2018. Mineral deposits in Ficus leaves: Morphologies and locations in relation to function. Plant Physiology, 176: 1751-1763. DOI: https://doi.org/10.1104/pp.17.01516
Rojo, J.P. 1987. Petiole anatomy and infrageneric in interspesific relationship Philippines Shorea (Dipterocarpaceae). In: Kostermans, A.J.G.H. Proceedings of the Third Round Table Conference on Dipterocarps. S. Appanah, and J. M. Turnbull (Eds.). Biotrop, Bogor, Indonesia. pp. 569-601.
Saas, J.E. 1958. Botanical Microtechnique. 3rd Ed. Iowa State University, USA. DOI: https://doi.org/10.31274/isudp.25
Sharma, A. & Kumar, A. 2016. Acanthaceae: Taxonomy and uses in traditional medicinal system. World Journal of Pharmaceutical Research, 5(7): 403-412.
Singh, V. & Jain, D.K. 1975. Trichomes in Acanthaceae I. General structure. Journal of the Indian Botanical Society, 54: 116–127.
Verdam, M., Ohana, D., Araújo, M., Guilhon-Simplicio, F., Mendonça, M. & Pereira, M. 2012. Morphology and anatomy of Justicia acuminatissima leaves. Revista Brasileira de Farmacognosia, 22: 1212-1218. DOI: https://doi.org/10.1590/S0102-695X2012005000129
Whang, S.S., Kim, K. & Hill, R.S. 2004. Cuticle micromorphology of leaves of Pinus (Pinaceae) from North America. Botanical Journal of Linnean Society, 144(3):303–320. DOI: https://doi.org/10.1111/j.1095-8339.2003.00245.x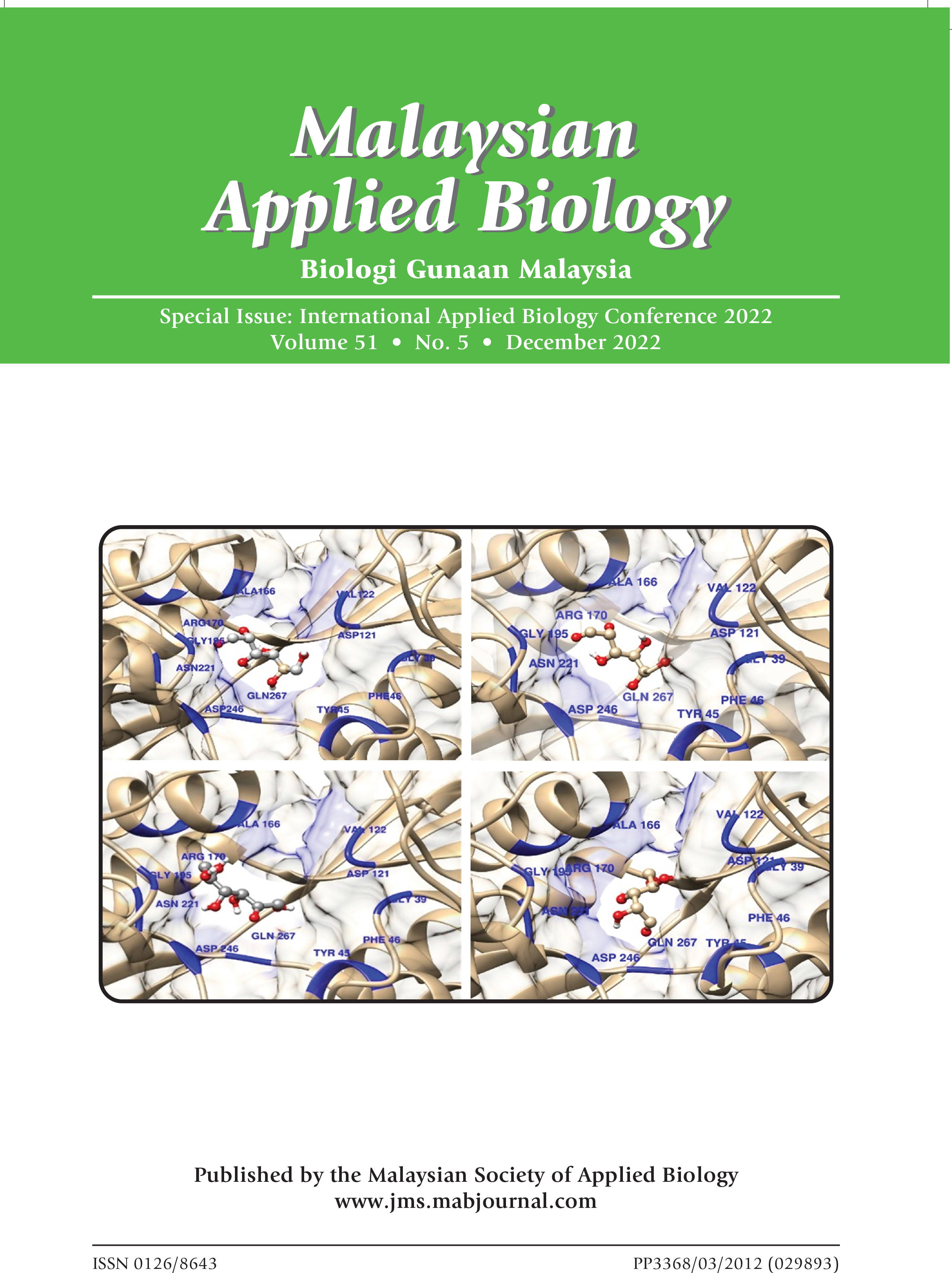 How to Cite
Mohd Tajudin, A. A., Che Amri, C. N. A., & Shahari, R. (2022). Comparative Study of Leaf Anatomy and Micromorphology of Selected Justicia Species from Peninsular Malaysia. Malaysian Applied Biology, 51(5), 221–228. https://doi.org/10.55230/mabjournal.v51i5.2345
Section
Research Articles
Copyright & Licensing
Any reproduction of figures, tables and illustrations must obtain written permission from the Chief Editor (wicki@ukm.edu.my). No part of the journal may be reproduced without the editor's permission