TRANSPIRATION CAPABILITY OF SEVERAL LOWLAND FOREST TREE SPECIES
Keywords:
Post-mining site, stomatal conductance, transpiration, Bangka Belitung native species
Abstract
Plant transpiration is the key to restore the water balance of mining site. Plant transpiration will relate to water loss rate from the land, therefore the transpiration ability of plants can be used as one criterion on the selection of tree species for post- mining land reclamation program. This research aimed to compare transpiration capability among selected tree species and to compare potential loss of water through transpiration and the rate of water input through rainfall. Seven native lowland rainforest species commonly found in the Bangka Belitung Islands were used in this research. We measured parameters affecting transpiration rates, i.e. stomatal conductance, leaf area index (LAI), and subsequently calculated canopy conductance and transpiration rates. The calculated transpiration rate of each species was Shorea leprosula (4.47 mm/day), Hopea odorata (3.93 mm/day), Aquilaria malaccensis (3.34 mm/day), Shorea javanica (2.59 mm/day), Terminalia catappa (2.01 mm/day), Flacourtia rukam (1.96 mm/day), and Eusideroxylon zwageri (1.35 mm/day). During the driest month, Shorea leprosula would have the highest potential of water loss through transpiration than that in other studied species.
Downloads
Download data is not yet available.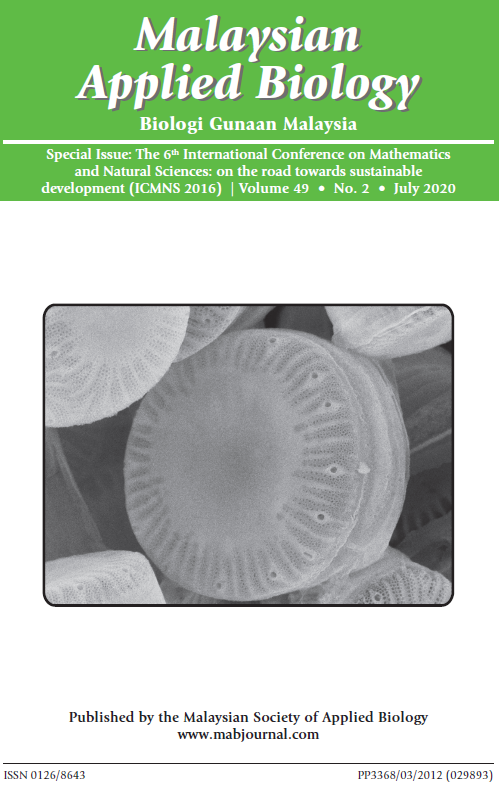 How to Cite
IRSAN, M. F., SULISTYAWATI, E., HADIYANE, A., & HIDAYATI, N. (2021). TRANSPIRATION CAPABILITY OF SEVERAL LOWLAND FOREST TREE SPECIES. Malaysian Applied Biology, 49(2), 63–67. https://doi.org/10.55230/mabjournal.v49i2.1524
Copyright & Licensing
Any reproduction of figures, tables and illustrations must obtain written permission from the Chief Editor (wicki@ukm.edu.my). No part of the journal may be reproduced without the editor's permission