ISOLATION AND IDENTIFICATION OF Klebsiella pneumoniae IN STREET FOODS AND DRINKS IN YOGYAKARTA, INDONESIA
Keywords:
Klebsiella pneumoniae, street foods, drinks, API-20E, Yogyakarta
Abstract
Healthy foods do not contain harmful ingredients that tend to disrupt the body system, since they are not exposed to bacterial infections, in contrast to street foods which are very vulnerable to bacterial contamination, making them dangerous for consumption. The presence of Klebsiella spp. in street foods cause several human infections, such as Urinary Tract Infections (UTI), pneumonia, septicemia, meningitis, rhinoscleroma, ozaena, sinusitis, otitis, enteritis, appendicitis, and cholecystitis. Therefore, this study aims to determine bacterial contamination specifically by K. pneumoniae in street foods and drinks. A total of 120 samples were collected from schools and public places often visited by people in Yogyakarta, then processed and subjected to microbiological analysis. From the result, the typical red colonies indicated the presence of Klebsiella on the CCA medium and confirmed using the API-20E kit. It was also observed that 11 samples were contaminated with K. pneumoniae, while 3 samples were identified with K. oxytoca, which demonstrated the presence of bacteria in street foods and drinks. Therefore, government and the Indonesian Agency for Drug and Food Control (BPOM) are encouraged to actively disseminate the benefits of healthy food and provide adequate supervision of food vendors.
Downloads
Download data is not yet available.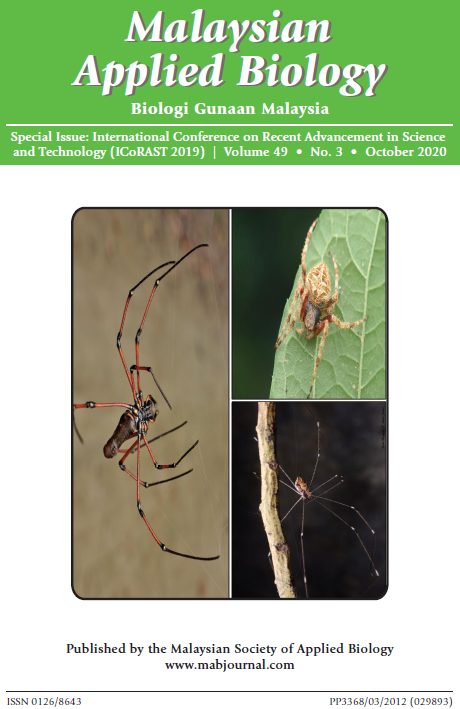 How to Cite
BUDIARSO, . T. Y. ., PRIHATMO, G. ., RESTIANI , R. ., & PAKPAHAN, S. (2020). ISOLATION AND IDENTIFICATION OF Klebsiella pneumoniae IN STREET FOODS AND DRINKS IN YOGYAKARTA, INDONESIA. Malaysian Applied Biology, 49(3), 117–122. https://doi.org/10.55230/mabjournal.v49i3.1554
Section
Research Articles
Copyright & Licensing
Any reproduction of figures, tables and illustrations must obtain written permission from the Chief Editor (wicki@ukm.edu.my). No part of the journal may be reproduced without the editor's permission