EFFECTS OF BETAINE-RICH NANO FERTILIZER ON IMPROVING PHYSIOLOGY OF Zea mays var. saccharata AND Arabidopsis thaliana UNDER SALT STRESS
Keywords:
Betaine-rich Nano fertilizer, salt stress, Z. mays var. saccharata, A. thaliana, physiology
Abstract
Salinity is the second major obstacle after drought conditions that hinder the high productivity of plants. Many factors contribute to the salinity problem, consequently affects the plant physiology, growth as well as production. Therefore, this research aims to determine the effects of betaine-rich Nano fertilizer on physiological parameters of sweet corn (Z. mays var. saccharata) and A. thaliana under salt stress. In this study, plants were grown in a controlled plant growth room. Five salinity levels (S0:0 dS/m, S1:2 dS/m, S2:4 dS/m, S3:6 dS/m, and S4:8 dS/m), two concentrations of betaine (B0:0 mM and B1: 50 mM) and the application of Nano fertilizer (N0: without Nano fertilizer and N1: with Nano fertilizer) were tested in Randomized Complete Block Design (RCBD) with three replicates. Data for chlorophyll content, chlorophyll fluorescence (FV/FM), and leaf relative water content (RWC) were recorded. The results were analyzed using a two-way analysis of variance (ANOVA) followed by the Duncan posthoc test. Sweet corn and A. thaliana under salt stress showed a significant increase in chlorophyll content and leaf RWC, but not in FV/FM. Therefore, it is anticipated that betaine-rich Nano fertilizer could reduce salt stress by improving the physiological parameters in sweet corn as well as in A. thaliana.
Downloads
Download data is not yet available.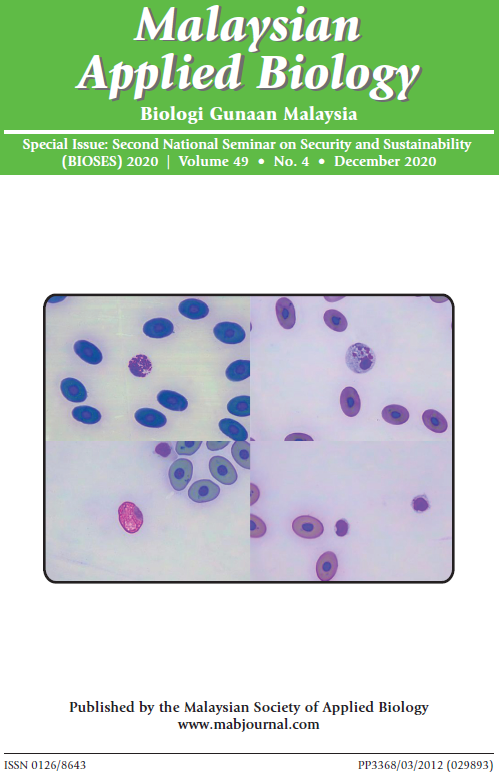 How to Cite
ADIBAH, . F. S. F., JAHAN, M. S., NUR FATIHAH, H. N. ., ALIAS , N., & KHANDAKER, M. M. . (2021). EFFECTS OF BETAINE-RICH NANO FERTILIZER ON IMPROVING PHYSIOLOGY OF Zea mays var. saccharata AND Arabidopsis thaliana UNDER SALT STRESS. Malaysian Applied Biology, 49(4), 57–62. https://doi.org/10.55230/mabjournal.v49i4.1567
Section
Research Articles
Copyright & Licensing
Any reproduction of figures, tables and illustrations must obtain written permission from the Chief Editor (wicki@ukm.edu.my). No part of the journal may be reproduced without the editor's permission