SELECTION AND VALIDATION OF REFERENCE GENES FOR qRT-PCR EXPRESSION ANALYSES OF LEAF, FLOWER AND CAPSULES OF Impatiens balsamina (BALSAMINACEAE)
Keywords:
Gene expression, tissues, Impatiens balsamina, reference genes, qRT-PCR
Abstract
Impatiens balsamina (Balsaminaceae) is both an ornamental and medicinal plant featured in many Asian traditional remedies due to an abundance of selected secondary metabolites with beneficial pharmacological properties. Attempts to improve production of biocompounds have led to characterization of genes, gene expression and pathways involved in secondary metabolites biosynthesis in I. balsamina. Gene expression analysis by quantitative reverse transcription PCR (qRT-PCR) technique has been well-established but its reliability is heavily dependent on the selection of suitable reference genes, which information is currently lacking for I. balsamina, and other Impatiens species. In this study, six typical housekeeping genes including actin-like protein (ACT), polyubiquitin-A (UBQ), ubiquitin-conjugated enzyme E2 (UBC), fructose-bisphosphate aldolase (FBA), elongation factor 1-alpha (EF1-a), and clathrin light chain 1 (CLC) were evaluated as candidate reference genes. Expression stability was tested in four tissue types (leaf, flower, early- and mature stage capsules) of I. balsamina. FBA, CLC, and EF1-a were observed to be the most stable reference genes across the tested tissue types. When expression data were normalised by the most stable FBA gene, the target secondary metabolite biosynthesis pathway genes showed significant different expression pattern compared to the least stable UBQ gene. The use of multiple reference genes in the combination of either FBA + EF1-a or FBA + CLC + EF1-a was observed to give more reliable results compared with a single gene. This study provides a resource for selection of suitable reference gene(s) for future gene expression normalisation experiments in I. balsamina.
Downloads
Download data is not yet available.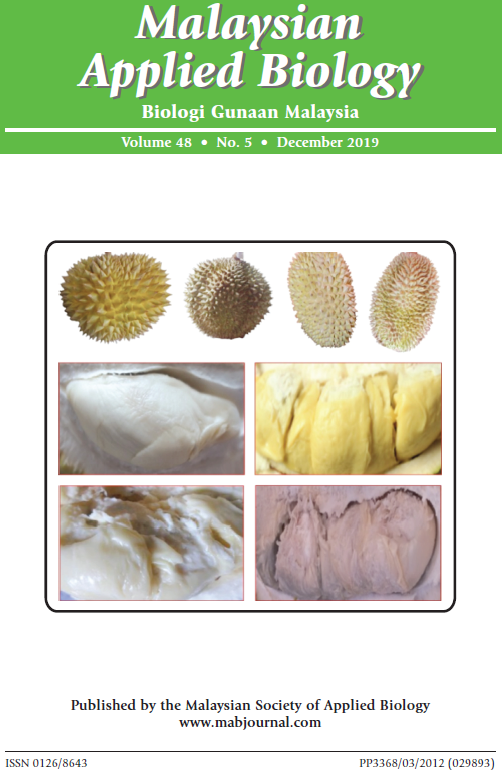 How to Cite
FOONG, L. C., & TAM, S. M. (2019). SELECTION AND VALIDATION OF REFERENCE GENES FOR qRT-PCR EXPRESSION ANALYSES OF LEAF, FLOWER AND CAPSULES OF Impatiens balsamina (BALSAMINACEAE). Malaysian Applied Biology, 48(5), 67–75. Retrieved from https://jms.mabjournal.com/index.php/mab/article/view/1588
Section
Research Articles
Copyright & Licensing
Any reproduction of figures, tables and illustrations must obtain written permission from the Chief Editor (wicki@ukm.edu.my). No part of the journal may be reproduced without the editor's permission